Wedding Rentals – An Ultimate Checklist to Different Types of Rentals
When we talk about a wedding, we cannot stop thinking about making it an unforgettable experience. Planning an event starts with a lot of considerations because many different things make it successful and memorable. It starts with wedding rentals which include everything required for making an event a big hit.
Creating an immersive experience for guests at the wedding is all about providing them with everything they need to enjoy. Although it's not just about the guests, it is also about the couple and the type of wedding they always wanted to have. Wedding rentals are so much more than tables and chairs, and the options for what you can rent are limited only by your imagination.
Wedding rentals world is magical because the options are endless which makes it challenging to find the most appropriate rentals. Therefore, to guide you through this, we've included all the possible points in this piece of writing.
Let's get started…
Wedding Rental Equipment - Things You Should Not Forget to Rent for the Wedding
Planning a wedding? Thought it was just tents and table and chair rentals? Think again! From finding that perfect couch for the couple, a beautiful table setting to a mind-blowing décor; it's those little things that make any wedding a memorable one. Everything needed for a wedding, they are all wedding rentals. When you are putting together a wedding, you need everything right.
Wondering what you should rent for your wedding, check out the following list…
ü Wedding Tent Rentals – You can't be sure of the weather, but can prepare for it! There are so many different types of wedding tents to choose from. Also, this section includes everything required for setting up a tent as well as accessories. Some of the popular types of tents include:
- Custom Tents
- Pop Up Canopy
- Marquees
- Frame Tents
- Clear Tent
- Sailcloth Tent
- Beach or Tropical Style Tent
- Pole Tent
- Teepee Tent
- Yurt
- Indian-Themed Tent
ü Table and Chair Rentals – Your guests, as well as the couple, need a quiet area to rest their feet and enjoy the delicious food. This is where party furniture plays its role and there are so many options available to choose from. Some of the popular options include:
- Cozy Couches
- Table and chairs
- Lounge Furniture
- Armchairs
- Bar Table & Stools
- Folding Chairs
- Bench Seats
- Service Table
- Cocktail Seating
- Sofas
- Coffee Table
- Ottomans
- Bean Bags
- Accent Tables
- Buffet Tables
- Sweetheart Tables
- Accessories
ü Wedding Décor Rentals – One of the most noticeable attractions of the day! Wedding décor sets the right atmosphere of the party and makes it an unforgettable moment of your life. The decorative items not only accentuate the venue but also serve as a beautiful backdrop for photographs. Check out some of the popular options:
- Centerpieces
- Floral Arrangement
- Balloons
- Handicrafts
- Lights
- Candles & Candle Holders
- Vases with Flowers
- Cake & Cake Stand
- Welcome Sign
- Aisle Runner
- Flower Girl Basket
- Flower Petals or Confetti
- Backdrops
- Chandeliers
- Lanterns
- Drapes
- Table Tops
- Gift table
- Ceremony Arch
- Garlands
- Guest Book
- Favor Display
- Photo Booths
- Props
- Others
ü Catering Rentals – Good food followed by good serving – an ultimate combination! Whether it's a small event or a big one, catering plays an important role in its success. You need to be well prepared and organized to cater to guests the perfect. Here's the list of potential catering equipment:
- Table Settings – Dinner plates, salad plates, bread plates, glasses, napkins, bowls, linen, shakers, sugar & butter holders, coffee mugs, etc.
- Serving Equipment – Serving trays, water pitchers, bus bins, knives, cake & pie server, spoons & forks, champagne bucket, etc.
- Buffet Equipment – Tongs, chafing dishes, fuel, matches or lighter, serving baskets, plates, rolled silverware, spatulas, dishcloths, etc.
- Coffee/Beverage Station – Coffee mugs, glasses, pitchers, straws, ice tubs, baskets garbage can, napkins, etc.
- Concession – Check for 'popcorn machine rental near me' or 'cotton candy machine rental near me' to make the wedding an outstanding affair.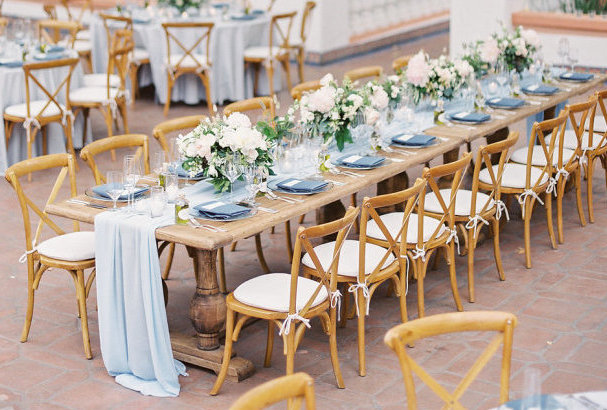 ü Wedding Linen Rentals – The world of wedding linen is vast! It is the best way to create an immersive experience for your guests. There are a lot of options available these days to match every décor and theme of the wedding. The main linen fabric includes satin, velvet, brocade, organza, taffeta, cotton, silk, polyester, lace, and sequins. Following are some of the basic linen you will be going to need:
- Liners
- Overlays
- Runners
- Chair Covers
- Table Cloths
- Drapes
- Sash or Ornamental fabric
ü Event Lighting Rentals – Lighting can be both functional and decorative! It plays an important role in every event, regardless of its type and size. When it comes to lighting, there are so many options available to choose from. Listed below are some of the popular ones:
- LED Lights
- String Lights
- Chandeliers
- Moving Lights
- Lanterns
- Projectors
- Outdoor Lighting
- Black Lights
- Wireless Lighting
- Video Presentations
- Letter Lights
- DJ Party Lights
- Stage Lighting
- Bliss Lights
ü Music and Entertainment Rentals – Music and entertainment activities are the souls of events! When your guests are properly entertained, it means your event is a big hit. The following list consists of some of the main items:
- Sound Systems
- Microphones
- Speakers
- DJ Floor
- Karaoke Equipment
- LED and Laser Lighting
- Entertainment – Jumping Castles, games, props, etc.
ü Electrical Equipment Rentals – No event is complete without appropriate electrical equipment! A huge variety of electrical equipment is available and they can lit of any event. Take a look at the following list:
- Heating & Cooling
- Generators
- LED Screens
- Audio/Visual Equipment
- Cords
- Light Stands
- Spotlights
- Entry/Exit Lights
ü Portable Restrooms – Restrooms will offer peace of mind to your guests! A restroom rental will provide your guests with a clean and convenient washroom facility so that they can spend more time enjoying the wedding. The following are some types available:
- Basic Restrooms
- Deluxe Restrooms
- Luxurious Restrooms
- Baby Changing Station
Planning a wedding can seem overwhelming! There are so many things to consider and it is hard to keep everything in mind while shopping around. To make things a bit easier, you can use the above-mentioned list as your assistant. Though you also have the option to hire a wedding planner, most people these days prefer doing it themselves. So it's better to be prepared!
Top 5 Wedding Rentals Companies – Find the Best for a Memorable Event
Searching 'wedding rentals near me'? Well! We've listed some popular companies that you may consider for wedding rentals. Take a look…
1. Baie Goeters – A company that specializes in a wide variety of wedding rentals such as furniture, lighting, décor, dance floors, and more. Also, you can find an impressive range of cutlery and cushions along with small details to make any event memorable.
2. Australian Hiring – The event hire specialists with expertise in parties, events, weddings, and corporate rentals. The main products include tents, furniture, lighting, linen, flooring, catering, lounges, tableware, glassware, and more.
3. Wedding Day Hire – Run by a florist, this company offers a wide range of wedding rentals to bring dreams into reality. The product catalogue includes furniture, vases & glassware, lanterns & lamps, décor, crystal range, vintage items, and more.
4. Makiti Hire – A platform where you can find a huge variety of wedding rentals along with specials and combos. Explore the products like lounge furniture, tables & chairs, heating & shade, bar units, stands & dividers, benches, and more.
5. Lucky Wedding Rentals – Owned by renowned wedding designers in South Africa 'Melting Flowers' this company offer both beautiful and functional rental products. They specialize in decoration and other wedding materials.
Top 5 Wedding Rental Companies
No.

Company/Supplier Name

Rental Products/Services

Location

Contact Details

1

Baie Goeters

Wedding Rentals

South Africa

Tel: 082-840-2928

Email: info@baiegoeters.co.za

2

Australian Hiring

Party & Event Hire

Australia

Tel: 08-8276-2250

3

Wedding Day Hire

Wedding Rentals

UK

Tel: 07876-394-409

Email: info@weddingdayhire.co.uk

4

Makiti Hire

Wedding & Function Hire

South Africa

Tel: 021-981-1901

Email: admin@makitihire.co.za

5

Lucky Wedding Rental

Wedding Rentals

India

Tel: +91-7411-200-300

Email: info@luckyweddingrental.com
The above-mentioned are just 5 wedding rental companies; there are thousands of service providers. You can choose as per your specific requirements and budget as they all differ in their offerings and prices. Choose the best from the rest to make your event successful.
Wedding Rentals Cost Guide
For many, the cost of renting or buying the essential items for a wedding is the main concern. Your impulse may get the best of you that may end up spending a fortune. It is not surprising that weddings are expensive as compared to other events. Though many couples these days prefer to keep it as a low affair, still there are so many things that need to be planned.
Talking about an average wedding rentals cost, it starts from $140 for a simple wedding and $2,000 or more for a big event. Most couples spend between $450 to $1,000 on their weddings these days. However, these figures may vary depending on the type of wedding, the number of guests, the wedding venues, and of course your preferences.
Some wedding venue may include rentals like tables & chairs, décor, and catering. However, most people prefer outdoor or tented weddings these days that may cost a bit more. If you are planning an outdoor wedding, booking a wedding rental company can be an excellent choice.
Amazing Ways to Save Money on Wedding Rentals
- Look for the most reliable wedding rental company.
- Decide what matters most to avoid spending a ton on useless things.
- Take a look at supply and demand to choose the best timing.
- See what your venue has to offer and it's good if it is an all-inclusive one.
- Choose elegant things instead of super-stylish ones.
- Select dual-purpose furniture.
- Seek for discounts or deals.
There are so many ways you can save on your wedding but making a decision solely based on the cost is not a good thought.
Wedding rentals don't have to cost a fortune if you know where to start and where to stop!
The Final Verdict
A lot of time and money goes into planning a wedding especially when you want an outdoor celebration. Weddings are not only places to exchange vows; they are places where everyone creates memories to treasure for years. That's the reason why couples want their special day to be perfect and wedding rentals ensure that everything goes the way planned.
While wrapping up, here are some tips to plan your special day…
Ø Plan for wedding rentals to avoid the last-minute hassle.
Ø Know the guest count to choose the correct size tent and furniture.
Ø Compare different wedding rental companies and pick the best.
Ø Choose the best wedding tents that suit your specific needs.
Ø Check reviews to get a better idea of the quality of the products.
Ø Determine your exact needs to avoid spending too much.
Ø Always discuss cancellation and refund policies.
Ø Know about the delivery, installation, and removal of rental products.
Ø Depending on the events of the wedding, look for the best options available.
Ø Communicate with your rental company and discuss every possible thing.
When it comes to wedding rentals, the options are endless so shop around for a great deal.
Are you ready for your special day?