Dance Floor Rental – Everything You Need to Know for Hosting a Memorable Event
Want to make your party more fun and entraining? Why not consider dance floor rentals!
If you are planning a party or an event, you are probably brainstorming the potential things required to make it a big hit. There are a lot of things that you need to consider for organizing an event such as tents, table and chair rentals, party room rentals, party supplies, catering, tent decoration, and a lot more.
Do you think only some pieces of fabric and furniture can create an outstanding atmosphere for your guests? Whether it is an indoor party or a celebration in the great outdoors, having a dance floor with an amazing sound system can transform the entire feel of the party. Dance floor rentals can help your guests bring their dancer out and have loads of fun.
Many magical moments in events like wedding receptions, birthdays, anniversaries, and corporate parties have been had on a dance floor. An inviting dance floor encourages the guests to engage in some entertainment while leaving all their worries behind. It will ensure that everyone is entertained and having a good time.
Dance floor rentals provide a space where everyone can socialize and dancing also has some health benefits.
Let's dive deep into the topic and understand the world of dance floor rental…
Dance Floor Rental – Why is it Important?
Wondering why music is important for your event?
Music for your event may not always be your priority while planning an event. However, it is quite difficult to imagine a party or event without music. Music is one of the most popular forms of entertainment and helps you create an engaging mood or atmosphere at your party. When it comes to music, the dance floor is an integral part. Dance floor rentals can help tons of events and available in various sizes, shapes, styles, and colors.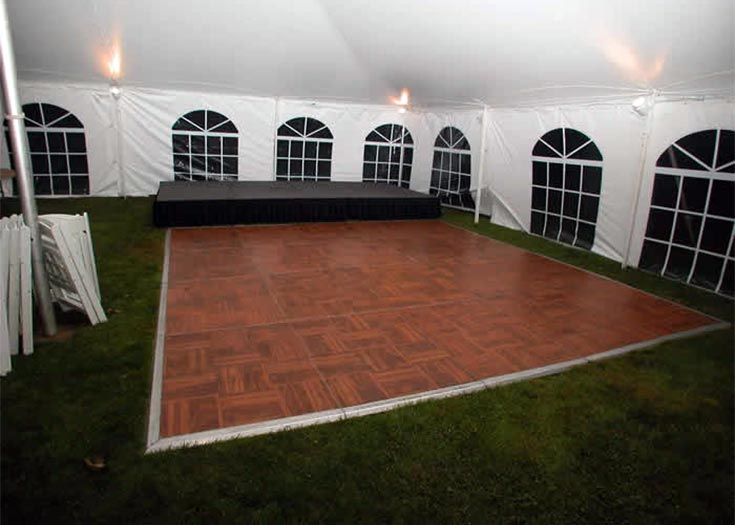 Here are some reasons you may want to know to understand the importance of dance floor rental…
ü Dance Floor Unites – Whether it is a concert, festival, or any other celebration, a dance floor is a place that unites people as they come together to enjoy dancing. Music has no language barrier as everyone can enjoy the beat.
ü Dance Floor Energizes – When you invite everyone to the dance floor, they feel like full of energy as everyone these days wants some gala time with no work stress. If the music choice is right, energized guests can dance the night away.
ü Dance Floor Spread Happiness – As music portrays a mood, a dance floor gives a platform to the guests to get spoiled in that mood. Also, music stirs emotions, making everyone happy at least for a while.
ü Dance Floor Creates Memories – The best memories are those created on dance floors where there are no boundaries and nobody judges anyone. You can recall the track that livened up the dance floor any time you want.
When it comes to including a dance floor to your event, selecting the right kind of music is very important. The right kind of music will help create the correct mood and atmosphere. This is why it is said that music can make or break the event. There are certain things that you need to keep in mind while choosing the music such as the age range of your guests, the type of celebration, the theme of your event, etc.
Top 5 Companies to Find Dance Floor Rental
Finding the right dance floor rental can be a challenge especially when you are showered with possibilities. To help you out, we have listed some popular dance floor and stage rental companies that you may consider and see if they can help.
1. AV Direct – A full-service audio/visual company offering a wide range of equipment along with technical labor. Explore the services like sound, video, lighting, projection, and display for a variety of events. Find dance floor hire for weddings, parties, and special occasions. They also provide custom-designed flooring to suit the specific requirements of their clients.
2. Feel Good Events – A one-stop-shop for a variety of rentals such as party rentals, wedding products, party hire & styling, and other event services. If you are looking for dance floors to add that wow factor to your event, the company offers a wide range to choose from. Some of the popular products include LED starlight dance floor, white dance floor, black & white, decals, LED podiums, and more.
3. Albert Hall – If you are looking for a company that specializes in dance floors, this can be your right platform. They offer the largest selection of equipment when it comes to staging and LED furniture for events and parties. Some of the best products you can explore include Oak Parquet portable dance floor, all black or all white floor, circular floor, black & white floor, Led starlit floors, LED disco floor, mirrored floor, etc.
4. TTS Group – One of the fastest-growing companies with its clients like event companies, weddings, large enterprises, and government institutions. If you are an event planner and looking for an expert, visiting this site is worth your time. Explore a huge variety of LED dance floors that can also be customized as per your specific requirements. Also, they can install graphics or logos on the floors.
5. Dance Floor Hire – A place to look for high quality and affordable dance floors for a variety of events like weddings, birthday parties, and corporate functions. The portable flooring solutions include white floor, black floor, black & white floors, grey floor, dark oak floor, and much more. The floors are easy to set up and durable enough to provide safety and comfort to the guests.
Top 5 Dance Floor Rental Companies
You are not limited to basic designs when it comes to dance floors, asks your event rental company to provide you with customized solutions. However, custom-made products do come with a heavy price tag!
Look for 'party supply rentals near me' and find the best service provider…
10 Amazing Dance Floors to Enhance the Look and Feel of Your Event
An outdoor or indoor celebration, dance floors encourage fun and entertainment at all types of events. When it comes to choosing a dance floor for your event, the options are countless. You can create any effect you want that matches the theme of your party.
Following are some popular types of dance floors that you may consider for your next event:
1. LED Dance Floor – A popular option with the light built-in and a lot of effects and colors to suit different events.
2. Unicorn Dance Floor – This is the latest buzz that uses lighting effects to make an impact and uses colored spotlights, downlighters, and star-lit effects.
3. Wooden Dance Floor – A traditional wooden floor can do wonders in outdoor celebrations and it also suits different themes and décor.
4. Black & White Dance Floor – This is a classic choice and perfect for all types of events as it tent to complement most color schemes.
5. Canopy Dance Floor – Yes, dance floors and staging can work hand in hand with décor like floral and garland. The canopy can also be used to hang lights.
6. Light-Up Color Palette – The funky kind of dance floor featuring colorful lighting effects and can produce various shades of your color scheme.
7. Modular Dance Floor – The kind of floors come in a variety of fun colors and finishes. You can mix and match colors to fit any theme or event décor.
8. Geometric Dance Floor – A geometric pattern available in a variety of designs and light up functions is an ideal choice for themed parties.
9. Circular Dance Floor – Yes, dance floors don't have to be rectangular especially when a circular one can do the wonders, particularly in dark colors.
10. Customized Dance Floor – A tailor-made floor suiting your specific requirements can transform the entire look and feel of your event.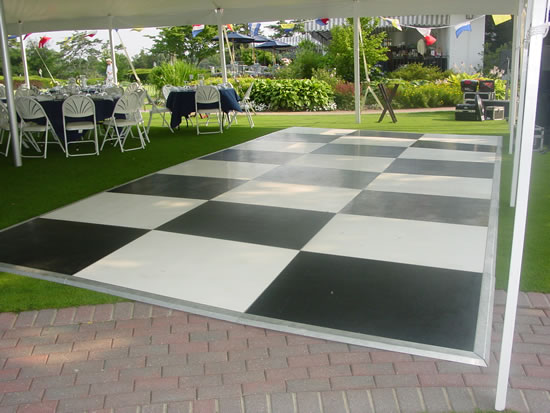 Everyone wants to look good on the dance floor, but make sure that your dance floor itself look great by choosing the best for your event.
Tips When Renting the Dance Floor for Your Event
While looking at the options, you will find that dance floor rentals are available in various shapes sizes, colors, and materials. Therefore, it is important to do a little brainstorming before you choose one for your event. The following tips might help you make the right choice…
ü Start with the theme – Start with thinking about the kind of theme you are planning for your event to choose the flooring accordingly.
ü Kinds of dance floor rentals – Take a look at the available options and see what best suits your requirements and budget.
ü Stay within the budget – Dance floors may entertain lots of guests for many hours and it is worth to invest in a good one but don't spend a fortune.
ü Choose the right size – The floor size you need for your event will depend on a lot of factors such as the space available, number of guests, type of event, etc.
ü Slip Resistance – Make sure that the dance floor is slip-resistant so that your guests don't end up falling. Make sure that the material is comfortable and offer grip.
ü Shock Absorption – As music energizes everyone, a dance floor has to be durable enough to protect the guests.
ü Flow of traffic – Different events will have a different flow of traffic and this is an important thing to consider while installing a dance floor.
FAQ
Do I need a dance floor for my event?
Well! It is your decision whether you want dance floor for your event or not! If you are celebrating any occasion, it is suggested to have some music and floor as it will help you create an inviting and engaging atmosphere that your guests would love.
How big should my dance floor be?
When it comes to choosing the right dance floor size for your event, a 12'x12' is a popular size that accommodates a small to medium group. The best way is to discuss your requirements with your rental company and they will suggest some size options that you can choose.
How much does it cost to rent a dance floor?
Money matters when renting a dance floor because there are so many things includes in the prices such as delivery, pickup, breakdown, and installation. Though an exact cost is hard to discuss as different companies offer different prices, we can suggest an average cost. For a 12x12 dance floor rental, you may have to spend around $215 to $325 depending on the flooring type.
Is safety an important factor in any event?
Yes, safety should be the priority while using dance floor rental and other services. An event that has a dance floor commands various arrangements to ensure successful execution. It is important to protect guests from accidents.
Does indoor and outdoor venue matters?
Yes, a lot! It is easier to do staging and flooring installation in an indoor venue as the surface is flat with no obstruction. On the other hand, outdoor venues like tents can be a bit challenging as has more restrictions and adjustments. However, outdoor venues offer a blank canvas where you can create anything of your choice.
The Final Verdict
So your most awaited day is just around the corner and you want to make it as memorable as possible. Consider having music and dance floors at your event as most people love to dance. It is the best way to entertain your guests.
When it comes to staging and flooring, it is important that it complements the mood of your space and create the right ambiance.
Are you ready to have a blast?