How Much Does it Cost to Build a House?
Building a house is everyone's dream because it is something that involves both financial and emotional concerns. The planning and its execution while building a house can be exhausting but it's all worth it as you are going to have your dream home. In the end, you are likely to have the most beautiful and comfortable place that you will call 'HOME'.
If you have always dreamed of owning your own home, you must have weighed the pros and cons of whether to build it your way or buy one. Each option has its pros and cons, for instance, if you buy an existing home, you might have to compromise the design and building it from scratch might take months to finish.
If you are thinking of building your own home, there are several things that you need to be aware of. Though you have full control over every aspect that goes into building a house, you need to take extra care as it is one of the most important financial decisions of your life. This guide will help you understand everything you need to know about building a house…
Before rushing to the cost of building a house which is, of course, one of the most important factors, let's understand the main steps:
ü Know what you want – Before you even create a budget or have a design, you should understand what exactly you want such as build type, location, facilities, size, etc. If you have a tight budget, prefabricated homes can cost less as compared to building your own.
ü Create Your Budget – Once you know what you want, plan on how much you want to spend on building your house. To create a budget, do some research and get quotes from professional home builders or contractors as they can provide a good estimate.
ü Look for a Perfect Plot – If you don't have the plot to build a house, look for a suitable one with all the facilities and amenities. If you have a good budget, you can consider buying a plot close enough to the city or main facilities.
ü Find Reliable Home Builders – As building a home involves a lot of investment, it is extremely imperative to find the most reliable home builders. You will probably want to hire an architect who is well-versed with all legal aspects as well as experienced enough.
ü Get Everything in Writing – Don't go with words only and get everything in writing so that you have a legal contract for your construction. Also, get all the permits and other paperwork to avoid future problems.
ü Consider Final Inspection – Once you are done with everything concerning your house construction, consider a final inspection to find any loopholes. Get the inspection done by a professional inspector so that you can have an expert opinion.
There's a lot that goes into building a house, so be mindful before starting with the construction.
How much does it Cost to Build a House?
Many people are desperate to find out ways to build a house at as low cost as possible. Though you can always save on extra or unnecessary costs, there's no such thing as the cheapest construction. Several factors come into play when determining house building costs and they cannot be ignored.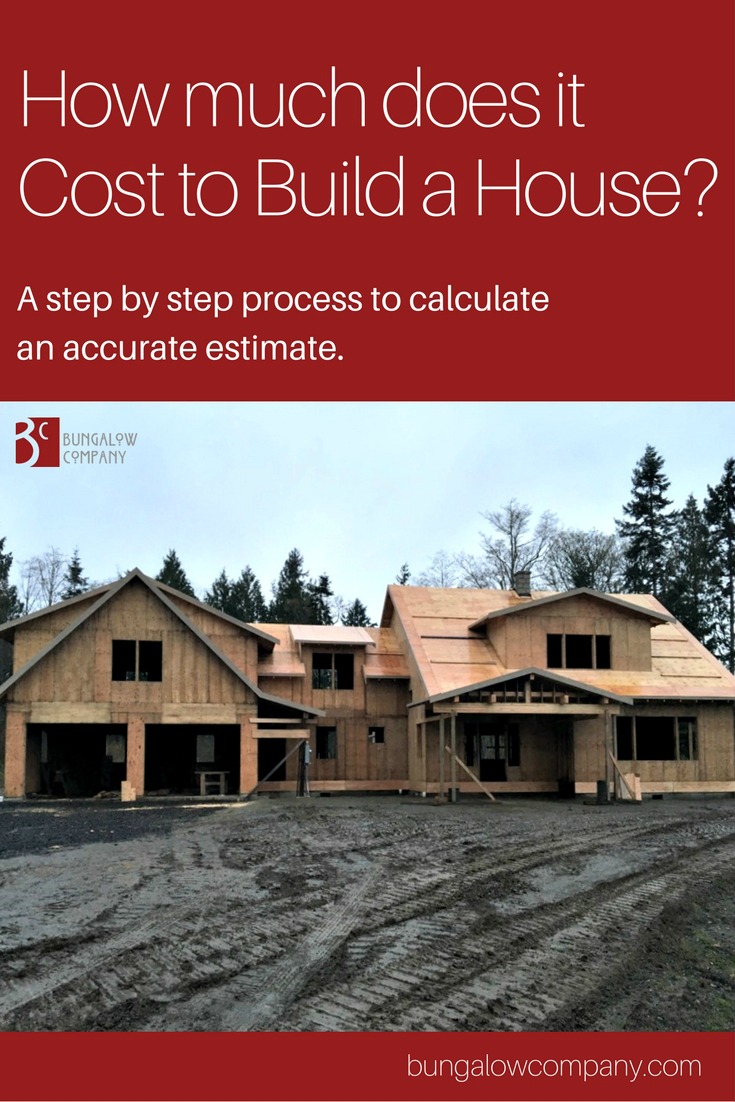 If you want to know how much does it cost to build a house, you can always have the estimation. Some important things that are considered during estimating the cost of building a house include:
· Acquisition of land
· House building expenses
· Construction cost
· Specialist items and PC amounts
· Professional fees
· Other project costs
Though it is very challenging to state the exact amount of money required to build a house, here we have some estimates that you might be interested to know:
Home Building Cost Breakdown (Estimated Costs)
Wondering how much does it cost to build a house? The total cost will vary as there are so many factors that need to be considered, here's the estimated breakdown of costs:
ü Site Work - $8,000 - $16,000
ü Floor Plan - $1,800 - $5,000
ü Foundation - $8,000 - $26,000
ü Framing - $20,000 - $50,000
ü Exterior Finishes - $40,000 - $60,000
ü Electrical, Plumbing, HVAC, etc - $20,000 - $40,000
ü Interior Finishes - $70,000 - $80,000
ü Additional Costs - $15,000 - $20,000
The above-mentioned costs (estimated) narrates that building a house is not a cakewalk as it requires you to plan a lot of things. Also, you need to take permits before starting the construction.
To make things less stressful for you, we have listed a few things that needed to be considered…
Things to Consider While Building a House
Building a house is no easy feat, but it converts your dream into reality. To make it the most wonderful experience of your life, you need to be sure of everything that goes into it. So, we created a checklist to help you plan everything and save both your time and money. Check this out:
ü House Designs – Creating a solid design is extremely important as it is one of the most crucial financial investments of your life and, therefore, has to be perfect. It should not be just a structure that is merely made to provide shelter from the elements, there has to be perfect utilization of the available space. The entire design has to be comfortable, functional, and pleasure to live in.
ü Building Supplies or Materials – The building materials are the bread and butter of any construction as they play a vital role in the entire process. Some of the common building materials include stone, concrete, cement, bricks, timber, wood, metal, etc. To find the most suitable building supplies, consider the physical properties of building supplies such as bulk density, durability, density, porosity, weather resistance, etc.
ü Building Inspector & Building Engineer – Your building inspector, materials supplier, and Construction Company determines, to a great deal, the success of the project. Therefore, it is important to find the most reliable platform to work with and avoid delays, poor-quality items, and other issues. Finding the best builder will ensure great customer service, high-quality materials, and on-time project completion.
ü Construction Site Work Cost – It is imperative to understand the costs involved while building a house as it is the largest investment most people make in their lifetime. As far as construction cost for a home is concerned, it may vary depending upon the location and size. The average cost to build a house is may range from $100 to $155 per square foot which makes it $201,000 to $310,000 on average for a 2,000 square foot home.
ü Hiring a Professional Home Builder – Consider working with a professional and experienced home construction company as they can not only help with a lot of decisions but come up with a flawless result. They can save you a lot of time and stress that you might face by hiring an inexperienced home designer. A professional builder will be fast in following up on all of your enquiries and will respond on time.
ü All-Inclusive Plan – Try to find an all-inclusive kind of packages which means never leave any costs to be finalized after the completion of the building process. Make sure you get the quotation as an all-inclusive costing so that there are no clashes of expectations once the construction is completed. It is recommended that you sign a building contract with stage payments.
ü Potential Fees from professional Firms – While building a house, there are so many professional firms you need to work with such as geotechnical engineers, energy experts, etc. Also, local and city governments will require you to adhere to all the rules and regulations permits to build or install various systems in your home. Try to take all the necessary permits and pay the required fees on time.
You will need to take into consideration a lot of things to make sure that your house construction is completed on time and without any stress.
Building a House – the Alternatives Available
Prefabricated Houses
Yes! You can also consider buying a prefab house or prefabricated homes. These are specialist dwelling types of prefabricated buildings manufactured off-site in advance. They can be easily shipped to the desired place and assembled on site. These buildings are built in transportable components and available in custom home plans as well. In simple words, they are created in sections that are transported to the home site for further construction and installation.
Wondering how much does a prefab house cost?
Well! The actual cost of a prefab house may vary depending on its type and size; we can discuss an estimated cost. The average cost for a typical prefab or modular home per square foot may range from $50 - $100. These types of homes can be more budget-friendly as compared to site-built homes as the shorter construction period will save money. Also, not many home inspections are required and they are much more energy-efficient.
Take a look at the main characteristics of prefab homes:
- Modular Construction
- Panel Built
- Energy Efficient
- Shorter Construction time
- Budget-Friendly
Aluminum Structure Tent
Tents are not meant for just weddings and parties; they can also be used as a temporary house. They are one of the oldest forms of roofing and have come a long way from simple structures to the modular forms. An aluminum structure tent can be an outstanding roofing solution that provides excellent dimensional stability and tear strength. The high-quality aluminum tents offer resistance against extreme climate conditions. They also have a long life and covers a large area without support, making them an ideal choice when you are looking for a temporary house solution.
Aluminum Structure Tent Cost
Though the exact cost of an aluminum tent may vary depending on its quality, size, and type, the average cost per piece may range from $50 to $500. They can also be customized as per your unique requirements and delivered at the doorstep.
Here are some main features of aluminum structure tent:
- Solid
- Detachable & Reusable
- Mobile
- Affordable
If you are looking for a temporary building for your event, consider buying am aluminum structure tent.
Conclusion
If you decide to embark on your own home building experience, you will likely need to consider a lot of things and plan accordingly. As it can be an expensive endeavor, the project deserves all the attention to do everything right. Building a new house from scratch can be a daunting experience, but the result will be all worth your investment and efforts.
The key factor that comes into play is keeping everything as affordable as possible without compromising with the quality. Also, the key to success lies in finding the most suitable home construction company or builder that provides you with everything you need. You don't want to get ripped off by a dishonest and inexperienced builder just to save a few bucks.
Here's the list of some factors that may affect how much does it cost to build a house:
Ø Plot
Ø Building Materials
Ø Site Work
Ø Foundation
Ø Framing
Ø Exterior & Interior Finishes
Ø Heating & Cooling
Ø Plumbing & Electrical
Ø Custom Features
Ø Clean Up
Ø Fees, Permits, & Inspection
Though building your dream home from scratch can be a challenging task, it is the best way to make use of your resources. It is your golden opportunity to have everything as per your preferences and build everything as per your unique needs.
Building your own home can be one of the best decisions you will ever make in your life given that you have all the right information and find the best people to get the job done. Choosing the construction company which synchronizes well with your house building project can help ensure you get the best result without breaking the bank.
Are you ready to witness the most beautiful things in your life?