Portable buildings are gaining huge acknowledgment these days as they offer an instant and affordable solution to the people. They are built mostly in a factory and then shipped to the site for assembly and further construction. This form of construction allows completing a prefab house in much less time than a conventional house. It means that it is possible to go from an empty land to a fully functional house in just a few months. Moreover, nothing goes to waste as these structures have limited exposure to the elements and have reduced construction timelines.
Let's dive deep into the subject and understand more about the innovative concept of prefab structure…
What is a Modular Home?
Modular buildings are prefabricated buildings consisting of repeated sections called 'modules' with the construction method called 'modular'. The modules are constructed away from the main building site and the installation of the prefabricated sections is completed on-site. The modules can be either assembled end-to-end or side-by-side, depending on the requirement.
In simple words, a modular home is one that is built in a factory-like setting and the finished product is transported to the actual site for assembly. It is not a mobile house but a house that is built off-site and assembled on-site. That is why modular homes are also called as factory-built or prefab structure.
7 Facts You Need to Know About Modular Homes:
1. As modular homes are built indoors, they can be constructed in a fraction of time, as compared to conventional homes.
2. Modular homes can be customized as per your specific requirements and appraise the same as their on-site counterparts do.
3. The design and configurations vary in style and size as it depends on how you want the final result to look.
4. Modular construction can also be effectively used for commercial applications as modular office buildings.
5. Though these structures are constructed off-site, they are permanent structures or real property.
6. Home loans, insurance premiums, and taxes on prefab houses are the same as site-built buildings.
7. Modular homes are energy-efficient and considered a form of green building.
Modular Home Prices:
Buying a mobile home? Wondering how much does it cost to build a house? As far as the modular home prices are concerned, only the average prices can be discussed as the cost of prefab structures may vary depending on the design and features. When talking about the cost of a modular home, many different things may affect the actual costs. However, the base price starts from as low as $50 per sq. ft which means if you are looking for a 1,800 sq. ft. modular home, the price may reach $72,000-$144,000.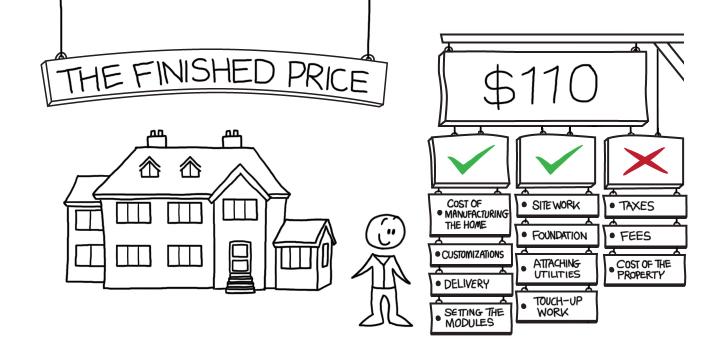 Modular homes can be an affordable option than conventional homes as they involve shorter build time and you save on the overall construction cost. Also, you don't have to spend on home inspections as these structures are constructed in the factory under supervision. These kinds of prefab structures are much more energy-efficient as compared to site-built homes which mean you save on monthly expenses.
To get the best deal, you need to understand the pricing criteria and the following points might help:
- The base price only includes the cost of manufacturing the modules with no customizations or alterations.
- The custom price will include the cost of manufacturing the home as well as the customizations with no delivery or site work.
- The delivered price will include the cost of manufacturing, customizations, delivery, and setting the modules with no attaching utilities or extra work.
- The finished price will include the cost of manufacturing the home, customizations, delivery, assembly, site work, foundation, attaching utilities, and touch up.
- The all-inclusive price will include everything that the finished price covers along with the town fees, cost of the property, etc.
Modular Home Vs Mobile Home
Well! Several people out there take a modular home and a mobile home as same. However, both of the structures are different and have unique features.
Check out the following difference to gain a better insight into these both structures:
ü A modular home is not a mobile home, it is simply a home that is built off-site and assembled on-site. On the other hand, a mobile home is a prefabricated structure that is built on a permanently attached chassis and transported to the site.
ü Modular homes are constructed in sections and then transported to the desired site for assembly whereas mobile homes are completely constructed before being transported to the site.
ü Modular homes are entirely built as per the specifications on their final site right from the floor plan to the walls and doors etc. Whereas, mobile homes are constructed on their chassis or frame and more like ready to use.
ü A modular home needs to be assembled on a specific location but this is not the case with mobile homes as they can be installed on land you own or a trailer park.
ü Mobile homes are titled as real property while the manufactured homes are more like personal property just like cars.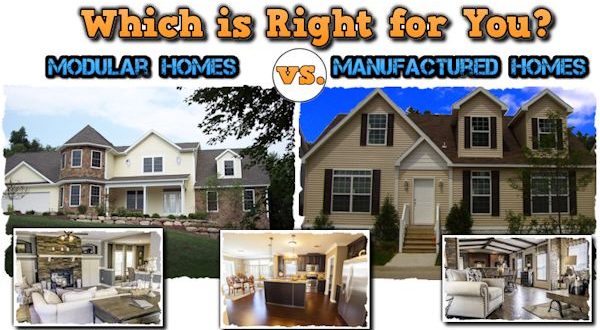 Though both of the structures are constructed in a controlled factory environment, they boast unique characteristics.
Modular Homes – Things You Need to Know
Searching 'modular homes near me'? Well! The following guide might help:
1. Modular Homes Florida – You will find a lot of prefab or modular homes in Florida but to be acceptable, it must bear the insignia of the Florida Department of Community Affairs (DCA) on the inside of the cover of the home's electrical panel. Furthermore, these structured are considered as real property only when installed on a permanent foundation. The prefab structures are designed, built, and permitted to the Florida Building Code (FBC). Also, the permanent foundations for that home must be constructed by a contractor licensed by the Department of Business & Professional Regulation (DBPR). It means that a mobile home installer cannot install a modular home directly as it is a violation of Florida Statutes.
Modular homes are very popular in Florida and there are so many companies out there that provide modular homes that you can buy or rent. A few modular home manufacturers construct homes on a mobile home type chassis and transport them on wheels. Whether you are looking for a manufactured home, a log cabin, or a vacation house, you can find an array of options to suit your needs in the market. These types of homes are economical not just because they are affordable to buy, but also because they are energy efficient. You can find many prefab homes for sale in Florida.
2. Modular Homes Virginia – Modular homes have gained huge popularity in Virginia but all properties financed by VHDA must be located in Virginia. There is no legal distinction between an off-frame and on-frame modulars home in the state as they both are built to the Uniform Statewide Building Code. After completion in the factory, they are transported to the main site via different modes of transportation. They are built just like a site-built home with the state building code enforced at the factory level. This is because the modular homes are built off-site rather than on the building site. In Virginia, the modular homes enjoy all of the building condition advantages as a site-built home.
As far as the laws regarding a manufactured home, a modular home, and a site-built home are concerned, they pertain to the code to which the home is built. Manufactured homes are built to the National HUD Code whereas modular and site-built homes are built to the Virginia Uniform Statewide Building Code. A modular building is described as a combination of one or more sections or modules. Also, the building is subject to state regulations which include all the necessary electrical, ventilating, plumbing, and other services. You can easily find an array of modern prefab homes for sale in Virginia.
3. Modular Homes Colorado – Colorado is a diverse state with housing needs that vary across cities, towns, and rural areas. The purchase of a manufactured home or modular home in Colorado can be a big decision as it has a mostly cold climate. That is the reason that the modular homes are engineered specifically to suit the environment with a focus on energy efficiency. The gap between demand for affordable homes and the availability of units has given the rise to modular homes in Colorado. The modular homes are built with the same construction materials and techniques as site-built homes.
When it comes to the laws regarding such structures, Colorado Housing and Finance Authority (CHFA), Energy Outreach Colorado (EOC), the City of Boulder, and Habitat for Humanity of Colorado (HFH CO) hold the authority to bring Zero Energy Modular (ZEM) homes to the state. However, the ZEM homes are not available right now but traditional mobile and manufactured housing (MMH) can be easily found. Modular homes can be a great solution in a state where the housing shortage is a big problem. If you are looking for mobile homes for sale in Colorado, you need to follow the rules and find the one that suits you.
4. Modular Homes Georgia – Prefabricated homes are very popular in Georgia as they are purpose-built for efficiency and affordability. The 'Peach' state offers many opportunities for people looking for modular homes in the southeastern corridor of the United States. There are so many companies out there providing modular homes with unique floor plans and designs to cater to the different requirements of homeowners. Also, these homes boast attractive features, exceptional quality, and functionality just like conventional homes. When we talk about the modular homes in Georgia, the Manufactured Housing Section is responsible for performing random inspections.
Though building a modular home in Georgia is quite easy, the new law requires installers to take a permit from the Insurance and Safety Fire Commissioner's Office before buying or building a new or pre-owned manufactured home. Some Georgia cities restrict the installation of manufactured homes on private property while some local governments also prohibit the placement. However, according to a ruling by the State of Georgia Department of Community Affairs, modular homes meeting all of the criteria should be allowed in any zoning district. You can easily find mobile home dealers in the state as the concept has gained a huge acknowledgment due to the flexibility and affordability they offer.
5. Prefab Homes California – The luxurious and affordable prefab homes are extremely popular in California as they are built to last. When it comes to manufactured and factory-built housing, the California Department of Housing and Community Development (HCD) takes charge of any alterations of existing homes. It also administers the construction of commercial modules as well as multifamily prefabricated homes. The Factory-Built Housing Program oversees the components like health and safety to California building standards. Personas authorized by the concerned department may conduct inspections to ensure that the laws and code requirements are met.
As far as the acceptability of mobile homes in California is concerned, the state is home to many mobile home parks. However, the concerned authorities make sure that the prefab or manufactured homes adhere to all the laws and codes. Also, the local governments take care of local zone requirements, rear and side yard size requirements, and other architectural and aesthetic requirements. Furthermore, the prefab homes in California must meet the Manufactured Home Constructions Safety Standards established by HUD.
The modular homes in California come equipped with all the facilities and amenities of a traditional home. They boast an advanced infrastructural system with longevity as an important attribute.
We sale in Florida, PA, Virginia, Colorado, Michigan, Ontario, California, Georgia, Ohio, SC, Maine, UK, Indiana, MN, NJ, NH, Texas, Louisiana, Missouri and more.
Modular Garage & Prefab Garage Kits
Erecting a garage on your property is no small task especially when you want it well-equipped. Fortunately, you got a wonderful choice of a modular garage where you don't have to waste your time and energy on building a garage on-site. The prefab garages come with a myriad of options and upgrades so that you can choose as per your unique requirements.
There are so many companies out there offering modular garages and prefab cabin kits to help you create a masterpiece of your choice. Also, they come with many options like oversized windows, unlimited door & window configurations, and interior finish options.
Prefab Buildings
A prefabricated building consists of factory-made components that are manufactured off-site and transported to the main site for assembly. Today, architects are incorporating modern designs into such structures so that they can be used as effectively as traditional buildings. Also, the increased use of green materials to construct prefab buildings has given a boost to the concept.
As far as the prefab metal building kits prices are concerned, you can expect it to range between $5,500 and $22,900 for a large metal building. It is just an average price of a prefab metal building and the actual price may vary depending on the quality of material, size of the structure and other features.
Prefab Shipping Container Homes
Container living is gaining huge popularity across the globe as the best alternative for domestic and commercial requirements. With the increase in demand, you can explore great architectural designs where the containers are turned into a delightful space. Today, a lot of companies provide prefab shipping container homes at an affordable price. They also offer you the opportunity to select the type of container and customization you want.
The shipping containers are transformed into livable space after going through safety and quality check. Also, they are properly cleaned, waterproofed, rust proofed, and insulated before turning into a home.
If you are looking for an alternative to traditional homes, modular and mobile homes can be the best option available!