Most homeowners want to outgrow their indoor living and storage spaces with the help of outdoor garden sheds. While garden sheds add extra space to your home, they can also be used as space where you can relax and rejuvenate. Even if you live by yourself, a large shed offers you optimum space to store the possessions that you have collected and accumulated over the years.
If you have a beautifully designed garden, you must be aware of the fact that how difficult it is to maintain it properly. You need proper ingredients to water your plants and several gardening tools to make sure that the garden looks up-to-the-mark. A garden shed can help you in the development and maintenance process by offering enough space for your tools and equipment. An outdoor shed may be available in a variety of materials, designs, and sizes.
Take a look at some amazing benefits of garden sheds:
ü Organizes gardening tools with its storage areas and shelves.
ü Facilitates quicker access to garden tools & equipment.
ü Improves garden aesthetics by providing a common place for storage.
ü Keeps the yard and porch clean by freeing up space.
ü Increases property value by providing additional storage area.
Shed Plans & Designs Ideas & Price
Whether you are planning to build a small garden shed or summer house shed, the design options are countless. The main types of shed construction are metal, plastic, wood, and vinyl-sided sheds. Each type has different configurations and advantages that a homeowner has to consider. Though the beautiful designs might fascinate you, it is important to do your research before going any further.
If you are looking for some amazing shed plans and shed designs ideas, the following list might help:
Ø Roof Designs – The roof of the shed will be visible, so choose wisely. Some popular roof materials include cedar shingles, cedar shakes, real or faux slate, metal, tile, or a green roof.
Ø Vintage Cottage Shed – Give your shed a vintage touch and decorate in whatever style you want to. Use art projects, vintage pottery, potted flowering plants, wreaths, chandeliers, etc to give it a personal touch.
Ø Urban Greenhouse Shed – Make smart use of the available space by designing an open-framework structure. Use the shed for storing potting materials and garden equipment. It can also be a nice place to hang out and enjoy nature.
Ø Shed Sizes – Size is one of the most important decisions you will make while designing a shed as it comes in a variety of sizes and configurations. Some popular shed sizes include 8x12, 10x10, and 10x20, small or large sheds.
Ø Wood or Steel Shed Plans - A wood-framed shed look beautiful while a steel-framed shed will last for years. A huge variety of shed plans and designs are available in both the materials that you can pick as per your needs.
Ø Garden or Backyard – A shed is a great addition to help keep everything organized and clutter-free. Whether you want to build it in your garden or backyard, the design options are countless.
Shed Prices – How Much does it Cost to Build a Shed?
Well! If you are wondering how much you will have to spend to have a shed of your dreams, the cost may vary depending upon the design, size, and features. However, the average piece starts from as low as $500 up to $3,500 when you choosw to buy one in a kit form. The bigger the shed will be, the more you will have to spend.
Bike Storage Shed
When looking at the motorcycle storage shed, you will find that there are many different designs available. It is something that doesn't break your budget and protects your vehicles from harsh climate conditions. Keeping a bike stored inside prevents it from damage and breakdown of parts due to prolonged exposure to sunlight. When your garage is overflowing or you are passionate about bikes, a bike storage shed can be an ultimate solution.
Not to mention avid bikers get very emotionally attached to their bikes and to keep them safe we suggest a shed. Bike storage shed not only provides security from theft but also inclement weather.
Take a look at some motorcycle shed benefits:
· It is the best way to keep your bike protected from the elements like rain, snow, winds, hails, harsh sunlight, etc.
· The metal bike shed is the most secure type as it offers great security especially when you own a very expensive bike.
· It is extremely low maintenance as these kinds of sheds don't need any special treatments.
· They can be built large enough to fit multiple bikes and other items such as bike gear and tools etc.
If you are planning to build a shed for your bikes, do your research and choose as per your exact needs.
Shed Kits
Building your shed can be a very rewarding project as it not only gives you additional storage space but also increases the aesthetic value of your home. If you are going to be building your shed, you will want to ensure that you have proper shed kits to get the job done. A prebuilt shed can be expensive while a DIY shed is usually less expensive. You can buy a storage shed kit and get more space in the backyard.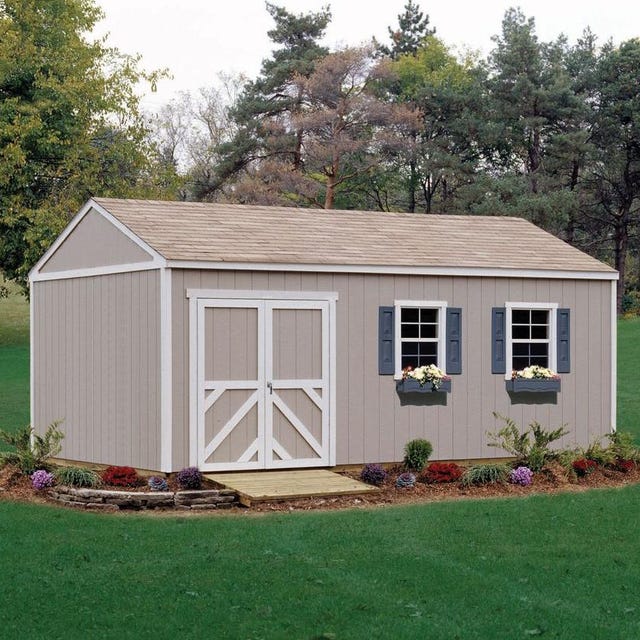 Most of the shed kits can be custom ordered to pick one that might work perfectly for you. Some popular options include metal shed kits, garden storage shed kit, vinyl-sided shed kit, economy shed kit, and more.
Lean-to Shed
A lean-to shed is a building in which the rafters lean against another building or wall which means it has a sloping roof and three walls. It is a great way to provide simple shelter and storage for garden equipment, outdoor furniture, grilling supplies, and so much more. It is one of the easiest sheds that you can construct and have a fully-functional space in just a fraction of time and money. These types of sheds do not require a conventional stud wall across the back and can be built against any existing wall.
The lean-to shed can provide extra storage space right where you need it most and a perfect solution for any backyard.
Tuff Shed
Tuff sheds offer you a perfect storage solution as they can be customized to accommodate things as per your preferences. Most of the premier tuff sheds incorporate galvanized steel floor, big sidewalls, radiant barrier siding, and roof decking for temperature control. As far as the framing is concerned, you can choose to have a heavy-duty framing for added strength and durability. These beautiful looking structures can be constructed using different materials such as steel, plastic, resin, vinyl, wood, and more.
If you are planning to build an outdoor shed, a tuff shed can be a great option as you can not only have the extra space you need but it will also boost the aesthetic appeal of your home.
Keter Shed
If you are looking for attractive and long-lasting sheds, a Keter shed can be a great option. Unlike wood and metal, these plastic sheds are easy to construct and don't need any regular maintenance to keep its quality. As these sheds are made of high-quality plastic and heavy-duty floors, they offer a perfect fadeproof solution for that extra space. Though plastic is a material that is known t be light, the Keter sheds can withstand even strong winds as they are designed intelligently. However, a wooden or concrete base a foundation is recommended for better results.
Keter sheds can be customized as per your specific requirements.
Potting Shed
A potting shed is the heart of any garden because it is where plants get their base as this is the place where containers are created and garden equipment is stored. It is more like a gardener's sanctuary as this particular building is used to keep plant seeds and garden tools. A potting shed can be a great choice as it is a dream combination of a greenhouse and an outdoor shed. You can store all those bags of seeds, compost, and gardening tools in one place. You can further increase the functionality by using shelves, hooks, and other organization techniques.
If you love to garden and taking your gardening to the next level, considering a potting shed can be an excellent idea.
6x4 Plastic Shed
A 6x4 plastic shed can be a perfect option available as it not only offers durability but exceptionally good value for money. Plastic is one such material that is long-lasting and doesn't require any kind of special treatment. They are made from polycarbonate which is strong and have floor made from the same kind of material. Convenience, flexibility, portability, and functionality are some major advantages that you can enjoy by building a plastic shed. It can be a great alternative to a metal or a wooden shed.
Regardless of the size of your lawn or garden, a plastic shed can provide a place to keep your tools safe and organized.
Rubbermaid Shed
Built for durability and functionality, a Rubbermaid shed can be a great idea to protect and organize your equipment. The Rubbermaid sheds are a line of high-density plastic sheds that need a strong, stable base to erect. These sheds can be used for a variety of purposes such as a garden storage shed, car shed, lockable storage, bike storage shed, and more. You can also use the deck boxes to store garden tools, grill supplies, pool toys, etc. Furthermore, these kinds of sheds are extremely easy to assemble and do not require much maintenance.
Get the most out of your outdoor space by building a Rubbermaid shed.
Car Shed
A shed can provide effective protection to your vehicles against the harsh climate conditions such as rain, strong winds, dust, sun rays, hails, etc. Therefore, building a car shed can be a great idea if your garage is already overcrowded. A carport not only protects your valuable vehicles against harsh weather but also adds to the aesthetic appeal of your home. You can not only use the space for parking your cars, but also for storing necessary tools and equipment. Furthermore, the custom car sheds provide extra security and safety as they are equipped with alarms.
You can choose from a huge range of car sheds such as tensile structure, tensile roofing, and more.
Summer House Shed
Sheds have become multipurpose, buildings that serve as a garage, storage room, and a relaxing corner. A summer house shed not only serves as a storage space but a corner where you can have quality time with your family and friends. A summer house is a place to relax and enjoy in the lap of nature especially when the sun is shining to its extreme. There are many kinds of summer house sheds available to choose from such as garden summer houses, pressure-treated summer houses, contemporary summer houses, traditional summer houses, log cabin summer houses, custom sheds, and more.
Extend your living space with a beautiful summer house shed and choose from a great variety of garden shed ideas.
Why Not Buy a Portable Tent Shed?
Well! If you are looking for a storage solution, a portable tent shed can serve as a great option as it not only protect vehicles and valuable but also extremely easy to erect. With a portable tent shed, you will get the necessary coverage without spending a fortune. Also, these kinds of sheds are extremely easy to maintain and lasts long. You can turn any available space into something useful using a portable tent shed. They also offer versatile storage space that can serve many purposes such as private use, commercial use, and more.
When you are looking for backyard shed ideas, a portable tent shed can be a great choice. They are available in a wide variety of designs, styles, and sizes to suit your unique needs. Wondering how to build a shed? The portable tent sheds come with an instruction manual that you can take into consideration.
Do some research and have a wonderful shed!