Do you want to spruce up your garden? Are you looking for some cool ways to beat the heat these summers? Well! There's nothing like a summer house if you want to get ready for the warmer summer months. Wooden summer houses are becoming incredibly popular as no heating or insulation would be necessary. The contemporary wooden summer houses have introduced new features such as garden saunas, lounges, garden offices, holiday cottages, and more.
If you are new to the summer house, it has traditionally referred to a shelter used for relaxation in warm weather. It is more like a vacation property, often designed to provide a cool place to live during the summer. The outdoor summer house can be used comfortably throughout every season. Apart from giving an additional living space and a storage space, it will certainly create a focal point in your garden.
There are of course many benefits of having a summerhouse in your garden; we have listed some of the best ones:
ü Extends Your Living Space – You can build a summer house close to your home or corner of the garden and extend your living space the way you want.
ü Energy Efficient – They are extremely energy efficient as wood is a natural insulator and regulates the temperature.
ü Economical – The wooden structures are highly affordable as compared to other materials and can also be constructed quickly.
ü Environment-Friendly – As wood is a renewable and sustainable product, it is a more environmentally friendly option.
ü Outdoor Family Room – It can be a room for all the family where everyone can enjoy the garden, have a nice meal, and spend quality time.
ü Garden Office – It can also be used as a garden office and a perfect solution for those who work from home and always wanted to be close to nature.
ü Gaming Hub – It can provide an excellent place for all games and toys. Best of all, you will not have to tidy up and just close the door on the mess.
ü Guest Accommodation – It can be a very cost-effective solution to add a guest room to your property and offer your guests a comfortable and cozy place to relax.
ü Outdoor Fitness Centre – If you don't want to spend much on health club memberships, just turn your summer house into a workout zone.
ü The Place to Rejuvenate – It can be a perfect room for your favorite hobby so that you can relax and rejuvenate without going out.
Summer House Ideas
You may have had the idea to build a summerhouse in your garden as an extension of your living space. What you might not have considered is that there are many summer house ideas and these beautiful structures undergo multiple uses. There are many ways you can include innovative features to your summer house and make it future-ready. As their function changes, so do their design. There are more and more options available when it comes to these amazing structures and there are styles for every taste and budget.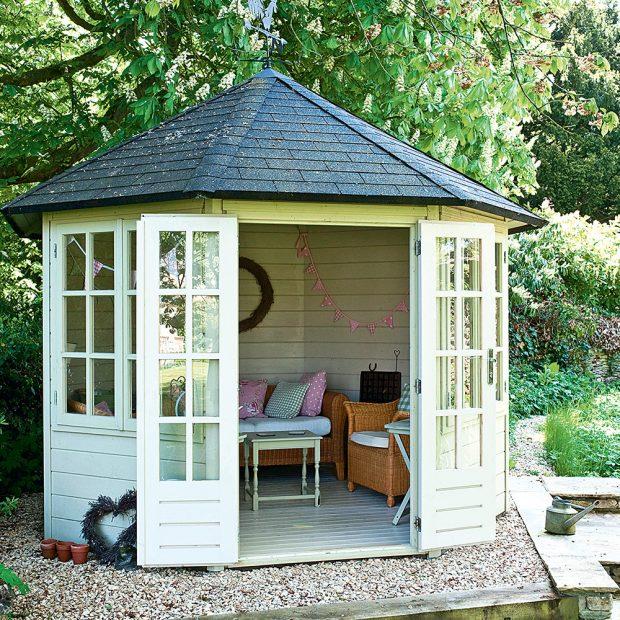 Here we have discussed some summer house ideas to inspire you to create the place of your dreams:
Ø Grand Summer House – If you want something grand, a big summer house will be perfect to make an impact in your garden. However, a grand cottage will also require lavish interiors that look elegant and regal.
Ø Tropical retreat – If you are someone who prefers being in an island resort kind of place. A tropical summer house can be an excellent idea. You can accentuate it with pale-blue color, white rattan, and tropical accessories.
Ø Colonial Vibes – If you want to make the best use of available space, a colonial summer house can be a great idea. Corner cottages are great for smaller gardens and still offer enough space for different uses.
Ø Beach Hut – Bring a piece of seaside home with a beach-themed summerhouse and accentuate it with seaside themed fabrics and accessories. Use bright colors for cushion covers or throws and you can also use seashells.
Ø Woodland Retreat – You will surely adore the idea of having a wooden summerhouse in your garden and keep it simple. Put coy furniture, hang beautiful paintings, or add some baskets to the outside for a natural look.
Ø Fairy House – You can bring a fairy story to life by designing your summer house in a fairytale theme. Use wooden exteriors as well as interiors to give it a forest-like look and adorn with multicolor flowers.
Ø Home Way from Home – If you don't have a guest room in your home, let your summer house be the multi-tasker. Include plenty of windows, an attached washroom, and a storage room at the back.
Ø Keep it Higher – A great way to give your summer house a unique look is by keeping it higher from the ground. The idea is perfect for areas witnessing heavy rainfall so that no insects enter the room.
Ø Creative Curves – A summer house doesn't have to be a traditional building, give it an innovative touch by opting for curvy lines. This will make it look like a futuristic building with no straight walls.
Ø Fun Shapes – Last but not least, you can opt for fun shapes such as a nest, teapot, football, or other innovative design. This will be a great idea if kids are going to use the summer house.
When it comes to summer house ideas, then options are countless. All you have to do is pick the right option that suits both your needs and budget.
Types of Summer Houses
Wondering what kind of summerhouse will be perfect for you? Well! We have discussed some popular types of the outdoor summer house that you may consider. Take a look:
Garden Summer House
A garden summer house is a perfect choice if you are looking for extra living space for a very competitive price. Construction a beautiful summerhouse is probably the best way to upgrade your garden. It will not only transform your garden but will also provide you with a place where you can relax in the arms of nature. With plenty of design, color, style, and material options, you can easily turn your garden into eye candy. Also, these rooms are ideal for a wide array of uses such as home office, entertainment center, yoga or workout room, study area, and much more. Furthermore, you also get extra storage space to organize everything properly especially your gardening tools and equipment.
A garden summer house can be transformed into a full-fledged functional room!
Corner Summer House
Summer houses are becoming very popular worldwide as they not only offer a perfect place for summers but also serve as a storage room, hobby room, guest room, and many more. When we talk about different types, a corner summer house can be an excellent idea especially when you have that awkward corner in your garden or backyard. This is an outstanding way to turn that useless corner into something extremely useful and functional. Best of all, you don't have to alter the existing landscape as there are so many corner house designs available these days. Also, it can be personalized to your taste. You can customize the size, shape, and style of your summerhouse the way you want.
A corner summer house can turn any unused space into a haven for relaxation!
Second Hand Summer House
A summer house is one of the most popular types of structural buildings across the world. If you are planning to have one but not sure whether to invest much, there's an excellent option to get a second-hand summer house. You can buy prefab or portable summerhouses and customize them with contemporary features. You can get quite a bargain if you look carefully and still have a fully-functional summer house in your garden or backyard. The biggest advantage of considering a second-hand summer house is the price. Another great aspect is that there is no wait and you can have a beautiful structure installed in just a few days.
Go for a second-hand summer house and customize it the way you want!
Sheds and Summer Houses
Homeowners, as well as property investors, consider sheds and summer houses a good investment as they not only extend the living space but also adds to the value. These amazing structures are better because they are economical and take less time to build. Though sheds have a panel door and fixed panes while summer houses are more of a leisurely place, they both adorn your garden and transform the space to the next level. A well-designed shed can be a brilliant addition of your home while allowing you to enjoy the beauty of your garden as well as store the essentials. Moreover, a huge variety of floor plans and features are available so that your summer house satisfies your demand for its functionality and aesthetic appeal.
Enjoy the natural outdoor beauty regardless of the weather!
How to Build a Summer House
Want to build your own summer house? Great! A summer house is a perfect alternative to a backyard shed or deck. This multi-purpose building can be used for both personal as well as office use. It can be a great place to enjoy nature and spend some quality time with your loved ones. Building a summer house all by yourself not only saves money but allows you to create the building of your dreams. However, a little professional help never hurts especially when you want to add some innovative features and make it fully functional.
If you are looking to build your own summer house, the following steps might help:
1. Find the perfect spot in the garden or backyard – First of all, find a perfect location for your summer house just like any other structural building. Try to find a place that is safe and easily accessible.
2. Pick the best layout – Once you have finalized the location, it is time to choose the best blueprint for which you can hire experts. The building should perfectly suit your style and requirements.
3. Choose the right theme – Choose a theme and the technical things will follow. When it comes to choosing the right theme, pick the one that suits your personality as there are overflowing themes.
4. Select the right material & shade – Choose the material widely and paint it with a color that makes it pop up. Try to accentuate your summer house with a color that makes everything look cool and classy.
5. Mix and match the furniture – Try to make the right mixture of furniture pieces and style as both aesthetics and functionality matters. Choose pieces that match your personality and catch the eyes.
6. Decorate & Accessorize – Having a summer house means you can experiment with the decoration and use your favorite accessories. Complete the overall look with some stylish ornaments and plants.
Build Your Own Summer House with a Tent
A cozy and comfortable summer house is a remarkable and lucrative investment. Having a beautiful, fully-functional room in your garden or backyard can make your life so much better and also boost the value of your property. However, if you do not want to build a permanent structure, you still have the option to have your own summer house. Build your own summer house with a tent and enjoy the same feeling and features of a traditional building.
Tents are not just meant for organizing events, the specialized ones can also be used as a summer house. Today, a huge variety of tented summer houses is available that you can buy and erect in your garden. These DIY tent summer houses offer you an instant solution to extend your living area and enjoy the summers with your loved ones. Also, this can be a great option if you looking for a budget-friendly alternative to the typical summer house.
Choose an economical and eco-friendly summer house and escape the hustle and bustle of everyday life!