10 Simple Small House Design Ideas – Tiny Houses, Big benefits
Bigger Isn't Always Better!
In the past decade or so, small house design has become highly popular and a lot of homeowners these days prefer tiny houses. We all have a dream of living in a big house but that doesn't mean that the dream is crashed if we have a tiny space. Smaller homes can also fulfill all our wishes that we want and all we need is a smart house design.
Nowadays, it has become extremely difficult to but a large plot in urban cities to build a big house. Due to the lack of land and hike in property prices, buying a huge piece of land seems impossible. That is the biggest reason behind the surge in small houses as they are affordable, compact, and easy to maintain.
A lot of people these days believe that 'living in tiny houses means living affordably'. Also, the concept of minimal living is gaining huge popularity as it allows making the best use of available space without spending a fortune.
However, it can be a bit challenging to get the perfect house with all the facilities and amenities you want without proper knowledge. Therefore, we bring some simple small home design to help you out in building your dream project.
Small houses offer a wide range of floor plan options and can use every square inch creatively. When you have a plot area with limited space and still want your house to be equipped with everything, the following design ideas might help:
10 Simple House Design Ideas
1. Multi-Level Building – Having a limited plot area doesn't mean you have to compromise on your house design. You can create a two-story building and perfectly divide the spaces. Split level homes offer double space and require straightforward maintenance and upkeep. The multi-floored building designs range from the traditional ones to the smart designs.
2. Container House – Shipping container architecture is gaining immense popularity and is used to make tiny houses. The factory-built container homes offer a perfect solution to those who are looking for an affordable housing solution. They can easily be built without many building materials and incorporated with everything that you need to live a comfortable life.
3. Pre-Fabricated Homes – Pre-fabricated or factory-built houses are a perfect alternative to the traditional buildings. These structures are manufactured off-site in a controlled environment and transported to the main site for assembly. The prefab houses require shorter construction time and are better for the environment as they produce less waste and energy-efficient.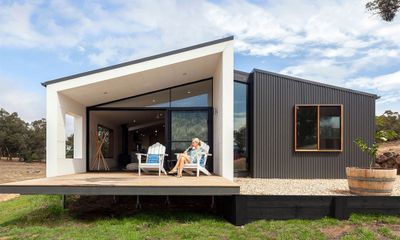 4. Modern Tiny House – When we say small or tiny house, it doesn't mean that it has to be simple; you can opt for a modern house design equipped with all essential amenities and comforts. Modern house designs have clean and symmetrical lines with features like smart storage solutions, open floor plans, technological advancement, security settings, energy-efficient, and a dedicated space for different chores.
5. Rustic Tiny House – Create a combination of natural materials like wood with a dreamy, fairytale structure that will look outstandingly beautiful. Accentuate the look with large windows and natural wall paneling for bringing that natural vibe. Rustic design will not only allow you to live in an astonishing house but also encourage a greener lifestyle.
6. Wooden House – Whether you want to build your home in an urban area or countryside, wood can be a perfect material to use. A wooden house is not only suitable for all environmental conditions also boosts the aesthetic appeal. These kinds of buildings have many benefits such as high building standards, noise reduction; lower heating & cooling costs, and quick maintenance.
7. Twin Tiny Dwellings – Living in a small house doesn't mean that you have to compromise your privacy especially when you have access to the most innovative designs. Build two identical buildings alongside some space for a garden or pool between them. This will not only provide private space but also adds to the aesthetic appeal and boost functionality.
8. Innovative House – Innovative buildings are those that are built to the latest trends and technologically advanced. It is constructed using new materials such as concrete, metal, and glass. Innovative house design is a perfect example of simplicity, functionality, and the lack of ornamentation. Also, the house is smart that adapt to your evolving lifestyle and requirements.
9. Nature-Inspired House – Today, more and more people are looking for ways to get back to nature and green living. The nature-inspired home designs not only convey a balance between traditional and modern aesthetics, but they also help reduce waste. You can easily blend natural beauty into your home design by using natural materials, green roof, terrace garden, abstract vision, coastal-style walls, wide windows, and more.
10. Traditional House – There's nothing as beautiful and functional as the traditional house design, regardless of the size and shape. These kinds of designs inherently have more character and are family-oriented. Also, the design process grants you greater freedom to personalize the layout as per your unique requirements. A traditional floor plan suits both large as well as small house designs.
Whether you are looking for a truly simple, small house building design plan or one with luxury amenities, you can do a lot in a tiny space. With a shift towards sustainable living, the tiny houses have proved to be an ultimate solution.
Benefits of Building a Tiny House
Are you obsessed with tiny houses?
A small house design offers all the basic and necessary things as they are designed in a way that they do not take much space. They are a perfect example of minimalism and modern elements. If you are wondering whether or not build a tiny house, taking a look at the following benefits might give a better insight:
ü Environment-Friendly – You can be extremely environmentally friendly by using a tiny house as it can be built using a lot of recycled or repurposed materials. Using resources like solar and wind for power, rainwater, and composite toilet will further make it eco-friendly.
ü Energy Efficient – Whether you use solar energy to power up your home to a power line, small houses tend to be energy-efficient as they use less energy. Also, a tiny house has smaller appliances that use less power to heat and cool.
ü De-Clutter Your Life – After living in a traditional home for years, you must have stuffed piles everywhere. A tiny house offers you the opportunity to get rid of all the unnecessary things and have only meaningful things.
ü Not So Expensive Decoration – If you love to change things up in a while, you can decorate the tiny home without breaking the bank. As you have such a smaller area to decorate, you can easily redo the entire house.
ü Easy to Clean & Maintain - A small house will be a lot easier to clean and maintain as compared to the bigger one. Sweeping or vacuuming will only take a couple of minutes and maintenance will be too low and affordable.
ü Stay Tidier & Organized – When you de-clutter your home, you have less stuff and everything has a dedicated place. As there will be a place for every time, it will be a lot easier to keep everything in its place.
ü Minimalist Lifestyle – With minimalist design piquing interest, the small house design is gaining huge acknowledgment. A lot of people these days prefer a tiny house over big bungalow to minimize expenses and opt for a greener living.
ü Build for Less – A small house offers the financial edge as it can be constructed with less material and cost-effective building methods. You don't have to pay up a large down payment for a home when you can own a tiny house at a fraction of cost.
ü Ditch Mortgage – With the popularity of small houses, the idea of eliminating a mortgage payment is a big relief. The ideal of building a tiny home in a limited plot space has given hope to people with a limited budget to have a place they call home.
ü Save Money – It is not just the construction and maintenance cost that you save, a small house offers long-term savings. Everything starting from less space for furnishings to easy remodeling and the minimalist lifestyle helps you cut costs.
ü Enjoy Life – The money and time you save by living in a small house allow you to explore more in life and spend quality with your loved ones. As you have no debts or no worries about those big monthly maintenance payments, you can enjoy life to its fullest.
A well-designed tiny house can keep costs down while increasing intimacy and comfort. While living in a small house, you accumulate less stress due to being outdoors more.
How much does it Cost to Build a Simple Tiny House?
As tiny homes epitomize function and style, they too come with a price but it's not that high as big buildings. The approximate cost of building a tiny house can go anywhere from $10,000 to $180,000 or more. As they can be built to match anyone's lifestyle and budget, the average cost falls somewhere in the range of $30,000 to $50,000.
Here are a few money-saving tips if you want to build a small home:
- Choose a smaller, open floor plan and stick to it
- Get several bids and choose a house builder wisely
- Look for recycled or repurposed material
- Build some of the house yourself
- Furnish your tiny home with second-hand items
- Attend lumber auctions to find some usable materials
- Find affordable new house design plans
- Take time to find the best deals
- Ask your friends and family for help
- Plan a budget and don't cross the line
Small New House Design Tips :
Small house designs offer an extensive variety of floor plan choices. If you are looking for a new house design and want to keep it compact, the following tips can help:
- Use fold-down options to make the best use of available space.
- Keep the clutter below the waist level as it gives a greater sense of space.
- Opt for high ceilings as it gives extra height to your tiny house.
- Install large windows to bring in natural light.
- Use low-sitting furniture for a feeling of greater space.
- Install plenty of windows to make the home feel bigger.
- Use light colors as they tend to make any space feel expansive.
- Place mirrors to increase the visual size of your home.
- Make smart use of available space and give every corner more than one purpose.
- Downsize and get rid of unnecessary elements to comfortably fit in a small house.
- Go for an open floor plan and avoid partitions.
- Choose sliding doors and windows to save space.
- Pick smart storage solutions and use space under the stairs.
- Choose the furniture widely such as loft beds, sofa-cum-bed, etc.
- Choose compositing as your waste management.
Explore some popular house design to understand what others have done and try to do better with your house.
Tiny homes are becoming more and more popular as they offer many full-sized benefits. Go for a small home design that caters to all your needs…