Portable sheds, also called portable buildings, are freestanding structures made of materials like wood or metal. The sheds are typically designed to expand the functional space of the main house and used for storage. Sheds vary in their size and complexity of construction as the ones used in the residential area differ from those used in farms or industries.
Flexible, portable, cost-effective, quick to install, easy to maintain, and eco-friendly are some biggest advantages of portable sheds.
If you are planning to build a shed in your garden or backyard, we have listed 11 most popular shed types to help you choose the best. Take a look:
Different Types of Sheds
1. Tuff shed – The storage building or garage is made of wood or steel and ideal for both residential as well as commercial applications. You can either get the tuff shed built at your site or purchase it from reliable online dealers and get it delivered and installed on-site by professionals. Tuff sheds can also be customized as per your specific requirements and most of the premier portable buildings consist of galvanized steel floor, radiant barrier siding, big sidewalls, and roof decking for temperature control. Though most of the sheds are made of wood and steel, you can also choose materials like plastic, resin, vinyl, etc.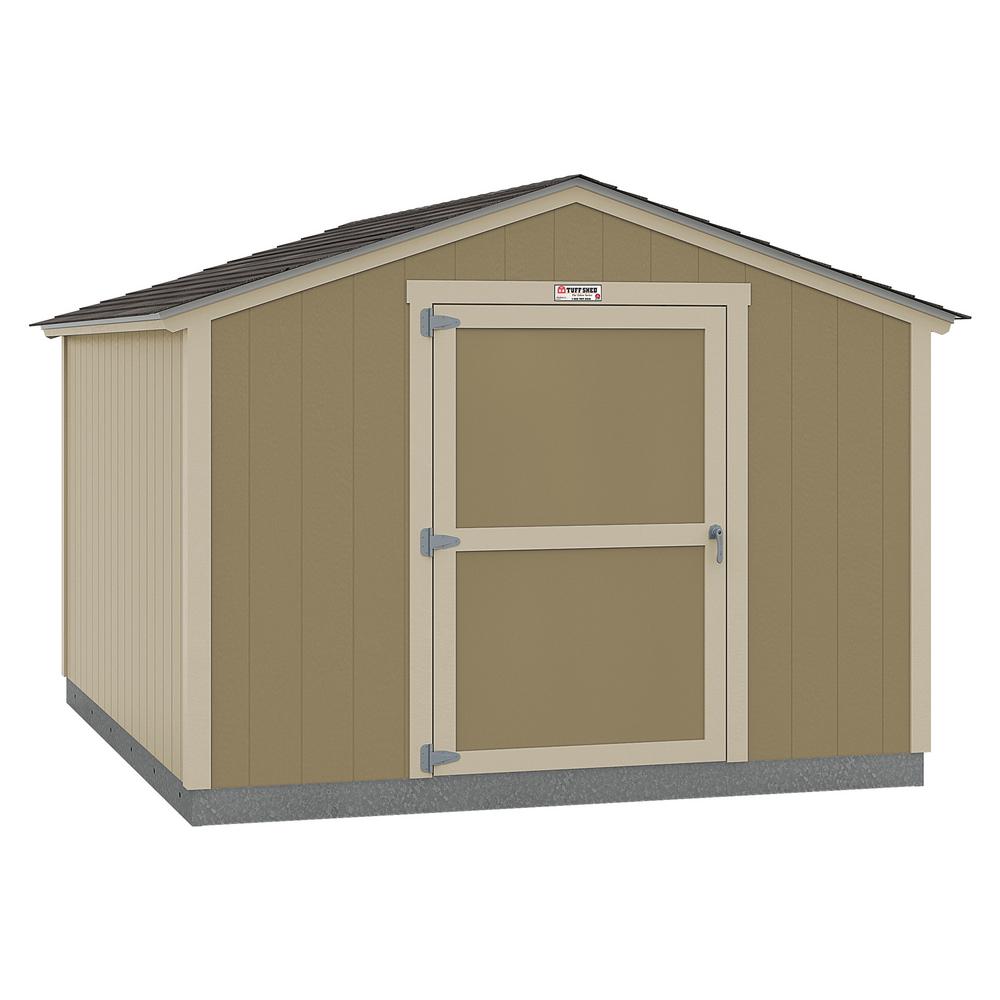 The tuff shed can be an excellent choice if you are looking for a storage solution for your backyard. As far as the permit for building a shed is concerned, most of the smaller tuff sheds are less likely to require permits. However, you may need to contact local building departments for permit requirements if planning to build a large shed. Also, it will be great if you can create a level building foundation by adding wood shims and concrete blocks before constructing the structure. Tuff sheds are flexible, cost-effective, and quick to install in your garden or backyard. Tuff shed prices are affordable as compared to other sheds.
2. Backyard Shed – If you are looking for a cost-effective storage solution for your home, a backyard shed can be a perfect choice. A backyard shed can be used to store a variety of things such as gardening tools, equipment, bicycles, hobby craft, and more. However, it doesn't mean that you have to compromise the comfort of luxury just because it is a storage room. Today, an extensive variety of backyard sheds is available and you can choose from the most innovative designs to boost the aesthetic appeal of your home as well as the value. There are various kinds of sheds ranging from lavish & classy wooden framed sheds and metal sheds to highly durable plastic backyard sheds.
You can either go for a small backyard shed or a large one depending upon the space available and your needs. The aim of sheds has become a lot more than the purpose of storage and workshops; they are considered an important part of a house. They can be designed as sheds, cabins, barns, garages, or warehouses. These beautiful and functional structures are ideal to provide you with that extra storage space you need to organize things properly and make your life clutter-free.
3. Bike Storage Shed – No matter if you're a child riding to school or an adult with interest in bicycle, you need a place to keep it safe. A bike storage shed is purpose-built to protect your valuable bikes from elements like rain, snow, strong winds, and hail. These elements can severely damage your vehicles while the dust and rust can shorten their life-span. A dedicated shed will not only protect them from harsh climate conditions but also decrease the breakdown of plastic and rubber parts from prolonged sunlight exposure. Also, these portable sheds provide security especially when the bike is not cheap.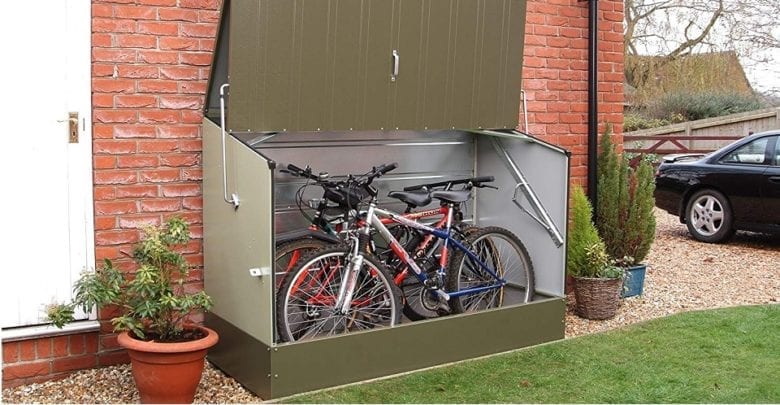 If you are into the bike lifestyle and your garage is already overflowing, a bike storage shed will be a great choice. The sheds will keep your bike protected while giving you some extra space to store equipment and do your thing. Either you can choose to make a dedicated storage shed for your bike or extend your existing backyard shed. It can be a place for everything that you can easily maintain. With many different sizes and styles to choose from, you can get the most suitable shed that perfectly works for you. Also, a bike shed doesn't have to break your budget as there are plenty of affordable options on the market.
4. Wood Shed – Wooden storage sheds are becoming increasingly popular as they offer a perfect solution to those who are looking for extra storage space without compromising the aesthetics. A woodshed can entirely transform the ambiance of your garden or backyard and make it look more organized and charming. Also, it gives you plenty of size and style options and you can pick as per your specific needs. You can easily add shelving units, drawers, cabinets, and wardrobes to the shed to store all your belongings.
If you have been considering building a woodshed, it can be a great decision as there are several benefits that you can enjoy. Although you can make use of metal or plastic, nothing beats the beauty and functionality of a wooden shed. A woodshed is the easiest type of shed to set up in the garden as dealing with wood is just a matter of hours. Another advantage if it is easy to repair as any broken or damaged portion can be replaced by another piece of wood. Furthermore, it can easily blend into any garden landscape and convert it into a more livable space. A wooden garden shed requires less planning permission as it does not need a massive foundation.
5. Prefab Houses – When we talk about premier portable buildings, prefab houses are gaining immense popularity. Prefabrication is a construction practice in which a variety of components are assembled in a factory to build a specific structure. When we talk about portable sheds, prefab houses have become a well-accepted choice across the world. Prefab construction is widely available and becoming more common due to improvement in quality and cost-efficiency. As these kinds of houses are built in factories, the cost can be controlled by using recycled materials and reducing waste.
There are many reasons why prefab houses have become the talk of the town. This construction method is eco-friendly as no extra material is required and everything is recycled in-house. One of the greatest advantages of these houses is financial savings as it targets all budgets and price points. Modular construction can be easily assembled, disassembled, and relocated as per your convenience. Since the main parts are constructed off-site in a controlled environment, there is less risk for problems. Furthermore, portable construction takes less time to build as compared to on-site construction. If you are looking for a sustainable construction method, prefab buildings can be a great choice.
6. Shed Kits – Having a shed in your garden or backyard can be an excellent option as it extends your storage space and adds to the value of your house. If you are the kind of person who believes in DIY sheds, investing in shed kits would be a great idea. Shed kits are available in a huge variety and you can choose as per your exact requirements. Some popular options that you can consider for building your shed include vinyl-sided shed kit, garden storage shed kit, metal shed kits, economy shed kit, and more. These kits are designed to provide you with everything you need to construct a shed. However, you may still need professional assistance if you are planning to build a large shed.
Sheds are the ideal choice for storing your valuables and shed kits can help you save time and energy. DIY kits in the market also have customizable features so that you can customize your shed according to your style and liking. Some manufacturing companies selling shed kits provide their customers with an installation team to help construct a shed. You can also have the kit transported straight to your home and boost the overall appearance of your property.
7. Greenhouse Shed – If you are looking for a place to store garden tools and equipment, why not combine the advantages of a storage shed and greenhouse shed. This would be the best way to utilize the space to its fullest potential. Greenhouse provides a dry, warm environment that encourages plant and seedling growth. With the shed and greenhouse in one structure will help you grow your favorite plants and store the tools simultaneously. You can not only have an ideal environment for your plants but a safe place to keep your tools and your garden clutter-free.
Building a greenhouse will keep your vegetable and fruit babies nice and warm. At the same time, it will protect them from pests. If you have a big garden, you can make a bigger greenhouse-cum-shed and grow your food which means less spending on the local grocery store. You will have the flexibility to adapt your shed into a potting shed or storage shed. This is an ideal solution and great value for money if you want to grow your plants and keep your garden organized. There are many types of greenhouse shed sizes and styles that you can choose from.
8. Outside Storage Shed – As the popularity of outside storage shed began rising, there are unlimited options for sale in the market. Most homeowners these days prefer expanding their storage spaces by building sheds in their garden or backyard. A shed is the best way to keep all things you don't need regularly out of sight and safe. In addition to providing extra storage space, sheds also open up some living space. You can also store all your bulky equipment in your storage shed and know where everything is. Every corner of a shed is designed to hold your things.
An outside storage shed is a great way to free up space in your home which means you can keep everything organized. From simple sheds to working barns, or detached garages, the options are limitless. You can choose from different types of outside storage sheds and keep your home clean. These storage buildings are easy to construct as a lot of material is available prefabricated or packed. All you have to do is go through the instructional leaflet and build up your outdoor shed. Having a shed for safekeeping and functionality means you will not have to worry about wiping down the floors.
9. Metal Storage Kits – Metal storage kits contain everything you need to assemble a metal shed to keep your tools and equipment organized. These kits are available for almost any type of building, from a simple portable gazebo to a multi-level storage shed. The kit usually contains the roof and wall coverings, the fasteners such as screws and bolts, and other necessary tools. The kits come in various designs and sizes to suit both small as well as large construction projects. They also come with different customization options so that you can make the perfect building that caters to your specific needs.
If you have wanted a storage unit for your gardening equipment, vehicles, plants, or other valuables, metal storage kits can help you make your dream come true. It could be a great way to construct a shed in your garden or backyard without spending a fortune. Metal storage kits are durable as compared to other materials like wood and plastic. Also, the kit is far less expensive than many other forms of kits available on the market. The superior construction strength allows for the more streamlined process and efficient use of space. As all materials are prefabricated into exact shapes and sizes, it is easier to work with metal kits.
10. Office Shed – Never drive to work again when you can make a portable office shed in your garden or backyard. If you have always imagined working in a quiet space in the backyard of your home, building an office shed can be an outstanding idea. A studio shed is a place you can commute to in seconds and save your precious time. Unlike a dedicated room for your office work within your home, a backyard office shed offers a detached space away from all the distractions. It is the simplest way to add a valuable asset to your property and go to work without going far away from home.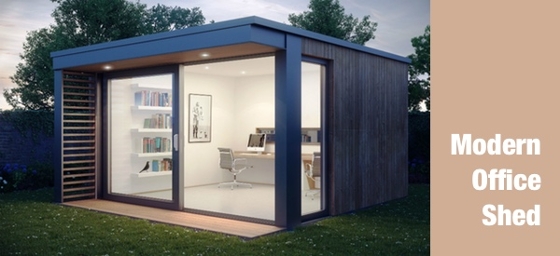 Your office shed will not only provide you with the convenience of working from home but also adds to the value of your property. Also, it saves you money as instead of paying for an office lease, you can get a studio shed at a fraction of the price. As far as the design options are concerned, hundreds of floor plans and configurations are available to choose from. Either you can go for simple foundation options or an innovative floor plan for maximum utilization of the space. Available in numerous styles and sizes, these home office sheds can also be customized to fit the exact space you need.
11. Storage Container Houses – Also called shipping container homes, the storage container houses are a unique approach towards green living. In this construction method, a shipping container is converted into a fully-functional house. These kinds of houses are built in a factory-controlled setting and transported to the main site for further construction and assembly. The storage containers are well known for their adaptability and durability. That could be the reason why they are used to build portable sheds or even houses these days.
Storage container houses can be an excellent alternative to traditional housing as they offer numerous benefits. Building a house from shipping containers may be a cost-effective way than you ever imagined. Also, living in a container house doesn't mean that you will have to sacrifice all the comforts of a traditional house. The portable houses can also be built to have all the comfort and luxury. With proper insulation, these houses can be incredibly energy efficient. These houses also provide an excellent opportunity to reduce the carbon footprint and recycle materials. Furthermore, the type of house can be constructed very quickly as the majority of parts can be built in a factory.
The Final Verdict
If you are looking for 'portable buildings near me', numerous companies are offering portable structures to suit your needs. With so many different types of portable sheds available, it can be challenging to find the best for your home. However, good research can take you to your dream project.
Be mindful and choose the best portable shed that caters to all your needs…