Outdoor structures not only provide shade and protection from elements, but they also widely used for events and entertainment purposes. Adding an open-air structure like a gazebo to your outdoor space can be a great idea if you are looking for a space to have fun with your loved ones. Though you can have a permanent gazebo in your garden or backyard, a portable gazebo will also be a great choice. These beautiful structures are an excellent choice for use in venues as well and can house crowds, outdoor activities, dinners, business events, and more. It serves both as a practical use and aesthetic appeal.
What is a Gazebo?
A gazebo is a freestanding structure constructed of wood or metal. This pavilion structure is often built in a park, garden, or a spacious area. Apart from offering shade and shelter, they add to the aesthetics in a landscape. The iconic landscape building can either be built in a classic octagon or hexagon shape.
They come in a variety of sizes and can be designed to accommodate small as well as large groups. They can also be built in a garden to enjoy small parties or just enjoy the beautiful sunrise and sunsets. They are traditionally elegant in style and have the classic look but can also be customized as per the specific requirements.
Depending on the region or culture, a gazebo might also be called as a kiosk, shed, summerhouse, pergola, belvedere, or tea house.
Here are different Types of Gazebos and reviews:
Gazebos are quite popular in gardens, parks, and backyards as they can transform the look as well as functionality with a relatively small investment.
If you are one of those individuals who appreciate being outdoors more than indoors, discussed below are some popular types of outdoor gazebos that you may consider:
ü Pop Up Gazebo(with sides) – Also known as pop up or instant canopies, these kinds of gazebos collapses down to a portable size. Pop up gazebos are compact and easy to assemble and the durables ones can withstand harsh climate conditions. There's no complex screwing or tricky construction, all you have to do is pull the frame out to erect it. Also, the pop-up structures are very easy to take down and store. They are also extremely flexible when it comes to customizing space and covers.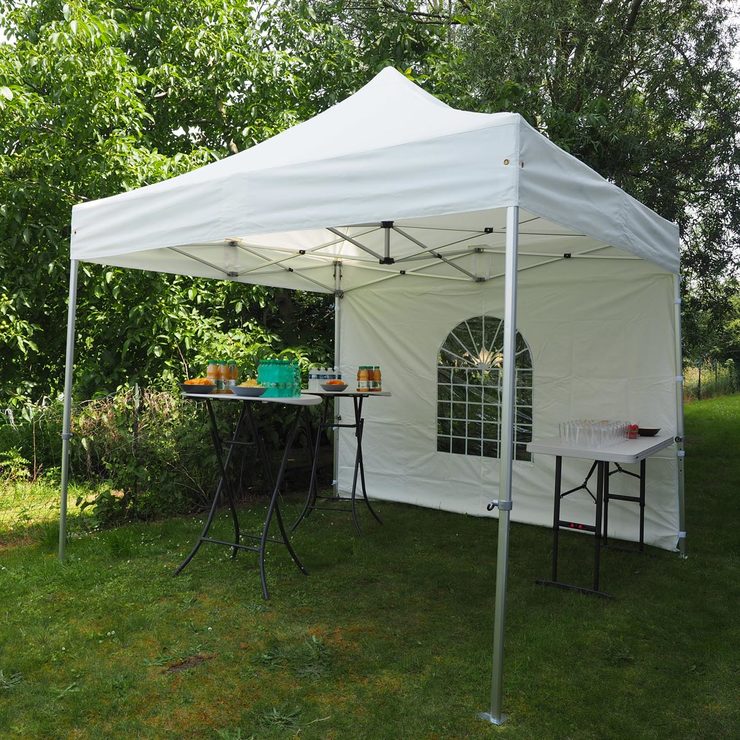 Pop up gazebos are perfect for festivals, camping trips, weekend getaways, kid's playroom, business shows, birthdays, markets, etc.
ü Metal gazebo – When you think of a classic, durable gazebo, a metal gazebo can be an ideal choice. Various designs are possible when you make a gazebo using metal and commonly used for construction are aluminum, cast iron, and steel. These metals are known for their durability as they have an extremely high resistance to the elements. Also, prolonged exposure to sunlight, moisture, and other temperature fluctuations cause no effects on metals. The ability to withstand extreme temperatures adds to the stability of the outdoor gazebo.
Furthermore, metal garden structures are low maintenance as they are easy to clean and don't require much care.
ü Wedding Gazebo – A memorable wedding day means a perfect arrangement right from the start and a wedding gazebo can make everything seamless. There's something about a sheltered space that is spacious and inviting. Wedding gazebos can represent a lucrative venture and gives you a personal space over other venues. With an outdoor arrangement, you have fewer restrictions and can use the space as per your specific requirements. Also, there's nothing better than exchanging vows in the lap of nature on a warm sunny day.
A wedding gazebo allows you to take the natural benefit of an amazing setting or backdrop. These structures can also be used as a bar/drinks reception area.
ü Garden Gazebo – Adding a gazebo to your garden is a great way to enhance its beauty and functionality. Nothing upgrades a garden as adding a beautiful outdoor structure that adds a unique, fun space to your house. Being able to switch off and spend some quality time is a wonderful way to rejuvenate your mind and body. It simply means that you can enjoy the outdoors in any weather and protect your furniture from the elements like rain, sun rays, etc. It is more like an all seasons gazebo and there are many different types to choose form.
A garden gazebo can be used for all sorts of occasions such as birthday parties, family reunion, quiet conversations, dinner parties, etc.
ü Wooden Gazebo – In the very busy and demanding world, having someplace where you can go sit and relax in the fresh outdoors is like a blessing. A gazebo is such a cool place where you can spend quality time with your loved ones and celebrate events like birthdays, dinner parties, etc. There are various types of gazebos, but a wooden gazebo can make a big difference. Wood can be customized to suit your needs which means you can shape the gazebo the way you want. A good quality wooden gazebo will last for a long time and serve you value for its money.
In addition, wood is cost-effective as compared to other gazebo materials.
ü Canvas Gazebo – Any homeowner who wants a customized look for their garden or backyard should consider adding a gazebo. Elegant and relaxing, it is something that adds to the aesthetics as well as the value of your house. If you are looking for an instant solution, a canvas gazebo can be an ideal choice. It functions like a regular gazebo except the ceiling is made of canvas instead of traditional materials like wood or metal. Canvas gazebos are versatile, cost-effective, and easy to maintain. They often have a plastic or metal frame and can be installed in a matter of time.
A canvas gazebo can be a perfect option if you want a place with the committed seat areas, lighting, and safety from elements.
ü Hexagon Gazebo – There are different types of gazebos, but one of the most popular forms is the hexagon gazebo. Though it may have a large number of vertical supports, it doesn't look massive. These kinds of gazebos are known for their sophistication and offering a harmonious construction in any natural landscape. It can withstand harsh climate conditions being strong and reliable. Most often the hexagon gazebo is erected for winter picnics as it can withstand heavy glazing.
Any materials such as wood or metal can be used to build a hexagon gazebo and it can also be customized as per your unique requirements.
ü Octagon Gazebo – When you are looking for something beautiful for your garden, there's nothing better than an octagon gazebo. The octagon gazebo has 8 sides and the customization is limitless in size and styles and you can have a convenient and comfortable place to relax. You can choose from the rails and roofing to benches to make the gazebo a perfect fit for your garden or backyard. The octagon shape is large enough to accommodate several pieces of furniture while not taking up too much space.
If you want a smaller gazebo but don't want to compromise on functionality, the octagon gazebo can be a perfect solution.
ü Small Gazebo – A small gazebo can be an elegant and attractive option for smaller gardens or backyards. Whether you choose a round, hexagonal, or octagonal gazebo, no garden structure is more versatile than the small gazebo. These beautiful structures are great throughout the year and capable of keeping you sheltered from elements. A small structure is easy to look after which means you don't have to spend much on its maintenance. When you have such an attractive and low maintenance cover all year' round, you can always afford to entertain your guests more often.
A small gazebo gives a majestic look to the yard and can be used for many purposes when needed such as a small gathering, birthday party, etc.
ü Temporary Gazebos – If you are thinking of a quiet place to sit and entertain no matter what time of years it is, temporary gazebos can be your best choice. A permanent gazebo may be a good addition to your yard but if you don't use it regularly, a portable one will work great. A portable gazebo is a structure made of lightweight yet sturdy material and can be easily erected in your garden or yard. The steps to install a temporary gazebo are simple and give you the best of all worlds.
Temporary gazebos are highly versatile and can be located in a perfect position. Moreover, they are incredibly cost-effective and do not require too much maintenance.
Whether you want full outdoor living entertainment gazebos or just a small one, the designs, sizes, and styles are limitless. The best benefit of a gazebo is that it gets you out of those walls and enjoys the nice view of your backyard. No more you have to just gaze from your window as there wasn't anything that draws you. It's time you build a beautiful yet practical gazebo and have an ideal outdoor living place where you can entertain with friends and family.
How to Build a Gazebo?
A gazebo can be a useful and valuable asset to your houses. The beautiful structure instantly draws attention because it adds an attractive quality to a house. It gives you the perfect outdoor living space where you can relax throughout the year.
If you are willing to have a gazebo in your yard, Here's how to build a gazebo:
Ø

Cut the posts to length and it will be better to mount the aluminum standoff underneath as a strong base.

Ø

Make hole locations in the anchors to the sides of the post and screw the aluminum post to the base of the post.

Ø

Tighten the nut and make sure that the standoff is properly screwed to the posts.

Ø

Screw the tops plates to the posts and make sure that all the plates are of the same length.

Ø

Cut the corner brackets and ensure that there's a left and a right corner brace for each post.

Ø

Screw the rails and headers to the posts and the upper braces to the top plates.

Ø

Take to rafters to give shape to the gazebo and attach two opposite rafters.

Ø

Nail the roof decking and paint the gazebo.
A traditional gazebo always has a base but it is not mandatory to give it a platform. You can build a simple gazebo with sand as a base, wooden frames, and roof. The floating benches will be a great idea and other ornaments like plants and gazebo lighting can also be added to accentuate the look.
If you want your gazebo to look extremely beautiful, spending some time planning its details would be well worth it. Though it will be a bit complex than simple gazebos, the result will be a treat to your eyes.
If you don't have much time but want to build a gazebo, a simplified version made of wood with a small platform, roof, and basic furniture would be great. You can further enhance the look by adding curtains, plants, etc.
What are the Main Uses of a Gazebo?
A gazebo will add a touch of elegance to your outdoor area and there are so many types you can choose from. Regardless of the type you choose, these beautiful structures can be used in many ways. A well-designed gazebo offers an affordable way to extend your living area and enjoy the great outdoors with your loved ones.
Gazebos serve a variety of purposes such as:
-

Garden shade

-

Greenhouse

-

Event tents

-

Dressing room for pools

-

Temporary store

-

Outdoor hot tub or spa
Outdoor living is all the rage!