Planning to add a pergola to your property? Great choice! When we talk about pergolas, they remind us of the Mediterranean vibes – easy and breezy, open and airy. But although pergolas are amazing, do they serve the purpose? Do they provide much shade? Can they add value to your house? Are there any benefits of having a pergola in your house? Well! This article discusses the types, uses, and benefits of pergola so that you have a better idea before having one in your garden.
What is Pergola?
A pergola is an outdoor garden feature that can be a walkway or sitting area and seems to have an open, airy look. This wide-open structure with four vertical beams or posts has a decorative roof design with no sidewalls. It consists of columns that support a roofing grid that may be left open or covered as per the requirement. Pergola may be a freestanding structure or attached to a house. It is used for shade or even a touch of shelter from the elements or just to accentuate an entrance or pathway.
The freestanding pergolas that are not attached to a house or other structure are often used as sitting area as it allows for light sun and breeze. Also, these beautiful structures give climbing plants perfect support to grow. However, pergolas are not meant to be used as a sitting area during extreme weather conditions such as heavy rain, strong winds, hails, etc.
Visually, a pergola is usually large enough to draw attention when people see them and they come in a huge variety of sizes, styles, and colors.
Here are some popular pergola designs that you may consider if you want to build one in your garden…
7 Amazing Pergola Designs
1. Wooden Pergola – A pergola made of wood add interest to the yard and give it a natural rustic look. Wood is a natural material and can be used in a variety of ways while building a pergola. The best part is you can use the same wood for the pergola and the fencing. This will create a sense of utility and you can retreat under a sheltered space when it's hot outside. A wooden pergola is easy to install and can also be customized to suit your specific preferences. You can further enhance the look by adding plants and flowers or draping all-weather fabrics.
Though pergolas can be built using a variety of materials, the most trending structure is wood.
Here are a few benefits of wooden pergola:
-

Great design element

-

Easy to install

-

Beautiful details

-

Customization

-

Natural look

-

Fits into any budget
2. Aluminum Pergola – Aluminum is a material that is known to stand up weathering and water damage. An aluminum pergola is lighter and doesn't require too much ground anchoring as other pergolas do. Also, aluminum is easier than assembling other materials as the tall poles are much lighter. Although the color scheme for aluminum is limited as compared to other materials, it provides different finishes and metallic shades. Also, the pergola can be adorned with a wide range of fabrics and textures.
Furthermore, retractable pergolas are an ideal choice for backyards with limited spacing. They include a waterproof and weather-resistant paint finish making them highly durable.
Here are a few benefits of having an aluminum pergola:
-

Sleek look

-

Versatile design

-

Durable & lightweight

-

Retractable & practical

-

Durable & water-resistant

-

Little or no maintenance

-

Customizable
3. Pergola Canopy – A pergola canopy is an excellent way to add beauty and value to your home. Canopies help improve your outdoor experience by reducing the amount of heat gain and offering a comfortable place to sit. A well-designed pergola canopy will help increase the curb appeal and create a shaded place for entertaining friends and family. Though you can have a wide-open structure with no walls, portable screens can be added to make the space cozy and private. You can also choose to have retractable canopies in your backyard as they are available in a wide variety of sizes and configurations.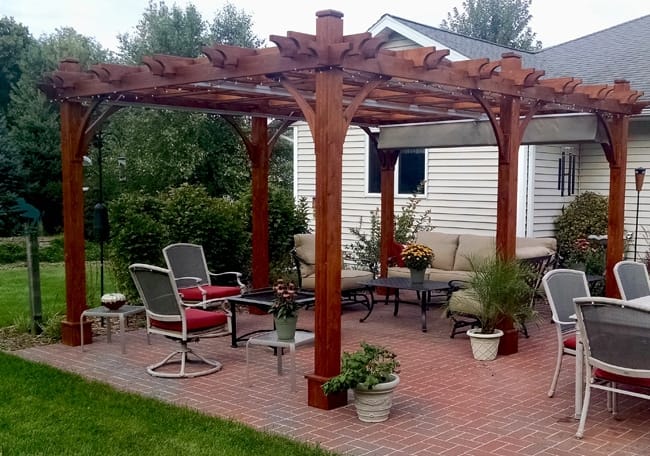 Take a look at some great benefits of pergola canopy:
-

Aesthetically appealing

-

Flexible & functional

-

Color matches components

-

A wide selection of fabrics & colors

-

Freestanding

-

Wide selection of architectural finishes

-

Customizing options
4. Garden Pergola – A garden pergola is an easy way to enhance the look and functionality of your outdoor space. Having a pergola in your garden means you can have a definite space where you can get privacy, sit, and spend quality time with your loved ones. Also, they help create additional space for your plants and offer protection from the natural elements. Furthermore, a garden pergola is an excellent way to create a place to entertain outside and adds value to your property. Building a pergola in your garden is a great way to boost up your outdoor space without spending a fortune.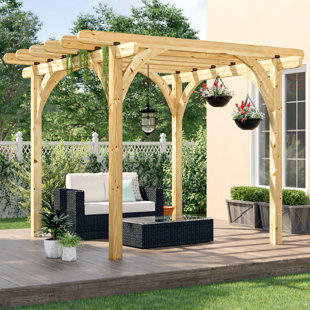 Here are a few benefits that a garden pergola offers:
-

Defined space

-

Space for growing vines or other plants

-

Stylish & sophisticated

-

More comfort, more fun

-

Let enjoy the outdoors

-

Outdoor furniture last longer

-

Budget-friendly
5. Backyard Pergola – A backyard is an ongoing source of pleasure and you can build a pergola to transform the space even better. A plain yard with nothing to look out can be transformed with a pergola as it instantly stands out and defines the area. Also, pergolas are easy to integrate with other elements in the backyard. They improve the overall quality of your outdoor living experience and also offer extra space for storing additional potted plants. They help change the entire look of your backyard and make it look beautiful and function amazingly.


The main benefits of a backyard pergola include:
-

Create a definitive space

-

Lend plants a helping hand

-

Adds unique beauty

-

Provide shade & protection from elements

-

Value for money

-

Durable & low maintenance
6. Outdoor Pergola – Pergolas are structures that help add interest to your outdoor space and they are easy to integrate with other elements. If you are looking for a way to enhance the quality of your outdoor living experience, an outdoor pergola can be a great choice. This simple structure can transform your garden or yard and turn it into a beautiful and functional space that you love. It can be made with different materials such as wood, metal, and even vinyl. You can build one that suits your budget and style of your home. You can also consider DIY pergola plans and find many pergola kits to help you out. If you prefer getting professional help, many companies can help you with pergola designs and build the perfect one for your home.
Here are a few reasons to consider building a pergola:
-

Add definition to outdoor space

-

Bring privacy by adding drapes or screens

-

Additional space for plants

-

Protection & shade from elements

-

Easy to install & maintain
There are so many different types of pergolas that you can choose and increase the look as well as the value of your home.
What are the Benefits of Having a Pergola in Your Garden?
Want to add some visual appeal to your outdoor space? Need a place for storing your potted plants? Looking for a cost-effective way to transform your garden and make it more functional? Well! Adding a pergola can be the easiest solution for achieving all your goals without breaking the bank.
Depending on your needs, a pergola offers many benefits and helps you create the home of your dreams. Though pergolas offer many benefits, here are some popular ones:
ü Free-Standing Design Element: Building a pergola in your yard helps you create visual interest by adding plants and fabrics. You can hang planters or other design elements to the pergola or drape all-weather fabrics from one vertical post to another. The pergola instantly stands out and brings a sense of unity to your garden.
ü Create a Place to Entertain Outside: Everyone loves to spend time outdoors and a pergola allows you to create a wonderful outdoor entertainment area. Whether you want to extend your living space where you can spend time with your loves ones or have a dedicated dining area, there are many ways to use the outdoor space.
ü Available Prefabricated or Manufactured – When it comes to building a pergola in your yard, you have so many different options to choose from. Either you can go for prefabricated pergolas or DIY design plans. Several manufacturers sell pergola kits that you can use to build the perfect pergola.
ü Lend Plants a Helping Hand – Not only are pergolas beautiful, but can also be used to give support to climbing plants. If you will plant the climbing plants in the right place, they will weave their way up the pergola. Furthermore, you can also hang plant pots from the beams and add interest to the landscaping.
ü Define Spaces & Provide Shade – A pergola is a great way to define an outdoor space and stay protected from elements. As pergolas are open and airy, you can create a confined space without spending too much money. You can also use decorative elements to make it look beautiful.
ü Durable & Low Maintenance – Depending on the type of material you choose, you won't have to worry about the maintenance. A wooden pergola may be susceptible to insects while well-painted metal doesn't require much care. Vinyl, on the other hand, is highly durable and low on maintenance.
ü Adds Value to Your Home – If you are looking for ways to boost the value of your home, adding a pergola can be a great idea. It adds a bit of extra value to your home which makes it a worthwhile investment. Adding a pergola can make a huge difference as it adds interest to any outdoor area.
ü Make Privacy Possible – If you want to enjoy in your garden without compromising on privacy, a pergola with drapes or screens can be an excellent alternative. When designed and positioned well, a garden pergola can offer complete privacy by covering up elements like an open road, public playground, etc.
ü Fits into Any Budget – As pergolas are available in a wide variety of sizes and styles, they fit well with any budget the homeowner has in mind. If you are working with a limited budget, you can build a small pergola with simple details. You can take it to the next level by adding other design elements like floors, walls, curtains, etc.
One of the best things about a pergola is that it can combine extremely with other structures or elements in your yard. This versatile structure works best when combined with other designs such as gazebos, plants, etc.
How to Build a Pergola?
Considering a pergola this summer? Here are some simple steps to build a pergola and spend time in the great outdoors:
Installing the posts
- To install the posts, secure the post cores to a concrete pad using steel post-base anchors. You can also set the posts in the earth by laying out the post position.
Attaching the Support Beams
- Cut the support beams to length and make sure that they're level across the top edges while attaching.
Adding the Crossbeams
- Notch the crossbeams to fit over the support beams and use a jigsaw to remove the waste. Now, make the curved end cuts and install the crossbeam pairs at the posts first.
Post Trim & Braces
- Secure the trim pieces to the posts using galvanized finishing nails and construction adhesive. Fasten the braces to the posts and beams using screws.
Fitting the Top Slates
- Cut the slate to lengths and clamp each slat in place. Mark the crossbeam notch positions. Take the slates, bore pilot holes and attach them with screws.
Capping the Posts
- Cut square blanks to make the post caps and clamp the blanks to the sled while making the cuts. Now, secure the caps with construction adhesive and galvanized finishing nails.
Here are 9
Simple Steps to Install a Pergola:
1.

Mark the dig points for the posts

2.

Set the posts

3.

Level the posts

4.

Shape the top beams

5.

Mount the top beams

6.

Cut the lattice decorative ends

7.

Notch the lattice

8.

Build the top lattice

9.

Secure the lattice to the beams
You can check pergola pictures to get a better insight and choose to hire a professional company to build the perfect one for you. Whether you are looking to build a 10x10 pergola or a bigger one, the professionals can help you make a great design without spending a fortune.
A pergola offers a unique architectural blend that offers you the opportunity to enjoy being both inside and out at the same time. These structures define an outdoor space without constraining it and bring backyard landscaping to life.