If you are looking for some amazing ways to perk up your garden, a small greenhouse can be a perfect choice. Greenhouses can be beautiful and functional structures for your garden especially when you are into gardening. If you have ever wondered if it would be worth investing in a greenhouse, we have some points to help you sort it out.
Before we jump onto other sections, let's understand the concept behind a greenhouse…
What is a greenhouse?
Greenhouse, also called a glasshouse, is a structure designed for the protection of plants against extreme temperatures. It is made of a transparent material like glass but earlier it was used to be a brick or timber shelter with a certain proportion of windows space. These beautiful buildings allow growing seasons to be extended and protect plants from excess cold or heat as well as pests.
In simple words, a greenhouse serves as a shield between nature and the plants that are tender or out-of-season. The structure maintains an ideal temperature for the plants to grow as both heating and cooling can be regulated. The interior is exposed to sunlight making it significantly warmer than the external temperature which helps protect the contents in cold weather.
Greenhouses range from small sheds to huge commercial buildings. A small greenhouse is often built in a yard or garden and also known as a cold frame. On the other hand, an industrial-sized structure is used as a high tech production facility for growing plants. The big ones are equipped with heating, cooling, lighting, screening installations, etc.
A small greenhouse allows just the right amount of sun and moisture to pass through the glass while keeping insects out.
If you want to turn your gardening hobby into a full-time passion, the following list might help:
26 Best Small Greenhouses that You May Consider
1. Sunbubble Greenhouse – This portable greenhouse fits any budget and packed with possibilities. It allows you to create your small plant conservatory and grow plants year-round. As far as the specifications are concerned, this 11.5 ft. W x 11.5 ft. D greenhouse comes in a dome shape and made from UV stabilized PVC and flexible fiberglass rods. It features 12 adjustable vents and zipped doorway to keep pests at bay.
2. Mini Row Greenhouse – The pop-up greenhouse is perfect for growing rows of veggies and keeps enjoying fresh veggies in all seasons. Made of polyethylene, it can be used to warm up the soil and make it ready for early vegetable planting. It comes with metal hoops for easy assembly and a tunnel-like shape to grow plants. The freestanding structure is weather resistant to protect plants from bad weather.
3. Wooden Shelved Greenhouse – The wooden greenhouse is a perfect solution for a porch or patio as it sits comfortably in a limited space. It is made of solid wood frame and polycarbonate glazing that keeps the plants warm. Also, it comes with multiple panels to provide easy access to the plants. As far as other specs are concerned, it has 2 slatted wooden shelves and measures 30L x 22W x 37H inches.
4. Mini Walk-In Greenhouse – This walk-in backyard greenhouse is a perfect solution for growing plants throughout the year. The portable feature makes it easy to move it to any convenient location. It comes with a zippered roll-up door for easy access and 12 wired shelves, 6 metal shelves on each side. The overall dimensions are 57.5L x 56W x 76H inches. It is ideal for plant protection from insects and harsh weather.
5. Nature Harmony Greenhouse – When it comes to amazing greenhouse ideas, this 8'x6'x7' beautiful structure merges a clean design with loads of functionality. It features unbreakable crystal clear polycarbonate panels and corrosion-resistant aluminum powder coating for added durability. Other features include a galvanized steel base, vent, and gutters as well as a hinged door.
6. Mini Greenhouse – This pop-up mini greenhouse can be used as both outdoor as well as an indoor greenhouse. The 27"x27"31" greenhouse is well insulated and pops up when opened which makes it an ideal solution for a small space. It also comes with a carrying case and small stakes for easy installation. It is made from clear PVC and has a zipper window.
7. Indoor Greenhouse – A greenhouse that is perfect for indoors as it has three shelves offering 18 square feet of growing space. The structure is made of the heavy-duty, powder-coated aluminum frame. The 51"x14-5/8"x68-5/8" structure also features bright and adjustable greenhouse lights that can easily be adjusted up and down. Other features include ultra-light fixtures, easy-roll casters, pull chains, and full-length trays.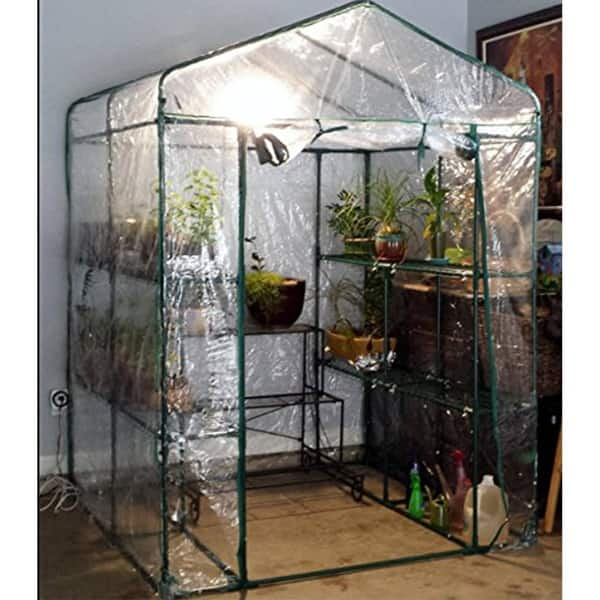 8. Mini Walk-in Greenhouse – This mini greenhouse is a perfect solution for those who ha have limited space and budget. It will not only help protect the plants from harsh weather but also portable enough to be used in a garden or yard. It has a strong metal frame with 6 shelves made of network frame steel and clear PVC cover with zips for easy access. The dimensions are 56"x29"77" and can also be used to store garden supplies.
9. Mini Cloche Greenhouse – The model can either be used outdoors or as an indoor greenhouse as it has an overlong cover design. It is made of heavy-duty powder-coated steel framework and comes with a waterproof, transparent PVC cover. It is large enough to keep good-sized plant pot and seedbed as the dimensions are 71"x36"36". It has two doors and 4 zippers for the proper protection of plants.
10. Indoor/Outdoor Mini Greenhouse – The white-colored box-like greenhouse can be an ideal solution for small spaces and provides a favorable environment for plants to grow. The design of this portable greenhouse allows the roof vents to be placed in a halfway open position to regulate the temperature. The frame is made of steel that has polyester powder coating and the dimensions are 3.9x3.9x3.9 inches.
11. Cold-Frame Greenhouse – This cold-frame greenhouse comes with panels that are easy to raise or lower. The double-sided greenhouse features 4mm twin-wall polycarbonate panels and 2 rood windows with 2 height adjustments. Also, it gives you an easy-fix-click-system for easy assembly and the dimensions are 48Lx40Wx12H in. It is finished with child-safe rounded edges for extra safety.
12. Small Pine Greenhouse – The wooden greenhouse can be a perfect solution to extend the growing season and it is portable enough to use anywhere in the garden. This mini greenhouse comes with an auto-vent option and made of cedar and twin wall polycarbonate. It offers plenty of space to get started at 4' wide, 2'tall, and 2' deep and feature a removable window for quick access to plants.
13. Pop-Up Greenhouse – A pop-up greenhouse that sets up easily in a garden or yard as it comes with installation hardware. The panel is made of polycarbonate film and it comes with shelf set and cover. The freestanding structure can be staked into the ground and feature a door vent and adjustable vents. The dimensions are 72H x 54W x 78 D inches and the panel thickness is 6mm.
14. Small Starter Greenhouse – Those who are looking for a beginner's kit, this starter greenhouse can be a perfect solution and can be used both indoors and out. His versatile miniature structure can also be a great winter greenhouse and offer a superior environment for plant growth. The freestanding structure features a rigid, light-weight frame, polycarbonate panels, and wooden frame.
15. Small Hybrid Greenhouse – This hybrid greenhouse feature clear polycarbonate side panels and 4mm thick twin-wall polycarbonate roof panels. It has a strong aluminum framework and engineered to last for many years. The crystal clear side panels allow the proper growth of plants and come with integrated rain gutters. The roof vent and door come with a magnetic catch to control the temperature.
16. Small Dome-Shaped Greenhouse – The uniquely designed greenhouse comes with many windows to allow for maximum light and air transmission. The polycarbonate panels are semi-diffused and permit sufficient light for starter plants. The dimensions are 7'8x7'x7'2 inches and other features include a heavy-duty barn door with keyed lock, straight frame, curved frame, and one roof with opener window.
17. Small Lean-To Greenhouse – A lean-to greenhouse that comes with a raised garden bed to sit conveniently on a garden seat. It features an extra-tall greenhouse frame and velco attached insect nets to keep the pests away. The dimensions are 4' x 2' x 12' inches and a high greenhouse frame to extend the growing season. The lean-to designs are perfect for patio, balcony, or porch.
18. Shed Projects Plan – If you are wondering how to build a greenhouse, there are design plans that can help you create a greenhouse of your dreams. The shed building project plans will help you design an attractive cottage-style greenhouse and transform any backyard. The structure can be fully insulated and a greenhouse heater can be used for offering that perfect environment to the plants.
19. Tent-Like Pop-Up Greenhouse – This portable greenhouse pops open and comes with a durable heavy-duty transparent cover. It features 2 side vents for ventilation and designed to protect the plants, seeds, and vegetables from harsh weather. The greenhouse features 22"x22"x22" dimensions and extremely compact and can be stored away easily. The structure can be placed indoors as well as outdoors.
20. Snap and Grow Hobby Greenhouse – This hobby greenhouse comes in a variety of sizes and offers 100% UV protection. The greenhouse frame is made of polycarbonate and it features double-wide doors, rain gutters, adjustable vents, galvanized steel base, and a lockable door. This low maintenance structure is rust-resistant and offers 53 sq. feet growing space with 6.8' headroom.
21. Clear Greenhouse – This barn-shaped greenhouse is worth the money as it has a four-millimeter thick twin wall made of polycarbonate which offers 100% UV protection. The simple pin and lock connector system allows easy assembly and the barn shape offers a larger gardening space. It also features a heavy-duty resin frame for better insulation and more durability. The dimensions are 153.1L x 105.1W x 93.5 H inches.
22. Fully Enclosed Clear Greenhouse – A canopy greenhouse that comes with a fully enclosed clear cover, steel frame, and a white finish. It boasts features like UV inhibitors, water & fire resistance, white powder-coated steel frame, and rip-stop cover. The dimensions are 126L x 115W x 95H inches and it is easy to assemble. The fully enclosed design will last a long time.
23. Small Clear Greenhouse – Those who are looking for a quick and hassle-free greenhouse for their yard, this clear structure is highly portable and works well on any surface. It is made of a clear PVC material that offers UV protection and protects the plants from harsh weather conditions. The open floor allows you to set it up over existing trees or bushes.
24. Fully Enclosed Garden Greenhouse – This fully enclosed greenhouse is perfect for any lawn or garden. It is constructed with heavy-duty powder-coated steel frame that resists chipping or peeling. Also, it comes with 2 zipper doors for better ventilation and the PE cover help maintain an ideal temperature for plants. The 8x10-feet greenhouse also features 6 rolling-up windows and big foot plates for better stability.
25. Small Walk-In Greenhouse – This green-colored walk-in greenhouse blends perfectly in a garden and designed for better plant protection. The frame is made from high-grade steel tubing with powder-coated finish and waterproof polyethylene cover. It also includes two metal shelving units as well as ropes and stakes for added security. The greenhouse measures 7' x 4'9" x 6'5" inches.
26. Walk-In Winter Greenhouse – A winter greenhouse that is engineered to provide an ideal temperature to the plants and vegetables even when it's too cold outside. It has 6 wired shelves, a powder-coated steel frame, and a roll-up door with zipper for easy access to the greenhouse. It comes with all hardware and necessary tools for assembly and great for growing herbs.
The Big Benefits of a Greenhouse
Regardless of your gardening style, a greenhouse can be an excellent addition to your garden. It can greatly improve planting efficiency and transform your garden by defining a space.
ü

Longer Growing Season

– Using a greenhouse extends the growing season by maintaining an ideal temperature for the plants, vegetables, and fruits.

ü

A Wide Variety of Plants

– A greenhouse allows you to grow a wide variety of plants including the exotic ones that are not easily found in the local area.

ü

All-Weather Gardening

– With a greenhouse, you can keep your garden in good shape throughout the year since everything is covered.

ü

Protection from Elements

– A greenhouse offer protection to the plants from harsh weather conditions, pests, and predators.

ü

Ideal Growing Environment

– A greenhouse creates the optimum growing environment for plants by regulating the temperature and keeping pests out.

ü

Customizable as Per Specific Needs

– You can customize these beautiful structures as per your needs such as using a greenhouse fan, lights, etc.

ü

Grow Organic Food

– Using a greenhouse you can grow organic food without using pesticides as it keeps the beneficial insects inside.

ü

All-in-One Gardening Place

– With a greenhouse, you have a designated spot for everything that you want to grow in your garden.

ü

Multiple Purposes

– A greenhouse can be used to grow flowers, vegetables, plants, and all types of seedlings. In simple words, you can grow a mix of things.

ü

Great Garden Design

– You can transform the look of your garden by designing a beautiful and functional greenhouse, just like a gazebo or pergola.

ü

Budget-Friendly

– A greenhouse is a cost-effective alternative to spending huge money on plants every spring. Greenhouse cost is lower than spending on plants every time.
A greenhouse just requires an initial investment but considering the advantages you can enjoy, it's all worth it!
Types of Greenhouses
-

Cold Houses (temperature falls below freezing)

-

Cool Houses (temperature: 45-50F)

-

Warm Houses (temperature: 55F)

-

Hot Houses (temperature: above 60F)
How to Build a Greenhouse?

The Beginner's Guide to Greenhouses:
If you are an avid gardener, a greenhouse will be a perfect choice. It is a great way to make it possible to enjoy gardening all year-round. Building a small greenhouse isn't a rocket science; all you need is a greenhouse plan and the right tools. And yes! A little bit of time!
Here are some simple steps to build a small greenhouse in your yard or garden…
ü

Choose a perfect area for building a greenhouse and make sure the land is level and water drains well.

ü

Use shade cloth or polycarbonate material to protect the plants from harsh weather and other elements.

ü

Choose a design plan and decide whether you want to build it from scratch or use greenhouse kits.

ü

It will be good to pick a pressure-treated wood for the framing while you have a choice for the panels such as fiberglass, polycarbonate, plastic, and glass.

ü

While installing the building, take care of ventilation needs.

ü

Install a heating and cooling system to regulate the temperature.
If you are not sure whether to build it yourself or not, do contact a professional greenhouse architect and let the experts take care of building a greenhouse for you.
Have a greenhouse and choose a healthy life!