Today, steel buildings are gaining huge popularity be it residential or commercial applications. From industry equipment to huge buildings, steel has become an extremely sought-after material. Houses, commercial complexes, high-rise buildings, bridges, and warehouses are all an example of steel construction. The building made of steel comes with plenty of eco-friendly and architecturally flexible design options.
The latest trend is steel container homes that are known to tale up-cycling to a whole new level. Whether you are a fortunate homeowner or a renter, you must have heard of shipping container homes. The kinds of structures are built by redesigning and modifying used or new shipping containers. The interiors of these containers might easily be mistaken for a traditional wooden or concrete house.
What are Shipping Steel Container Homes?
Container homes are a type of building structure that might need government approval before construction. This is because they need to meet certain standards around fire safety, ventilation, lighting, land, etc. These structures can either be built in a factory or on-site depending on the design and local laws. The prefabricated ones are built in factories and transported to the main site for further assembly.
The steel buildings are for uses ranging from homes, storage, food booths, outdoor events, and more. Though shipping containers were created to solve the problem of transporting goods safely and quickly from one place to another, they have now become a popular choice for manufacturing portable buildings.
Why Are Steel Buildings So Popular?
Wondering why someone would choose to live in a steel container when there are so many stylish options out there. Well! There are so many reasons that make these structures a prominent choice. We have discussed some preeminent reasons why steel construction is gaining huge acknowledgment:
ü Quick Build Times
Time is critical to any building project as the less time is spent on the construction site, the less it costs in materials and manpower. Most of the material used in a steel building is pre-engineered and ready to assemble. It helps to finish the assembly process quickly as there's nothing much to measure or cutting onsite. Also, it reduces the number of employees required to complete the projects which lead to reduced human error. As the prefabricated sections are assembled on-site, it makes it possible for the construction company to complete even a large-scale project faster.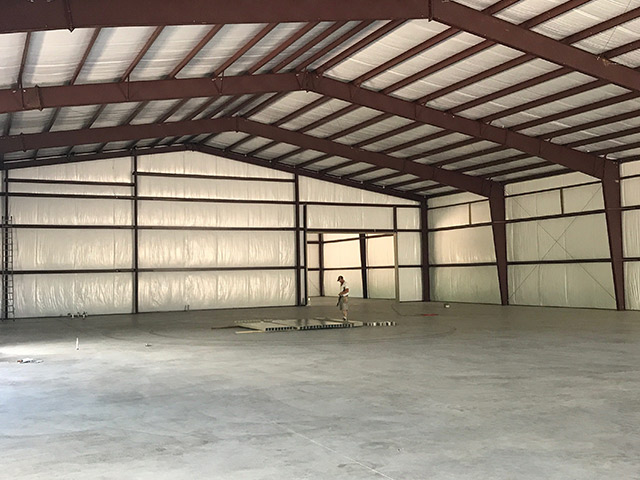 ü Versatile & Durable
The versatility and durability of steel make it an ideal material for many projects including residential, commercial, industrial, and agricultural. Steel can be formed into many different shapes and, therefore, can be effectively used to construct a variety of structures such as steel houses, storage sheds, steel carports, steel warehouses, etc. The versatility of steel offers the architects the ability to create an incredible range of interiors and exteriors. Most of the steel structures are visually pleasing and functionally outstanding.
ü Environment-Friendly
Steel is one of the most eco-friendly materials on the planet as it can easily be recycled in different construction projects. It can be salvaged and repurposed for constructing the different types of buildings, machines, and equipment. With the evolution of technology, the processes used to recycle steel emit less CO2 and are extremely energy efficient. Furthermore, a well-designed building and proper insulation provide a highly durable and safe building that requires less energy to perform.
ü Easily Modified & Replaced
Another great aspect of steel construction is that the building parts can easily be modified or replaced. Either you want to expand the building or considering just a bit of remodeling, the steel framework allows you to make modifications without disturbing the entire structure and spending a fortune. You can add windows and doors to the existing structure easily, something that is much more challenging to do with other options like concrete or wood.
ü Cheaper than Traditional Materials
One of the biggest reasons more and more homeowners are opting for steel building homes is affordability. Shipping steel containers are a cheaper alternative and a well-constructed house can offer all the facilities of a traditional brick & mortar building. Although steel containers will require some initial investment as you need to buy, transport, and paint the container, you can still save a lot of money. These structures offer long-term benefits in the form of energy efficiency, low maintenance, superb functionality, customization, and more.
ü Easily Customizable
Another big reason than steel structures are gaining extreme popularity is the ability to customize them in many different ways. Whether it's a residential building or commercial, you can remodel its design and features with great ease. Also, the customization can be done without too much disturbance and it is more cost-efficient as compared to other materials and the possibilities are endless. As steel is flexible and durable, you can add whatever you would like such as air conditioning, heating, built-in closets, windows, doors, shelves, extra storage space, etc.
ü Choice in Design & Finishes
Steel buildings can be made to precise specifications and working with a top-notch construction company allows to select from different designs and finishes. Everything can be designed and constructed in a variety of ways such as doors & windows in different sizes, wall accessories, roof accessories, trim & flashing, framing, and more. Right from the start to finish, every single detailing can be done to the exact specifications.
ü Big Energy Savings
Metal buildings are often for storage, warehouses, agriculture, aviation, and garages as they offer high-grade insulation. The steel structures may not require heating and air conditioning when the climate is milder and that is the ultimate energy saving. In building like residential, commercial, and industrial where people work may require some sort of climate control that can be done easily. A pre-engineered metal building offers more energy-efficient insulation along with an extra-strong vapor barrier.
ü Low Maintenance
The high-quality steel buildings don't require too much maintenance as there's no need to paint every few years or spend for termite control. Whether you choose an exterior of steel panels, stone, or a combination of different materials, there is no need to treat with harsh chemicals. Since termite cannot make a meal on metal, you don't have to spend a fortune on repairs. Furthermore, metal is free from the mold which means it does not get affected by mildew or other fungi growth. Metal does not rot, twist, split, or creep like other materials. Also, there are fewer foundation problems and steel building homes or warehouses stay the perfect way for decades.
ü Value for Money
Quality steel construction retains its original beauty exceptionally well for a long time. The reliable and experienced construction companies offer years of warranty on wall panels and roof panels. Furthermore, whenever you think that the building made of the steel reaches the end of its usefulness, it can again be recycled. Steel can be recycled to create different structures as it stays in its original form without losing any of its strength and properties
What are the Different Types of Steel Buildings?
Steel construction isn't just for skyscrapers; the material is used for building a range of residential, commercial, industrial, and agricultural projects as well. Steel is used in just about every stage of construction such as framing, roofing, floor joists, etc.
Here are some popular types of buildings constructed using steel:
ü

Houses

ü

Storage Sheds

ü

Portable Garages

ü

Workshops

ü

Utility Carports

ü

Metal Barns

ü

Steel RV Ports

ü

Boat Ports

ü

Horse Barns

ü

Steel Warehouse

ü

Agricultural Buildings

ü

Commercial Buildings

ü

Custom Steel Buildings
Prefab Steel Buildings for Sale
Thinking outside the box, people are now shifting towards prefab steel buildings and using steel containers as their homes. The term 'prefabrication' means assemblies that are manufactured in a factory. The prefabricated sections are then transported to construction sites for further assembly into building works. Prefabricated construction has become available in a variety of specifications and budgets.
Prefab steel buildings have come out to be an excellent alternative over traditional buildings as they offer numerous advantages over concrete construction. Modular construction benefits are numerous and that could be the reason behind their popularity.
Listed below are some biggest benefits of prefabricated buildings:
-

Since sub-assemblies are constructed in a factory, no extra materials are required which leads to reduced waste.

-

The controlled environment in the factory allows for durable construction in the form of better wall insulation, tighter joints, and accurate construction.

-

Modular construction targets all budgets and specifications, making it an affordable and ideal alternative over traditional methods.

-

Prefabrication manufacturers often buy materials in bulk and receive discounts from the suppliers which ultimately bring down the overall cost of the project.

-

Prefab construction is highly flexible as the sections can be relocated to different sites allowing for a limitless number of opportunities.

-

As prefabricated buildings are constructed in a controlled environment, the sections are built to a uniform quality.

-

The components of the prefab steel building are made using precise machine equipment by an experienced crew leading to a high-quality finished product.

-

Since most of the building components are constructed in the factory, there is reduced site disruption and less or no chance of accidents.

-

Prefab construction takes significantly less time to build as compared to traditional construction method.

-

There is less risk for problems associated with hazards like moisture, dirt, etc as everything is created in a factory-controlled environment.

-

It saves overall construction effort and provides easy & extensive customization opportunities.

-

Time has always equaled money and prefab structures take less time to build and hence save a lot of time.

-

Prefabrication creates very little waste in every process right from the manufacturing and assembly to the construction process.
Modular structures have many advantages over regular buildings but you need to make sure that you are working with the best company. Look for a company that provides the finest and hardiest products along with a seamless construction process.
If you are considering a DIY project, the steel garage kits can help you build a structure as per your specific requirements.
How Much does it Cost to Construct Steel Buildings?
Steel buildings can cost anywhere between &3,000 and $7,000, depending on the size and style. The average cost of a steel structure can be $16 to $20 per square foot but if you are thinking customization it may cost up to $40 per square foot. The total cost of a metal building as big as 100x100 can range anywhere from $60,000 to $90,000. A two-storey building will cost even more as it requires double the resources.
Comparing to the cost of traditional building, a steel structure is more cost-effective and takes less to build. As far as durability is concerned, a steel building lasts long and offers value for money. These kinds of buildings are also a good investment from the safety point of view as metal components are durable enough to withstand harsh weather conditions. Also, steel is sturdy enough to resist fire and termites. Furthermore, you could get a good deal on insurance as steel is strong and durable.
Final Thoughts
Practical and affordable, steel buildings cut costs on every phase of construction and retain their value longer. People who choose for steel buildings can enjoy a high-quality, eco-friendly, and cost-effective construction method. Furthermore, many reliable construction companies offer discounts on prefab steel construction to encourage green living, benefiting both their business and the customers.
Metal storage buildings, steel building homes, and other custom buildings are often used by homeowners these days. What makes the metal structures such a popular choice for both residential and commercial applications is the long list of advantages offered by them.
Steel buildings are on the rise for obvious reasons…