Transforming big containers of steel into beautiful and functional buildings!
The entire world is witnessing a rise in shipping container building and it seems to show us how things are evolving. It has become a concept that everyone seems to be latching on to. Why is that? Why these structures are gaining immense popularity? Could it simply be because it's something innovative? Will the trend go away?
What are the Benefits of Shipping Container Buildings?
Well! Here are a few good reasons why shipping container buildings have received so much hype:
ü Combat against Rising Costs: In the entire world, the construction and sales price of houses and other buildings are rising. Buying or building a house is a pretty expensive prospect for most people and shipping container homes offer a cheaper solution. While you may not think you can afford a house, building your dream place from shipping containers may be much more affordable. You can also add as many bells and whistles as you would like.
ü Inherently Strong and Durable: Shipping containers are extremely strong as they are designed to carry cargo through extreme weather. Therefore, the buildings made of these containers are tough and durable. With the best shipping container house plans, you can create a perfect building that can withstand high winds and storms. Also, safety and security can be amplified further using the best materials for doors and windows. This can be an excellent solution for areas with extreme weather like hurricanes or tornadoes.
ü Highly Resistant to Pests: As the main building material is the shipping container made of steel, it will be highly resistant to bugs and pests. Even if you wish to have a wooden floor and furnishing insider your shipping container home, you don't have to worry about termites as the exterior is strong steel. There are chances with conventional buildings that pests could damage the exterior siding or interior finishes, but it's not the case with steel structures.
ü Incredibly Energy Efficient and Eco Friendly: Over the past decade people have begun looking for environment-friendly and energy-efficient ways wherever possible. Shipping container buildings can be incredibly energy efficient if built with proper insulation. A steel structure reduces the carbon footprint and the material can be recycled many times. As long as the homeowner maintains the container well, there is no reason that it cannot last for years. By appropriately recycling the container, you can build eco-friendly homes that not only look great but function well.
ü Easy to Use and Construct: Contrary to what they look like, the container buildings are extremely easy to use and have a shorter construction period. You could potentially have a finished product within 8 weeks, which can be a huge benefit. There are so many different shipping container house plans available that you can use and build a perfect place. Any design of your choice can be incorporated into any shipping containers whether it is about adding doors and windows or other features.
ü Endless Customization Possibilities: The shipping container homes need not look like a metal box as the customization possibilities are endless. A huge variety of container house design is available to choose from that can be further customized to suit your personal needs. Maybe you want a fully-equipped kitchen as you look to cook or an outstanding living area to spend quality time with your family and friends. You can choose from an array of design options and incorporate to your container home.
ü Tiny House Living: A lot of people these days are looking for ways to reduce their living costs and a container home can be the answer to their problem. While not every shipping container home is a tiny house, you can choose from various shipping container sizes and choose to enjoy a minimalist lifestyle in your tiny house. Furthermore, having a tiny house doesn't mean that you need to compromise the functionality as with a custom house you can have everything that you need to meet all your housing needs.
ü Freedom and Personal Style Statement: There are a several different ways that shipping container buildings provide freedom. First of all, you get financial freedom to purchase a home, something that you might not have thought with a brick and mortar home. Secondly, you get the freedom to incorporate your style to your home and made sure you have the exact thing you need. You can design it to reflect exactly who you are such as a nature lover, an artist, a sports person, etc and stand out from the lot.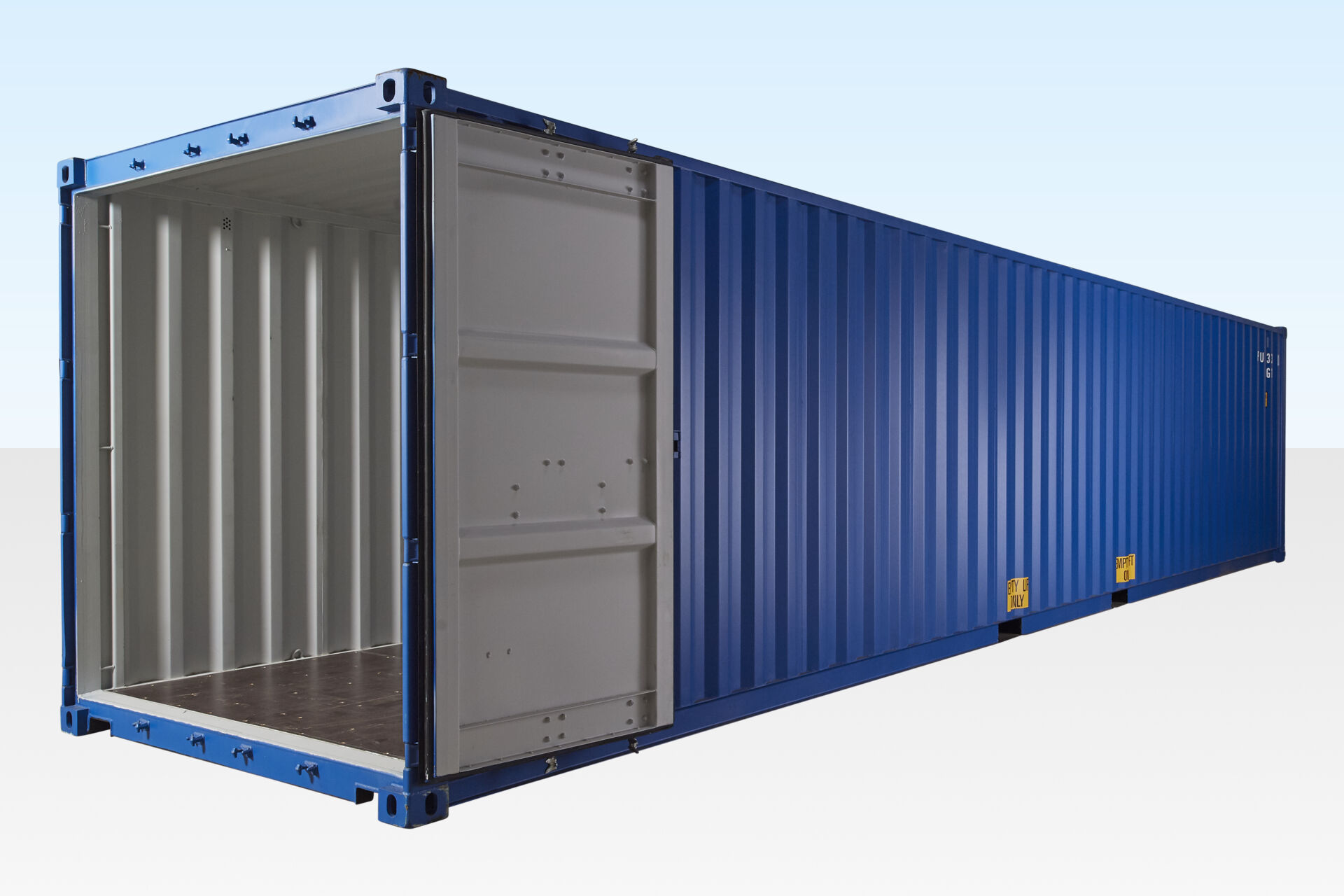 Container buildings can be an excellent alternative to traditional housing as they offer some amazing benefits.
What Shipping Container Sizes are Available?
To properly design a shipping container building, you need to understand the different shipping container sizes.
- The standard ISO shipping containers are 8ft wide, 8.5ft high and come in two lengths of 20ft and 40ft.
- The extra tall containers, also known as high-cube containers, are 9.5ft high.
- As far as the capacity is concerned, a standard 20ft shipping container has a capacity of 33.1m.
- Some less common and rare containers come in sizes like 45ft, 48ft, and 53ft.
- Some containers also come with features like half-height, tricon, and side opening.
- Reefer and refrigerated containers are available in many sizes as they are designed for different temperature requirements.
- In general, the overall dimensions are less variable but things like door height and weight may vary.
Take a at popular shipping container sizes:
| | | | |
| --- | --- | --- | --- |
| Container Size | Length | Width | Height |
| 8ft shipping container | 8ft (2.43m) | 7ft (2.20m) | 7ft 6in (2.27m) |
| 10ft shipping container | 9ft 10in (2.99m) | 8ft (2.44m) | 8ft 6in (2.6m) |
| 20ft shipping container | 20ft (6.06m) | 8ft (2.44m) | 8ft 6in (2.6m) |
| 40ft shipping container | 40ft (12.2m) | 8ft (2.44) | 8ft 6in (2.6) |
You may come across containers with different dimensions and all you have to do is find the one that best suits your needs. Familiarize yourself with the following terms if you want that the process goes smooth:
- ISO certified – The International Organization for Standardization has set standards covering the quality, size, and dimension requirements.
- TEU – Twenty-foot equivalent unit is the measure when talking about container sizes or capacity. E.g. One 20ft container a TEU and a 40ft container is two TEU.
- Tare Weight – It is the weight of an empty shipping container.
- Max Load (Net) – It is the maximum weight that can be carried in a container.
- MGW – It is the Maximum Gross Weight of a fully-loaded container.
It is always good to make an informed decision.
How much does a Shipping Container House Cost?
Well! A large shipping container house may range in cost from $150,000 to $170,000 approximately. If comparing to the traditional house, it is half the price per square foot. However, the exact price of the house will vary depending on the type of container, the number of containers, the quality, and other characteristics.
While building a house, you will also have to pay for other materials, fixtures, furnishings, and labor. Expect to pay more if you want to customize it as per your exact requirements. A good and luxurious house made of shipping containers may cost you $250,000 which is quite a good deal as compared to building a conventional one.
Shipping Container Cost Used
A lot of companies provide second-hand shipping containers in a wide range of sizes and styles. If you are looking for a used container and wondering how much does it cost, a used 20ft container costs anywhere between $1,500 and $3,000, while a 40ft costs $3,500 to $4,500.
There are some prefabricated shipping container homes sold by construction companies that you may consider.
How to Build a Shipping Container Home in a Small Budget?
One of the most common reasons why container homes are gaining is affordability. However, you may end up spending a fortune without proper knowledge and planning. To help you build your dream place within your budget, we have listed some tips that you may consider:
- If you want to construct a container home without breaking the bank, develop a good, well-researched plan.
- Establish your budget and know exactly what you want to build such as the floor plan, number of rooms, type of house, etc.
- Avoid simple mistakes such as removing excessive amounts of steel from the containers, not insulating it well, etc.
- Choose the right containers and the first decision you need to make is whether to buy a brand new container or used shipping containers.
- Decide on areas where you want to spend your money and it is a great way to help reduce the overall build cost.
- Use salvaged materials as you must have heard that 'one man's trash is another man's treasure'.
- Find a reliable shipping container building Construction Company and ask for price quotes as per your exact requirements.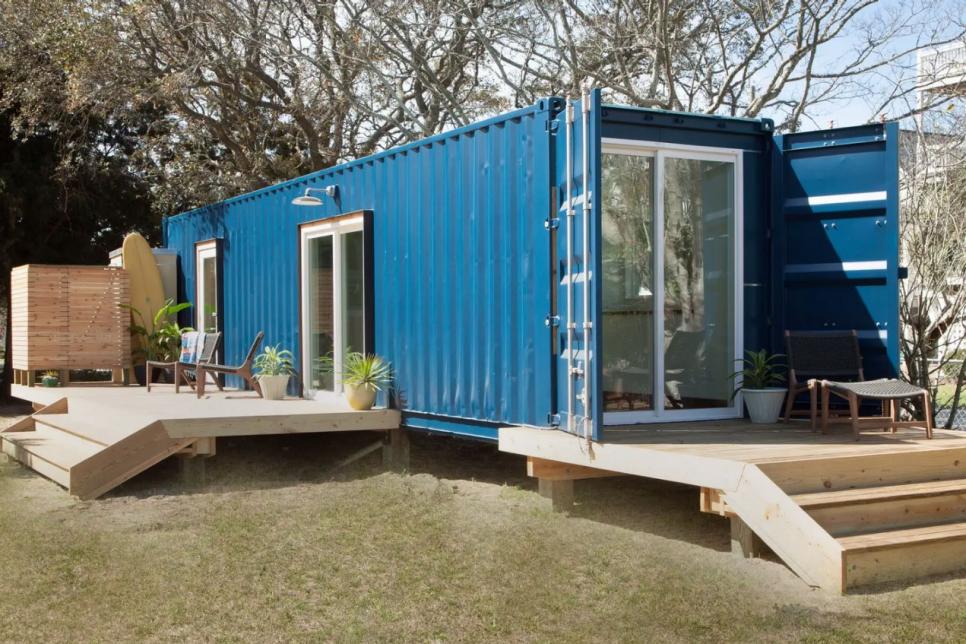 What are the Different Types of Shipping Container Buildings?
The innovative concept of shipping container architecture has made it possible to construct a large variety of buildings such as:
- Housing
- Offices
- Stores
- Storage Units
- Emergency Shelters
- Training Facilities
- Concession Stands
- School Buildings
- Artists' Studios
- Exhibition Spaces
- Medical Clinics
- Shopping Malls
- Radar Stations
- Portable Factories
- Experimental Labs
- Portable Bathrooms
- Workshops
- Hotels
- Exploration Camps
- Temporary Prisons
The construction possibilities using shipping containers are endless.
What are Different Container House Designs?
Shipping container architecture is a growing form of architecture as it offers many benefits over conventional buildings. The architecture uses steel shipping containers as the main element that is further used to create innovative designs. The steel is not only string but withstands harsh weather conditions. These containers are ideal for construction as they are relatively inexpensive than other materials and can be transported to a site in so many different ways such as trucks, rail, ships, etc.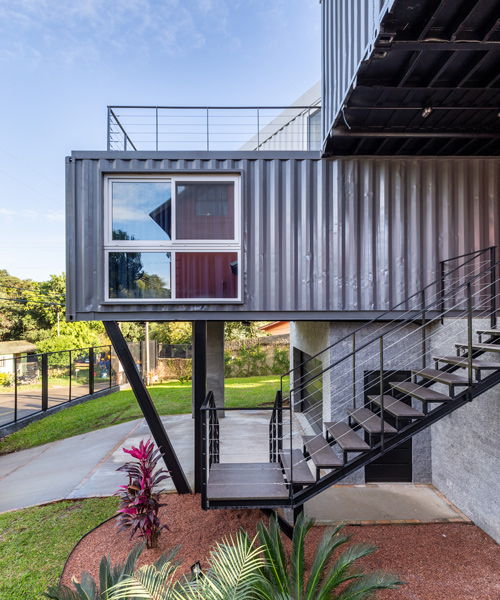 Here are a few container house design concepts that you might be interested in:
- Stacked containers house
- Futuristic container house
- Asymmetric container building
- Tiny shipping container house
- Multi-storey container buildings
- Sloped roof container house
- Single/multi shipping container house
- Container house with roof terrace
- Modular shipping container house
Choose from a wide range of shipping container house plans as they are available in a wide range of options.
Those thinking about the shipping container floor plans, there is no stopping their imagination. You can get exactly the kind of home you have always imagined that too without breaking the bank.
Tips for Building Shipping Container Homes
If you are looking for certain tips for your shipping container home, here you go:
Ø Go for high-quality shipping containers as they are going to be the main construction element.
Ø Bold combinations of colors and materials will make the structure stand out from the surrounding landscape.
Ø A large building with smaller individual components will increase both the curb appeal and functionality.
Ø Merge two or more containers to overcome the height limitations and get a great living area.
Ø Use multiple containers and cut them into different sections to get a larger interior space and make the house look more spacious.
Ø Go for modern furniture and quality finishing if you are looking for both luxury and comfort.
Ø Make sure that the container is well insulated and work in both hot and cold climate conditions.
Ø Read up your local rules as every country has its own sets of standards when it comes shipping container buildings.
Ø Find a contractor that can help you right from the start to the finish so that you don't have to worry about anything.
Ø Understand the shipping container's structure so that you can customize it as per your requirements.
Ø Plan ahead for plumbing and have all of the chases cut out of the container floors and ceilings so that pipes run easily.
Ø Don't expect to make a huge savings while manufacturing the container house as it offers long term savings in the form of energy-saving and low maintenance.
Ø Have a strategy in mind and start manufacturing your container house accordingly.
The Final Words
Shipping containers are a great alternative to build your dream house without spending a fortune or burying yourself in debt. With proper planning and the right design, you can build a luxurious house for half the price of a traditional house. You can get exactly where you need them and what you want. Isn't it great?