Gardening is one of the best hobbies that not only give us the chance to stay close to nature but also contributes to the environment. If you are someone who feels the same way, I am sure you will love to have a dedicated place to store your garden equipment and tools. One of the most evident problems people across the globe face is storage. It doesn't matter how big or small your house is storage issues creep up at some point. Whether it's your living area, kitchen, bathroom, or garden, storage is extremely imperative.
If you are looking for creative storage options to broaden your horizons and boost the functionality of your house, outdoor garden sheds are the perfect solution. Whether you want to clear out space within the home or just want a dedicated place for your garden equipment, a shed can do wonders.
First, understand what a shed is… Well! A shed is typically a simple structure in the garden that is used for storage or as a workshop. Sheds come in different styles and sizes, from simple open-sided ones to customized structures. They can be used to store garden equipment, vehicles, etc and keep everything protected from the harsh climate.
Types of Outdoor Storage Sheds
As the popularity of storage sheds began rising, there are many different types available these days. Whether you choose to do it yourself or look for professional help, a huge variety of sheds is available to choose from.
ü Steel Sheds – As we see the popularity of portable sheds increasing, steel sheds are in limelight for good reasons. A significant benefit of investing in steel sheds or metal sheds is that they usually do not require foundations and can be installed in no time. Steel is a highly durable and strong material which means you don't have to worry about its lifespan and maintenance. The kind of sheds comes with reinforced hinges that help protect valuables from potential thieves. Furthermore, different types of structures can be created using steel.
Take a look at these benefits:
- Strong & durable
- Increased security
- Useful in all scenarios
- Easily customizable
- Stays long
- Cost-effective
- Easy to install & maintain
ü Prefab Sheds – Every residential, commercial or industrial establishment require some sort of storage facility and prefab sheds can be a perfect solution. A prefab building is manufactured and constructed in a factory. The prefabricated sections are then transported for assembly on site. Costs of building a prefab structure are typically cheaper than stick-built buildings. Also, prefab sheds take less time to construct as compared to conventional buildings. As prefabrication allows you to work in a controlled environment, the quality is never compromised.
Some major benefits of prefab sheds are:
- Eco-savvy structures
- Less manufacturing & set up time
- Fully customizable
- Portable & versatile
- Energy efficient
- Cost & time savings
- Low on maintenance
ü Portable Sheds – Temporary storage sheds provide a portable and low-maintenance storage space for your belongings. You can build or buy portable sheds as soon as you feel the requirement. Unlike metal or wood, the portable structures consist of some metal frames, durable fabric, and an instruction manual that don't require zoning permits. Though the structures may be portable, it provides heavy-duty protection for a wide range of needs and can be used for both residential and commercial applications.
Here are some key benefits of using portable sheds:
- Versatile & flexible
- Easy to install & maintain
- Easily customizable
- Available in a wide range of options
- Affordable
- Energy efficient
ü Plastic Garden Sheds – Regardless of the size of your lawn, plastic garden sheds can be a perfect storage solution. Plastic garden sheds provide a safe place to keep your garden equipment and keep your place organized. Sheds are traditionally constructed from materials like wood and metal, but these days plastic is as popular as other materials. Plastic storage sheds serve as a tool shed or for sheltering bikes or cars. The kind of shed comes with a cheaper price tag as compared to other materials and easier to assemble with only a few tools needed. Apart from that, plastic sheds are affordable and extremely low on maintenance.
The biggest benefits of using plastic sheds are:
- Minimal maintenance
- Durable & affordable
- Easy to assemble
- An instant storage solution
- Variety of sizes & shapes
- Portability & functionality
ü Wood Storage Sheds – Wood storage sheds not only add to the beauty but they also have the flexibility to be customized as per your storage needs. The wooden structures blend perfectly with the outdoors and can be designed and decorated to match the theme of your home. Though there are several types of materials available, wood is more durable and easier to work with. You can easily add shelves, boxes, potting benches, windows, doors, and accessories to a wooden shed as per your specific needs. Furthermore, wood is an environmentally friendly material and durable enough to endure a lifetime.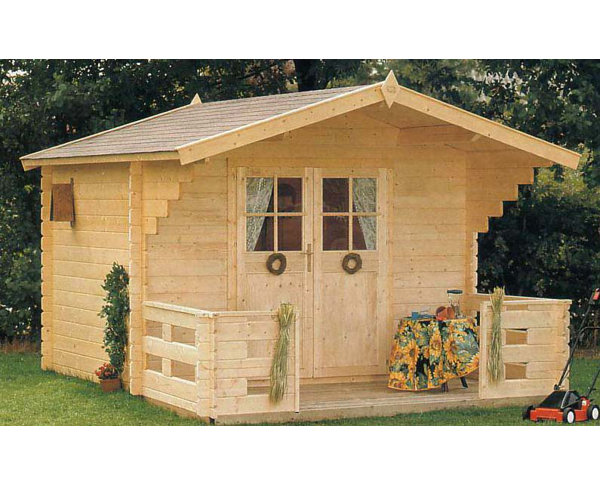 Here are a few reasons to consider wood storage sheds:
- Eco-friendly alternative
- Strength & durability
- Wide ranges of styles & sizes
- Easily customizable
- Value for money
Different Uses of Sheds:
- Garden Sheds
- Agricultural Sheds
- Bike Sheds or Bicycle Sheds
- Boat Sheds
- Railway Sheds
- Good Sheds
- Storage Sheds
- Tools sheds
- Wood sheds
What size shed will be perfect for you?
While the time to buy or build storage shed, size is one of the most crucial decisions you have to make. When selecting the size of the shed for your backyard, certain things need to be considered. Here are some factors that may help you pick the right size…
Ø Common Sizes Available – Know the popular length and widths available so that you can order easily.
Ø Total Space Available – Know how much space you have to build a shed to figure out the size you need.
Ø Primary Use – Know how you plan to use the shed as there are many ways you can use these structures.
Ø Size of Items – Know the exact dimensions of the items you plan to store in the shed to pick the right size doors as well as windows.
Ø DIY or Prefab – Know whether you want to build it yourself or order prefab sheds and choose the size accordingly.
If simply put, all you have to do is answer certain questions like:
- What will be the use of the shed?
- What type of storage shed you are looking for?
- Do you want room for further renovation or expansion?
- What is the size of your yard?
- Are there any community regulations?
- What is your budget?
You can choose built-on-site or prefab sheds whatever suits your needs and keep everything organized.
Benefits of Outdoor Storage Sheds
Over the years you may have accumulated a lot of stuff and if you are looking for a solution to keep your things organized, outdoor storage sheds are worth considering. Whether it's gardening equipment, tools, sports equipment, toys, vehicles, or anything else, a storage shed provides a safe and sound place to store everything.
Even if you have plenty of space on your property, you might need some extra space to keep your outdoors organized. Whether you choose a DIY project or seek professional assistance, outdoor storage sheds offer numerous benefits. Here we have discussed some major benefits that you can enjoy by having a shed in your yard or lawn:
· Clean Up Your Garden – An outdoor shed is a great place to store just about anything that helps you keep your garden clean. You will free up tons of space to enjoy with your friends and family by just having an outdoor shed. Not only will they help you keep your outdoor living space organized but also create a perfect place to work on your hobbies.
· Adds Style to Your Backyard – Sheds these days are available in a large variety of sizes and styles which means they are no more an eyesore. With a variety of colors, patterns, materials, and styles, you can choose a perfect shed to match your needs. Adding some flower pots and other decorative items will make it an eye candy.
· Versatile Function – Installing a shed in your property means you have something extremely versatile that is not a one-use project. As your needs will evolve with time, so will be the shed. An outdoor shed offers endless possibilities as it is like a blank canvas that you can use for whatever you want to store.
· Summer Storage Simplified – One of the biggest benefits of outdoor sheds is their ability to free up space during summers. Summers are for picnics and get-to-gathers and this is the time when you want your garden to be clutter-free. A shed can hold everything from tools and bikes to skates and little parties.
· Used as Workshops – Outdoor storage sheds can double as a place to store your belongings and a quiet pace to do DIY projects. These structures can be used as a workshop to explore your favorite hobby or work on building projects. When properly designed and maintained, a shed can be used in many ways.
A shed might not seem like the most glamorous of additions but it is the best way to keep your property clean and organized. Sheds are no more a boring thing; they are available in an array of design options. You can create a focal point by choosing outstanding design and add value to your property.
Storage Sheds Near Me – 5 Popular Types to Consider
No matter how less stuff you purchase, over the years, all the things will pile up and you will have to look for a storage shed to keep your place clutter-free. When you have a garden, there's a lot of work involved to keep it organized and maintained. It means you will need a multitude of tools to keep your garden in good shape.
If you love gardening and have got equipment like shovels, garden hoes, lawnmowers, rakes, bags of soil, potted plants, pots, etc, you will need a place to store them all. This is where a storage shed comes handy as it is designed to store all your belongings so that your garden looks tidy.
If you are looking for an instant storage solution, the following list might be of great help…
1. Storage Shed with Shutters, Windows, & Skylights – This 8 by 15 feet outdoor storage shed can be a perfect addition to your property. It features 2 shatterproof polycarbonate windows, 2 decorative shutters, 2 screened vents, 6 small skylights, 2 peg strips, 2 shelves, and 4 corner shelves. The shed is constructed of dual-wall UB protected polyethylene and steel wall supports. The design is quite attractive and it comes with a high-pitched roof for water drainage and lockable steel-reinforced doors for extra security.
2. Portable Pop-Up Storage Shed – This 82x70x34 inches portable shed is a great solution for your instant requirements. The pop-up shed comes with a carrying and can be installed in no time. The fast and easy set up allows you to install it anywhere in your garden and store your belongings like garden equipment, bikes, bicycles, etc. It includes connecting poles, pegs, and ropes for quick and easy installation. It features a 12x12 inch hook and lock window opening in the back for ventilation and an instant storage solution.
3. Wooden Outdoor Storage Shed – This weather-resistant shed is designed to offer an ideal storage solution for your garden or backyard. It comes with built-in vents, single/double door for easy access, and offer plenty of light. The shed is made of wood and features door lock, 2 windows, and primed to a light brown color. As far as the wall height is concerned, it is 6'6" ft with a storage capacity of 980 cubic feet. The shed is water-resistant, rust-resistant, and rot-resistant which makes it an ideal solution for your outdoor living area.
4. Solid Wood Storage Shed – This beautifully crafted 8x12 ft. solid wood storage shed is made of Western Red Cedar that is a premium grade wood. The material is known for its natural resistance to insects, water damage, and decay. The product includes 3 windows, a single door, flower box, floor, shed, and shingles. It ships unstained so that you can create a personalized look as per your specific requirements. The shed has a storage capacity of 517 cubic feet and a natural wood grain color.
5. Small Metal Outdoor Storage Shed – This 9x6 ft. metal storage shed is an affordable solution for adding that extra storage to your backyard or lawn. The shed is made of metal so you can expect durability and a long life span. As far as the features are concerned, it comes with built-in vents, pre-fabricated sections, painted surfaces, and reinforced walls. It is resistant to weather, water, UV, rust, and rot and can be a perfect way to add much-needed storage space. It offers protection against fire, moisture, and pests.
There are hundreds of designs for sheds available to choose from, the above-mentioned are just some popular ones so that you can have a better insight.
Things to Consider While Building or Buying Outdoor Storage Sheds
You are not going to build or buy outdoor storage shed every day, so it's better to make an informed decision. If you have decided to install a storage shed in your yard or garden, you should take into consideration the following points:
Ø Know how much you want to spend: The search for a perfect storage shed starts with determining your budget. You should know how much you are willing to spend to find the shed that falls within your budgetary estimates.
Ø Pay attention to design considerations: Most homeowners will love to install a shed that blends well with the theme of the home. To make the shed part of your property, look for various design options and choose the one that matches the rest of your home.
Ø How you intend to use the shed: To make the best use of the storage shed, determine the exact usage. If you have a lot of stuff that needs to be stored, you may require a large shed with stronger construction.
Ø Think about foundation & flooring: There should be a strong foundation already in place before you think of installing outdoor storage shed. Check whether the shed comes with flooring or you will have to take care of it.
Ø Know the legal issues – Most municipalities have certain rules and regulations regarding the size and installation of outdoor sheds. Check with your local authorities whether you need a permit to install a shed on your property.
Ø DIY or Construction Company: Depending on your budget and requirement, you will have to decide whether you want to do it yourself or seek professional help. It will be better that you hire a professional team and have a perfect shed.
To conclude, an outdoor storage shed is the best option if you are looking for some extra space…