40 X 60 Tent Rental Price
A 40' X 60' tent covers a total area of 1600 square feet. The tent size can accommodate different numbers of people depending on the sitting arrangement as seen below:
· Theatre Style (6 sq. ft. per person) – 400
· Cocktails Seating (8 sq. ft. per person) – 300
· Banquet Seating (10 sq. ft. per person) – 240
· Sit-down Dinner (12 sq. ft. per person) – 200
The 40' X 60' pole tent has to be stacked and has two central poles in the middle. These poles somehow hinder the usage of the space. It's for this reason that most people prefer the 40' X 60' frame tent since it maximizes the space available underneath the tent. In the case of the frame tent, the top fabric is supported by a simple frame and there in no pole at the center of the tent. For this reason, you will find more frame tents for sale as compared to the pole tents.
The high-peak tents have a sweeping design and high-peak canopy. In addition to the elegance, they are engineered in such a way that they have added stability to withstand strong wind gusts. All the above named types of tents can be used in different industries like rental, amusement, warehouse, weddings, as an exhibition tent etc. Most of the catering tents for sale are usually size 40'X60' so that they can accommodate the entire catering team.
Tent Rentals Price List
The size of the tent that you get for your event depends on the number of expected guests and the style of the party you want to throw (e.g. seated-arrangement, buffet, cocktail, etc.). you can use these two factors to make an approximation of how much you're going to spend. The table below will give you a breakdown of tent sizes, how much square footage they cover, how many guests they can accommodate, and how much they go for.
No.

Size

Area (in sq. ft.)

Price (in USD)

Capacity

Frame Tent

Pole Tent

Seated Dinner

Reception Style

1

10'X10'

100

150

170

10

15

2

10'X20'

200

250

300

20

30

3

10'X30'

300

350

500

30

45

4

15'X15'

225

300

350

22

34

5

20'X20'

400

325

450

40

60

6

15'X30'

450

400

550

45

68

7

20'X30'

600

450

600

60

90

8

15'X45'

675

500

650

67

101

9

20'X40'

800

575

700

80

120

10

20'X50'

1000

725

850

100

150

11

20'X60'

1200

850

1,200

120

180

12

30'X40'

1200

850

1,200

120

180

13

40'X40'

1600

900

1,350

160

240

14

20'X80

1600

900

1,350

160

240

15

30'X60'

1800

1200

1,450

180

270

16

40'X60'

2400

1,300

2,300

240

360

17

40'X80'

3200

1,800

2,500

320

480

18

40'X100'

4000

2,500

2,850

400

600

19

40'X120'

4800

2,800

3,300

480

720
Renting Accessories
When it comes to decorating and spicing up the mood in your event, great accessories are a must. Essentially, accessories can make or break your set up – they're what completes the look. Here are some functional accessories that you may use to spice up your tent spaces and their expected cost:
· Side-pole drape - $15
· Sash for pole drape - $3
· Pop up tent weights - $5.50
· Solid sidewalls - $2 per foot
· Cathedral window sidewalls - $4 per foot
· Water barrel - $10 ($35 if prefilled with water)
· Water barrel line cover - $15
How much does a 40 x 60 tent cost to rent?
The outdoors makes an amazing choice for any event. However, you're most likely going to need to rent a tent to protect your guests from the elements of the weather. This means that you should have a budget for renting the wedding tents.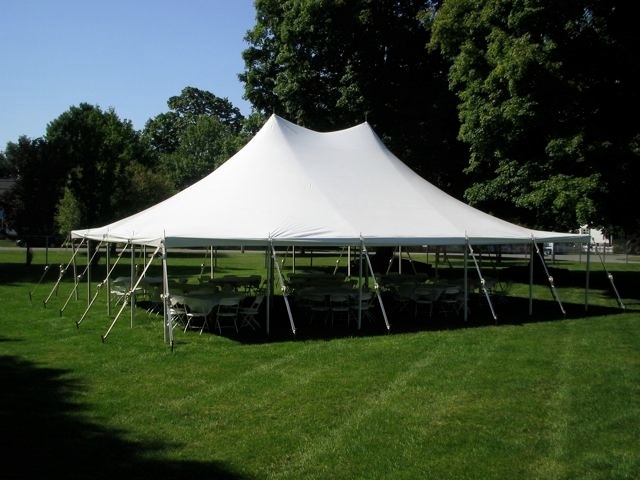 In addition to the actual tent, you have to think about getting other additions such as lights, flooring, side walls, heaters & coolers, and draping.
So, just how much does a 40'X60' tent cost? Expect to pay about $400 for a basic 40'X60' tent structure but the price could be higher from one company to another.
On top of the rental cost, you may be charged extra fees depending on the rental company that you're working with. These extra costs may include the delivery & pick-up fees, installation, and labor costs.
How many tables and chairs can fit under a 10x10 tent?
If you're not expecting very many guests to come to your party or if you're working with limited space, a 10'X10' tent would be just enough. The 10'X10' doesn't usually have a central pole so you can utilize the space under it maximally. This type of tent covers 100 sq. ft. and can fit 2 tables with 8 chairs each; making a total of 16 chairs. Two tables will allow everyone adequate room to get up and move around. Just like the 10'X30' tent, a 10x30 wedding tent may also be used if you're not expecting very many guests to your event.
How big of a tent do I need for 75 guests?
If you expect about 75 people to show up at your event, you better prepare well for it so that all of them fit inside the tented area. It would even be better if you got a bigger tent than a smaller tent.
For this number of guests, you can get party tents for sale 20x40 and use 10 eight-banquet tables with the tents. Alternatively, you could also get a canopy tent 20X30 and have the guests sit in the Ceremony Sitting Arrangement or you could also get a 30X40 wedding tent and have the guests stand around cocktail tables in groups of five.
Tent Accessories Price List
An event setup wouldn't be complete with just the tent only. You also need to rent other accompaniments that fit with your wedding theme and also establish the mood. Here's a price list for some common tent accessories that are necessary for almost any event or party:
i. Wooden tables: $7 - $15 depending on the size
ii. Tablecloths: $8 - $14
iii. Chairs: $1 - $3 for each
iv. Barstools: $12 for each
v. Flooring: ranges between $1-$2.50 per sq. ft. depending on the material so it can cost you between $300-$2,000 for an entire tent
vi. Dance floor: a 24'X28' dance floor would cost you $1,200
vii. Tent liners: for a 40'X60' it would cost you about $1,000
viii. Tent sidewalls: $20 - $30 for a 10x30 wedding tent
ix. Generators: $500 - $1,250
x. Chandeliers: $50 - $500
xi. Perimeter lighting: $200 - $500 for a 20x20 outdoor tent
xii. Heaters: >$125 for each
xiii. Cathedral windows: $10
xiv. Rain gutters: $20
xv. Safety kit: $90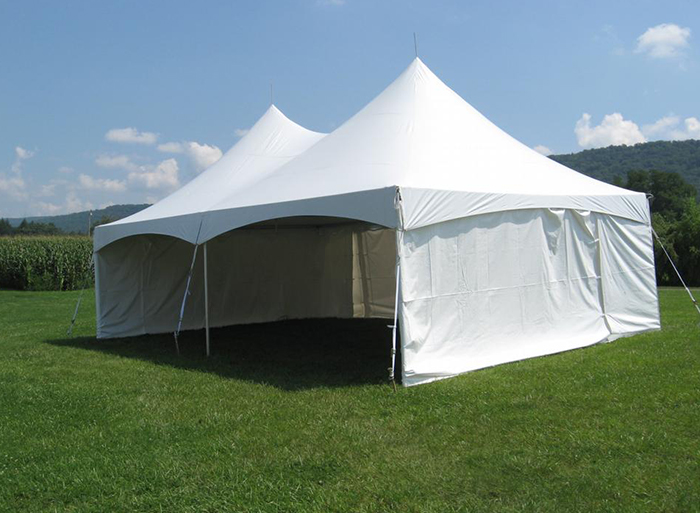 40 x 60 tent layout banquet tables
A 40'X60' tent covers 2400 sq. ft. and can fit up to 24 8ft. banquet tables. Each of these tables can accommodate about eight to ten guests making the total number of people that can sit under a 40'X60' to vary between 192 and 240.
Instead of renting a wedding tent, you can either decide to get a new one or find used tents for sale and buy them.
Conclusion
When you're planning for an event, there are a number of things that you can control but, unfortunately, the weather is not one them. In the early planning stages, you need to decide the type and size of the tent that you need to rent and other accessories too. Do this as soon as you find a venue for the big day so that you can also factor it in the budget although at this point you may not have the exact numbers yet. Along the way once you have a pretty good idea about size and type of tent that you need as well as the tent accessories needed, you can then ask for price quotations from different rental companies and choose one that works for you depending on the discount they offer. In addition to renting, these companies also offer event tents for sale which may either be small or large. Large party tents for sale are preferred because they can have a higher capacity so they're more economical.