What is a Clear Span Tent? What is the Difference between Clear Span Tent and Clear Top Tent
Hosting an event? Be it a private affair or a corporate event, choosing the right tent structure is critical to the comfort of your guests. There are many different styles and sizes of tents to choose from when you're considering a party tent. Reserving the right tent is one of the high priority tasks. However, there's a lot that goes into selecting the right style for your events such as the theme, total number of guests, decoration, catering, budget or any specific requirements.
With so many styles available to choose from, clear tent rentals have become a popular choice for a clear tent wedding. A clear span tent is popular because of the functionality and aesthetic appeal it adds to any event as it is one which is clear of any posts or beams in the middle of the structure.
Let's dive deep into the topic to gain a better insight of clear span tent structures…
What is a Clear Span Tent?
A clear span tent has no posts or beams in the middle of the span which means practically no inner support columns. It's a cost-effective alternative to a permanent building and also an extremely popular option for parties, weddings, private and corporate events. The entire structure is self-supporting with no internal supports which make it an ideal tent structure for making temporary buildings.
Known for quality, efficiency, and functionality, the clear span structures are accepted for a variety of applications.
The Applications…
The clear tent is often used at events which require large unobstructed space such as weddings, reception, corporate events, exhibitions, and indoor sports complexes. Furthermore, the type of tent structures is effectively used as aircraft hangers and military or agricultural equipment sheltering.
As far as the clear tent rentals are concerned, both temporary and semi-permanent structures are available. Best of all, these types of tents are designed and engineered for long-term use and this is the biggest reason why event planners prefer this unique kind of party tent.
Though the clear span tents are very popular these days, they do come with some pros and cons. Let's check out some of the main points…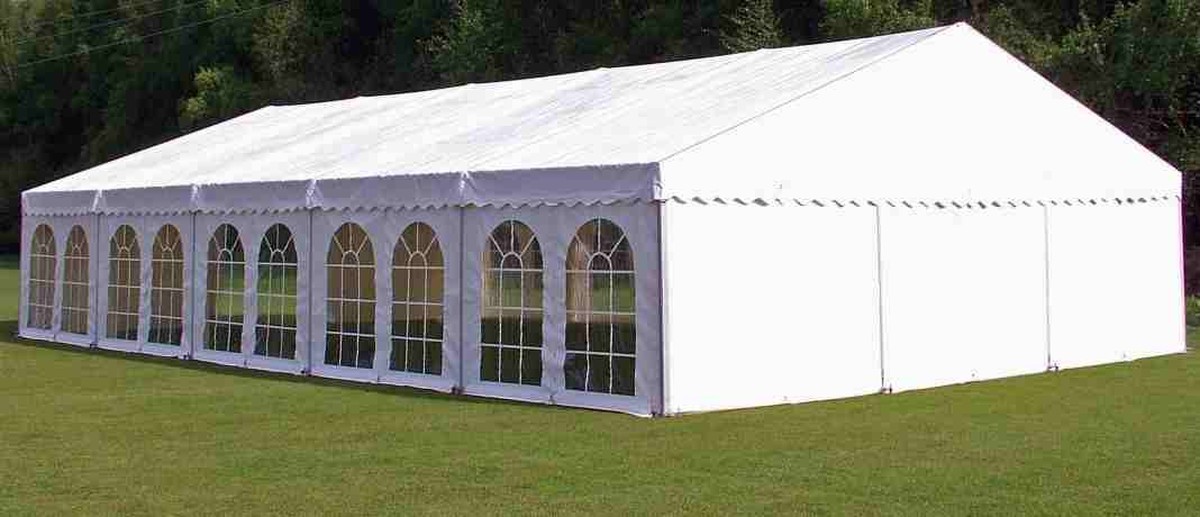 Clear Span Tent – the Pros and Cons
The Pros
ü No Obstacles – It's a large tent with no poles inside as these structures are supported entirely by their framework. The steel spikes secure the base plates while the framework holds the sides. It simply means you get a big, open space to organize your event with no worries of support columns obstructing the interior.
ü Flexibility – A clear span wedding tent come in a large variety of sizes and shapes to suit different needs. You can either use it as a big garden tent or as a canopy tent in your backyard. They can also be installed with heavy-duty flooring, doors, windows, lighting, air conditioning, heating, etc.
ü Weatherproof – With the availability of weatherproof party tents for sale, it has become easier to organize parties and events in any climate. The clear span structures are designed using vinyl fabric to withstand heavy rain, wind, and other unpredictable weather conditions.
ü Quick Set-Up & Removal – As a clear span tent has no poles or support columns, it is extremely easy to install and uninstall. The entire tent can be easily transported using standard trucks or trailers. Furthermore, these types of structures are ideal for any surfaces such as concrete, grass, or a paved parking lot.
ü Countless Options – The open design allows you to experiment with endless ideas such as floral arrangements, tables & chairs, sofas, dance floor, ceiling liners, lanterns, chandeliers, etc. Also, you can choose from different types of sidewalls such as simple PVC fabric, ABS solid wall, and more.
The Cons
ü Risky Investment – Though clear span tents are an ideal choice for different events, the extreme weather conditions may sometimes make it a challenge. In some cases, large foundations are required to prevent the wind from lifting the tent.
ü Dirt and Debris – Sometimes these types of structures collect dirt and debris especially the roofing materials. If you're using glass or polycarbonate, the dust can be seen which makes it a bit of a challenge to handle.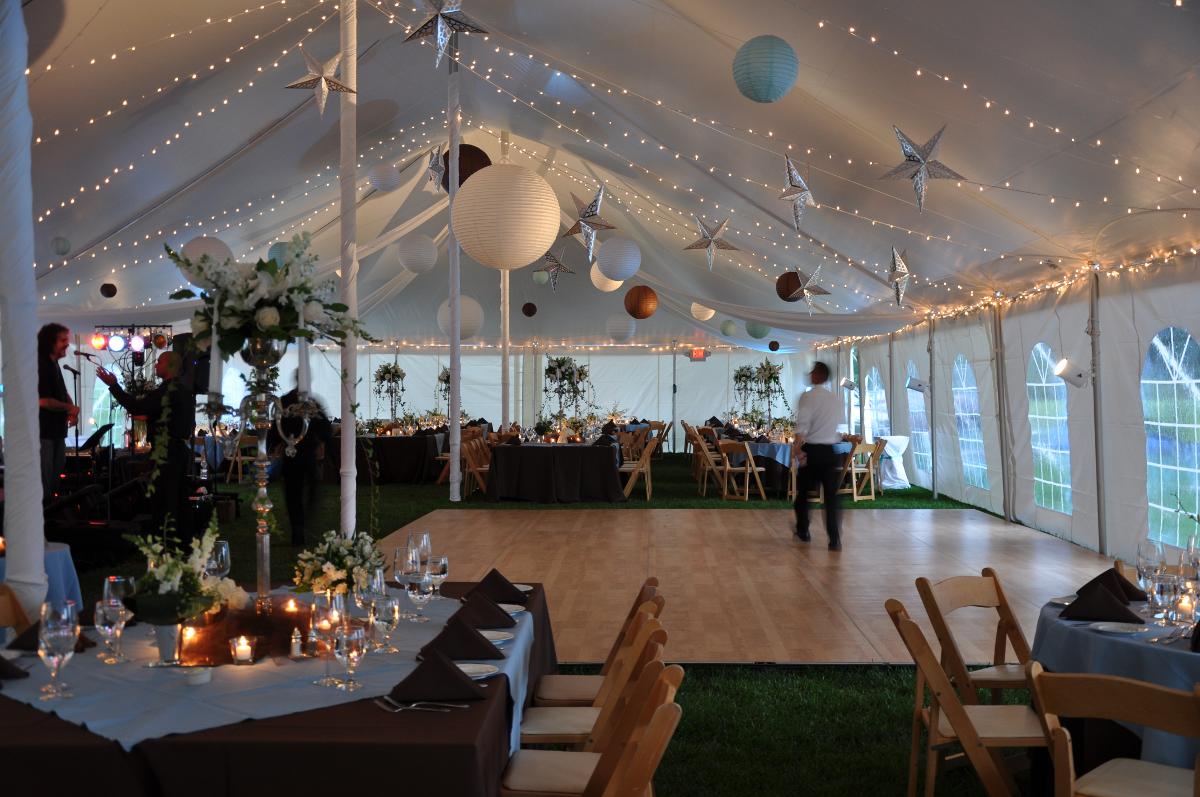 ü Need Anchorage – It would be difficult to manage a large clear span tent without sufficient anchorage. The design of the canopy should impose identical loads onto a framework.
Still confused? Let's check out some FAQs to understand the tents even better…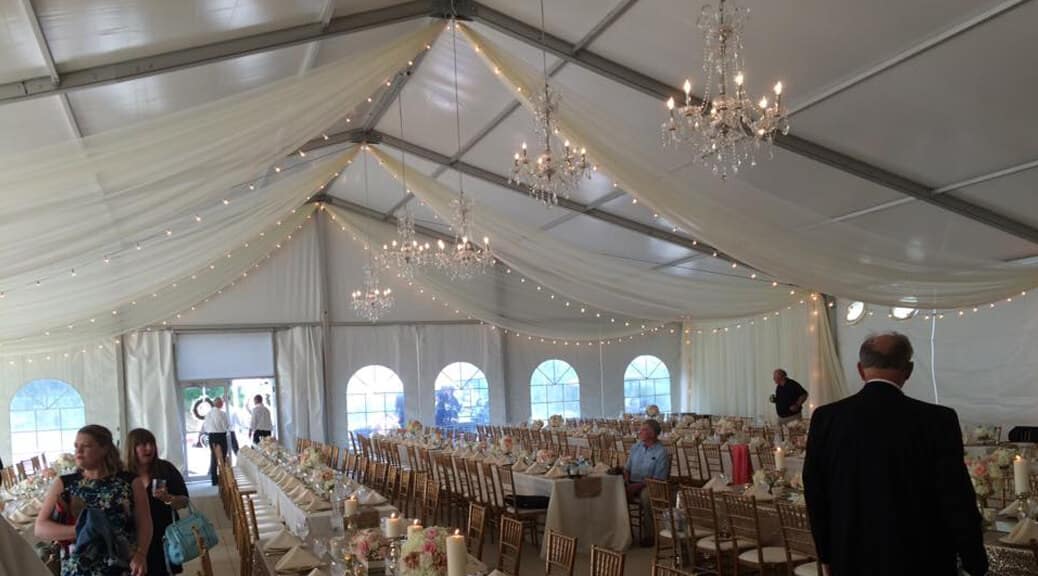 FAQ:
Q1: What is a clear span tent? Why should I invest in one?
A: This is usually the most basic questions but important too… A clear span structure is a type of building that doesn't have any poles or support columns inside but only the vertical support columns around the outer perimeter or framework.
Well! As far as 'why you should choose one' is concerned, it depends on your mood and preference. However, there are many benefits of choosing one such as flexibility, quality, personalization, application, and more.
Q2: Is a clear span tent weatherproof?
A: Though most of the clear tents are designed to withstand harsh weather conditions, extreme weather conditions might be a challenge. There's a certain degree to which these structures can prevent but there's no such thing like 100% weatherproof.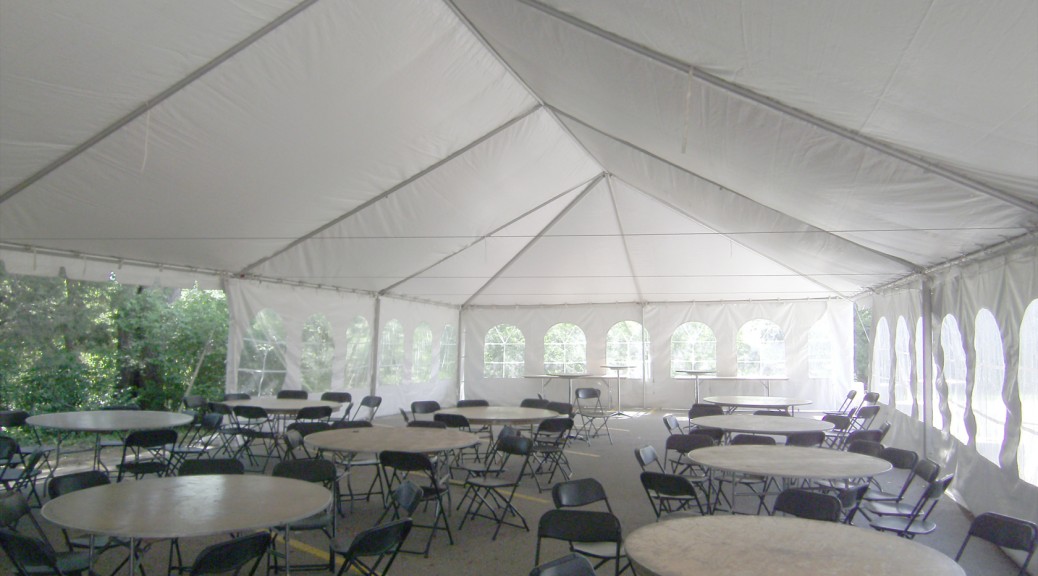 Q3: Are Clear tents rentals a good choice?
A: You can always consider renting a tent if you're going to need it for once-in-a-while. However, if you're looking for a permanent solution for something, buying one can be a wise decision. You can create a sturdy and durable structure and also add accessories like doors and windows along with cooling and heating.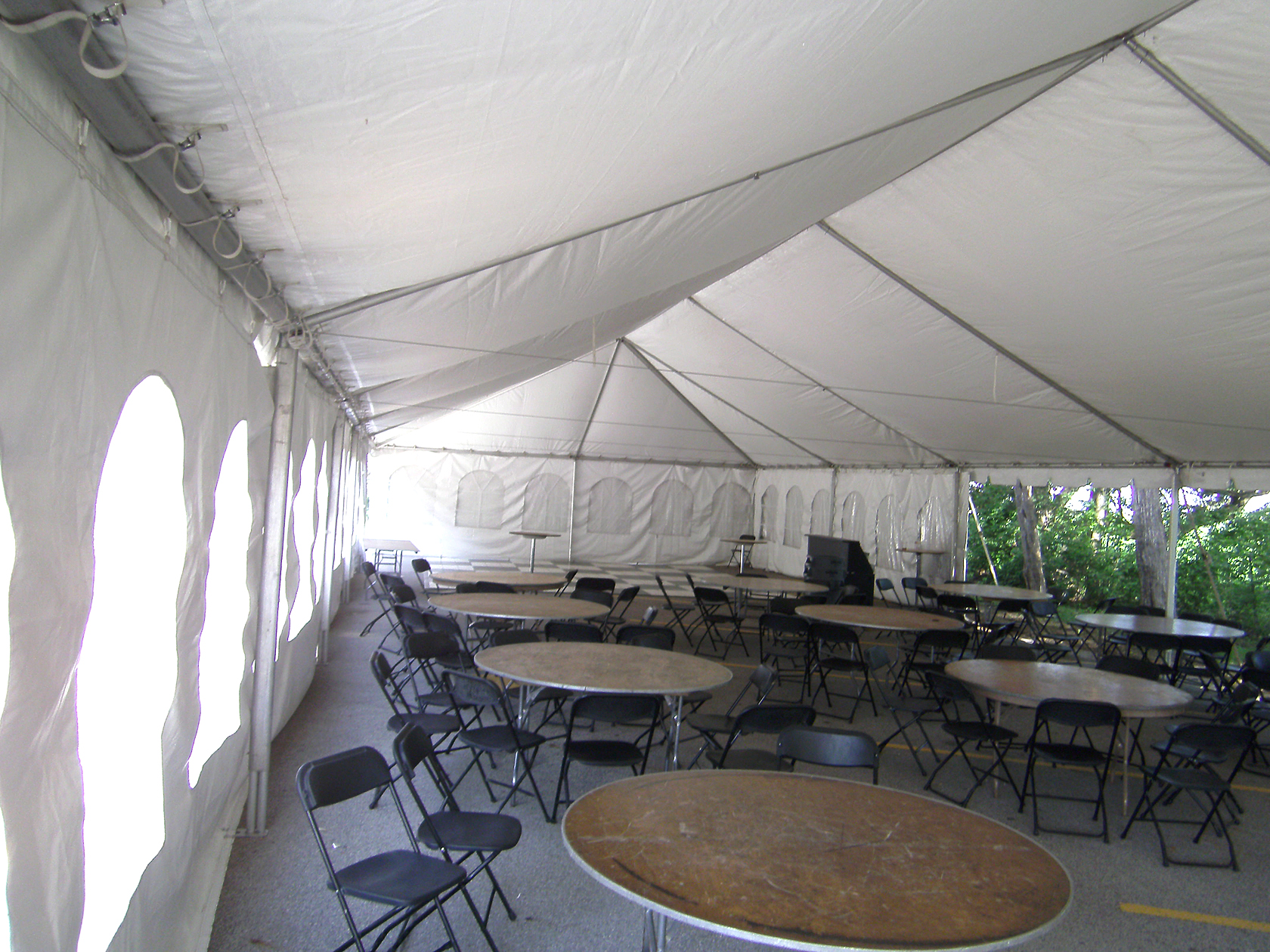 Q4: Can clear span tents be customized?
A: yes, a lot of tent manufacturers and rental companies provide customized tents for sale. It means you can have the graphics of your own choice printed on the tent and the biggest advantage is that the surfaces are mostly flat.
Q5: Can clear span structures be decorated?
A: Of course, you're free to decorate the tents the way you want because these are just tents engineered with a hanging load. If you want to use the ClearSpan structures for weddings, parties, or other private events, you'll be able to decorate it with flowers, lights, etc.
"Apart from the clear span tents, you must have heard about the clear top tent. The clear top tents are a bit different from the one we've discussed in terms of the design, the functionality, the price, etc". let's check out the main defining factors…
What is the Difference Between Clear Span Tent and Clear Top Tent?
1. Design - In terms of the design, the clear top tent has a transparent top while the clear span tent is usually a big frame tent with no support columns. In simple words, a clear span tent can be both solid and clear top tent but a clear top has a see-through top just like the name suggests.
2. Application – In major events, personal and commercial, clear span tents are used as they provide greater weather protection. On the other hand, the clear top tents do not provide enough protection against sunlight but look aesthetically pleasing as compared to the other one.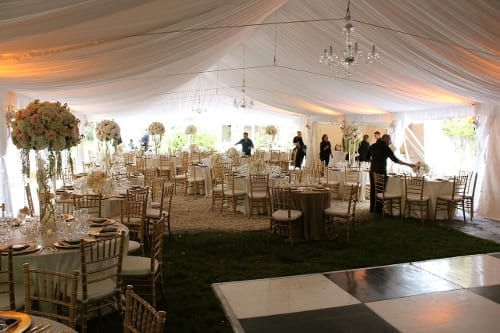 3. Aesthetics – As far as the aesthetic appeal is concerned, a clear top tent looks more beautiful as you can see the sky, the stars, and the endless twinkling stars. However, the clear span tent with no clear top is just like other normal tents. A clear top tent allows you to bring the natural light to come in.
4. Decoration – If you're considering a clear tent wedding, choosing both clear span and clear tents has its pros and cons. Talking about the decorative part, the clear span tents allow you to do anything you want such as hangings, flowers, etc. On the other hand, you don't have to add too much in a clear top tent as it's simply elegant already.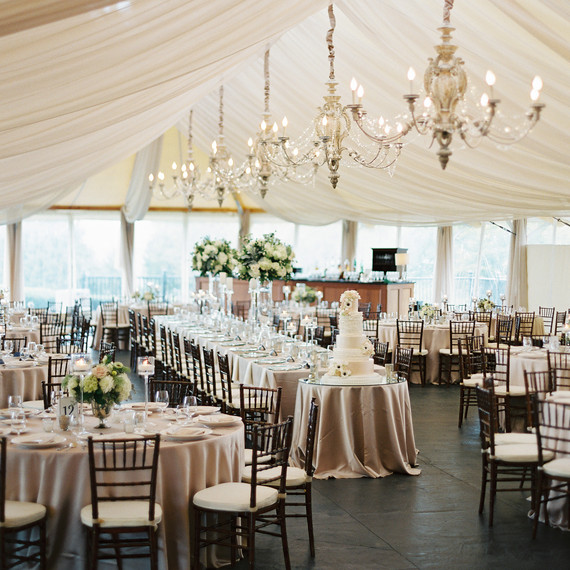 5. Cost – This is among the biggest differentiating factors and can't be ignored especially when you're working with a budget in mind. The clear top garden tent costs more as compared to a clear span frame tent. They cost more because the material used on the top does not last anywhere near as long as the other temporary buildings.
6. Quality – As far as the quality is concerned, the clear span structures have the advantage as the clear top ones can fade quickly. The later one is high on maintenance and must be kept clean and stored in a dry environment. With no proper care and maintenance, the clear top tents will end up looking not-so-clear.
7. Climate Conditions – Clear top tents are ideal to be used for evening events as they do not prevent sunlight from entering the tent. On the other hand, the clear span large tents can be used all year round as they offer protection against sunlight and wind. However, you can always have a tent climate-controlled but it's an expensive option.
8. Flexibility – Clear span tents offer complete flexibility and easy to install as no internal obstructions are involved. Also, they can be erected on any surface with no requirement of footings. On the other hand, the clear top tents are a bit challenging to install as they need more care and maintenance.
9. Uses – Clear span tents can be effectively used for weddings, family functions, birthday parties, trade shows, exhibitions, warehouses, film studios, fairs, festivals, charity events, sports events, corporate events, and more. Coming to the clear top tents, they can also be used for a variety of events and functions but hot weather can be a challenge.
10. Other Features – ClearSpan tents are designed for high wind gusts and maximize space for events with no viewer obstruction. On the other part, the clear top tents are designed to provide coverage but not shade. The first one is an ideal choice for long term rentals while the latter one is ideal for stargazing and fireworks.
Clear span structures are the most sought after structures for weddings, parties, and corporate events as they have an edge over other types of tents.
Concluding Words
Planning an outdoor wedding or event usually means lots of creative freedom but knowing where to start can be a real challenge. While talking about the challenges, one of the biggest ones is choosing an ideal tent followed by selecting the right partners.
Reserving the right tent means half the work is done because of the endless options available out there. Whether you choose a clear span tent or a clear top tent, it should make your event memorable by showcasing the unique features.
Here's a secret…
"The key to success lies in selecting the right contractor because only a reliable partner can provide you with all of the party equipment and accessories you need to create a distinct style for your event. Also, they can provide you with personalized service right from the installation to the removal."