What Size Tent Do I Need for 100 Guests? How to Choose the Right Party Tent Size?
Wedding or event planning – Determining the perfect tent size!
Planning an outdoor event or party is super fun but choosing the perfect tent size can be a bit daunting. When you are considering tent hire to organize an outdoor party, private or commercial, you need to make sure that your guests are comfortable. Therefore, it is of utmost importance to choose the right tent size rentals that will bring both comfort and style to your event.

To make the right decision, there are a few things to consider…
ü Size & Surface of the Venue – The size of your venue will determine the size of the tent while the surface will decide what type of tent is most suitable.
ü Number of Guests Expected – Determining the number of guests you want to accommodate comfortably will help you choose the right size.
ü Decoration & Items – The type of decoration you want for your wedding or party will determine the tent size you need such as having items like cake table, bar, dance floor, etc.
ü Catering – The way you want to feed your guest will determine the size of the tent you need because every set-up may require different spacing.
ü Vision – The style you want to bring out will determine the type of size of the tent you require. Get inspiration for wedding tent ideas and know your vision to choose the best tent.
You must choose the right tent rental for your event whether it's a small family reunion or a big fat wedding. If you want a successful event, it's important to consider all of the above factors. It simply means that considering these factors will help you choose a tent size well enough to fit your entire guest comfortably. You can also use wedding tent size calculator to determine the perfect one for your event.
It's all about crafting your vision and choosing the right vendor to pull it all together.
Tent Event & Tent Type
Tenting provides the ideal solution for successfully organizing outdoor events, while simultaneously allowing guests to enjoy to the fullest. There are a lot of tent styles and sizes available to choose from and you can also customize the layout to your liking. With so many options, you can experiment with different tent shapes, furniture, or include any design element of your choice.
Planning an event, wedding, festival, reunion, party, gala, exhibition, or corporate event requires you to choose the perfect tent size and layout. To make things easier for you and eliminate much of your anxiety, we have answered some of the most crucial questions.
Check this out…
How to choose a perfect layout?
No matter where you're having your party, choosing a layout is as important as choosing the right tent size. Deciding how to make the best use of a tent, how to place the tables and chairs, dance floors, stage, catering, and most important the flower arrangement.
Not sure about the layout? Here are a few tips for where to start…
Ø Choose the right tent size so that you can be as creative as you want.
Ø Place the stage and dance floor first as this will help you make the other arrangements easily.
Ø Decide the type of furniture you want for your event to plan the overall layout accordingly.
Ø Arrange the furniture the best possible way which means giving every guest the greatest view.
Ø Leave room for the bar(s) and follow the rule of having at least 2 bartenders for every 100 guests.
Choose the layout depending on how many people you want to accommodate…
- 10x30 Party Tent – While talking about a 10 by 30 tent, a pole tent is a great way to host an outdoor party or event. These types of tents add a traditional look and feel to any event along with adding an element of décor to the atmosphere. Pole tents are easy to set up and take down and you can also customize them with sidewalls. Also, the poles can be decorated with flowers, lights, lanterns, etc.
- 10x30 Event Tent – Looking for a 10x30 tent for sale? Don't forget to check out the frame tents as they provide you with unobstructed space for your event. Be it any kind of surfaces such as concrete, grass, asphalt, or any other surface, these tents are easy to set-up and takedown. In simple words, frame tents provide an open space for your events while offering a multitude of design options.
- 10x30 Wedding Tent – If you're looking for a flexible option in 10x30 tents, a stretch tent can be a great option. Made from a stretch fabric, these tents provide a versatile alternative to any traditional outdoor event tent. Also, the incredibly strong nylon filament fabric provides protection against harsh weather.
With so many options available, you can always use a tent layout planner along with a tent size calculator. The online design software will help you know the right size of the tent and customize the layout to your liking.
Tent Types
So you've scheduled the perfect event venue for your special occasion but what about providing a cozy yet comfortable place for your guests. There are so many different types of tents available with each having so many uses, but all you need is to select the right tent for your specific needs.
When it comes to different types of tents, it helps to break them down into the following 4 types:
1. Frame Tent – A frame tent is free-standing and ideal for a variety of surfaces such as grass, concrete, asphalt, or a deck. Generally, this triangular tent is made of aluminum pipes and it does not have any poles inside the tent. This simply means you get a big, unobstructed space for organizing an event. As far as the cost is concerned, the frame tent is generally more expensive to rent because of the setup involved.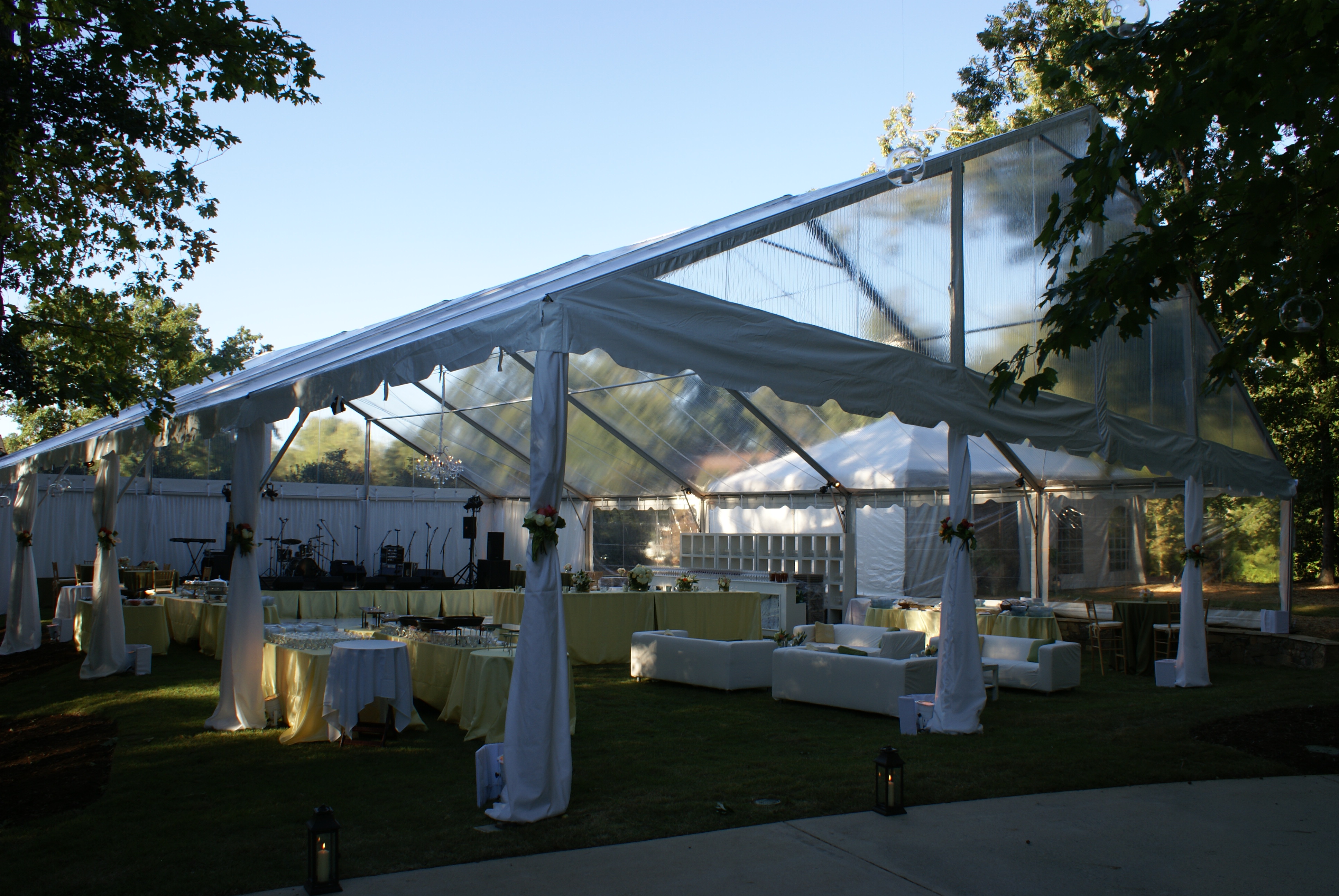 Take a look at some of the interesting features of frame tents…
- It has a frame rather than having center poles
- This style of the tent does not require any stakes
- These are more versatile and install on almost any surface
- It gives you all square footage within the tent
- The pipes are easy to conceal and decorate
- The tent can be placed against other structures with minimal ropes
The Cons
- These are a bit expensive to set up as compared to other tents
- The setup can be challenging because no poles are involved
The frame tent is one of the most common types of party tent as it creates more space for your guest.
2. Pole Tent – As the name suggests, the pole tent is one which is supported by poles and has a big showy top. It can either have one or more peaks, depending on the design you choose. These types of tents are designed to provide safe environments to the guests. They feature high peaks and available in different sizes to accommodate different number of guests. If you're looking for something sophisticated, this beautiful and elegant tent can be an ideal choice. However, there's a drawback that these tents cannot be setup on every surface such as concrete or other hard surfaces because of the poles.
Here are some main features of a pole tent…
- It contains one or more center poles which means more safety
- The center poles can be decorated with flowers, fabric, etc
- The tent is designed to provide a safe environment for the guests
- The tent is more attractive as compared to other tents because of its natural peaks
- An ideal style for all types of occasions such as party, weddings, corporate events, etc
- Center poles provide the classic look of a traditional tent
- Sidewalls of different styles are available to adorn the pole tents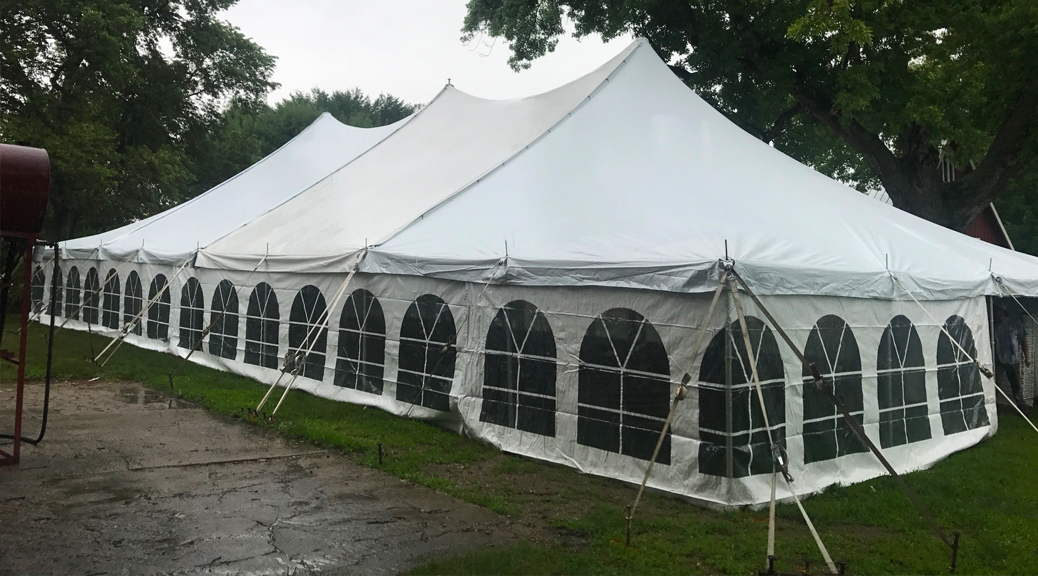 The Cons
- The tent cannot be set up on concrete and other hard surfaces, making them less versatile
- The setup might be a challenge as managing poles is involved
- Poles in the middle of the tent can make it difficult to see and enjoy everything
- These tents require a larger footprint for installation of the poles
3. Stretch Tent – It is an innovative kind of marquee tent essentially made of a single price of waterproof material. As the name suggests, the material is stretched tight over an area using free-standing poles internally. The tents can also be adorned with sidewalls but this simply means losing a bit of usable space on the inside. However, sidewalls can be used to make a lot of difference to the temperature inside.
Check out some of the main features…
- The material can be stretched to create any desired shape and space
- The tent is waterproof and fire retardant
- The open sides allow guests to enjoy the fresh air and enjoy the surroundings
- These type of tents can be used all year round
- The tents are available in different sizes and can also be joined together seamlessly
- The tents are available in a variety of colors and styles
- These tents can be erected anywhere and perfectly suited for wide-open spaces
The Cons
- The setup might be a challenge as the material need to be stretched
- Sometimes it's difficult to create a preferred design by just stretching the material
- Design options are limited
4. Accessories – One of the most rewarding aspects of planning an outdoor wedding or event is having the flexibility to choose the accessories. It could be anything right from the tiniest decoration to the big and bulky items. You have a lot of creative freedom to accessorize your tent and create a look of your dreams. The tent accessories you may consider include the sidewall combinations, drapery, doors, and more.
Some of the most important accessories include tables and chairs, linens, lighting, party games, bars, dance floor, staging, generators, heaters, flooring, weights, air conditioners, antique, decoration, and more. Always remember that adding practical things like a generator is extremely critical to keep the event running in case the electrical power is not available.
How to Know the Tent Size – Calculation and Costs
Use the wedding tent size calculator to determine the right size for your event. The tent size you will choose will decide the tent price as different types of tents come with a different price tag. You can choose from different sizes for tent hire such as 10x30 canopy tent, 10 x 30 gazebo party tent canopy, 100 person tent, 40 person tent, 200 person tent, and tent for 100 people.
Here are a few questions answered about choosing the best party tent…
What size tent do I need for 100 guests?
If you're looking for a tent for 100 people, there are a lot of options available out there. Talking specifically, a 20' x 50' 1000 sq ft is ideal for seating only while 30' x 40' 1200 sq ft is perfect if you're considering bar and buffet. You may also consider 10 x 30 event tent if catering and other activities are outside the tent.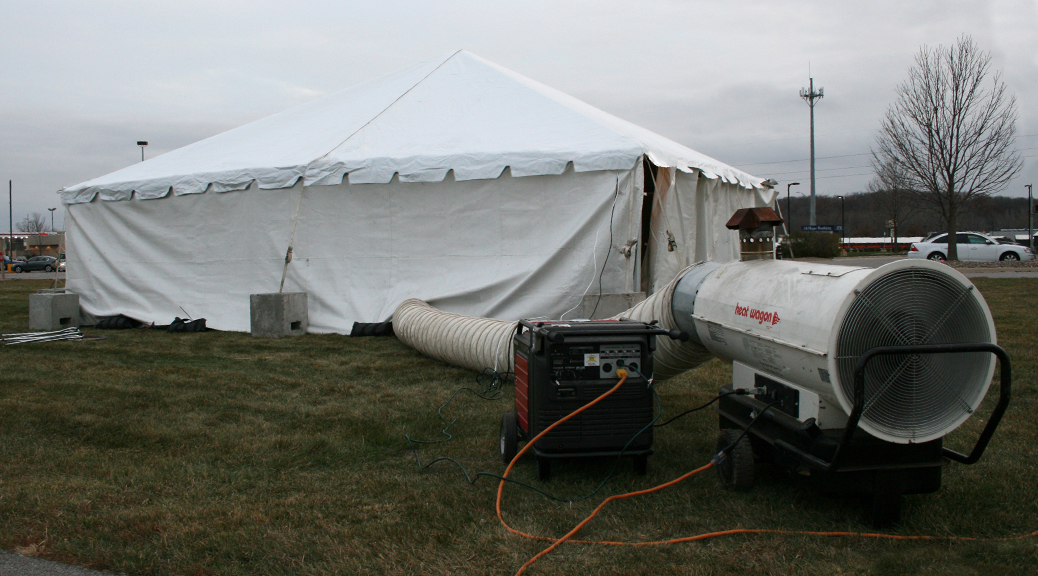 What size tent for 200 guests?
As far as 200 person tent is concerned, it will be good to have a 40' x 60' 2400 sq ft for seating only and 40' x 80' 3200 sq ft for bar and buffet.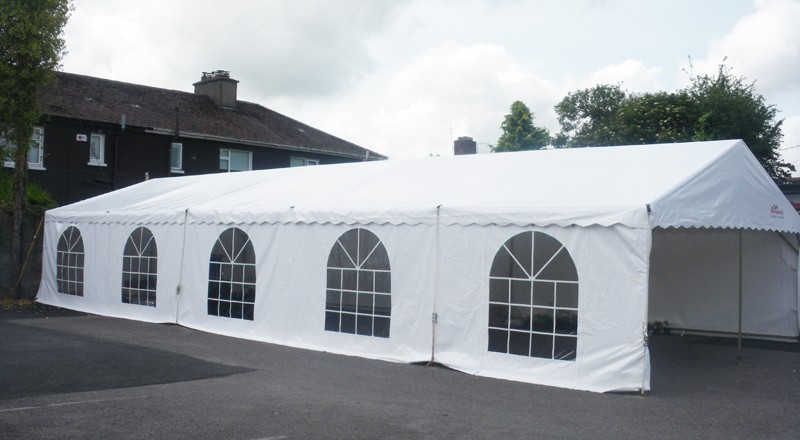 The Final Words
Last but not least, choosing the right size tent is all about knowing your vision and working with the right vendor. A reliable and dedicated team of professionals can help you organize your event the way you want. Find a trusted vendor to ensure you are off to the right start and have a successful event without spending a fortune.
Haven't found your vendor yet? Let us give a chance because we do what we do best…
Plan your party like a champ and let your guests whisper your success!