Top 10 Church Tent Rental Supplier in South Africa, Nigeria, Johannesburg, Ghana, Gauteng, Cape Town, Durban, And Kenya
Church tents are mainly used as a "house of worship". There are quite a number of other applications for church tents in Africa. For example, they may be used for:
· Ordinary Sunday services
· Church fellowships
· Church rallies
· Revival meetings
· Ordination ceremonies
· Healing crusades
Generally, the tents are large in size so that they can accommodate any number of congregation ranging from a few hundred to a couple of thousand church members. The width usually ranges between 10 to 60 meters and can be of unlimited length. The flexibility in shapes allows you to choose a roof shape of your choice including curved roofs, pointed roof, heart-shaped roof, or a combination of different shapes. These tents come with complete accessories for a heat-blocking system and weather protection.
Church tents for sale used come in handy when there is an urgent need to for a church but there are no resources or time to build one. These structures have now become the preferred option because they can be installed directly on any surface be it concrete, grass, or on soft land. Although there are some churches that use the tents as a permanent prayer hall, the tent may be used if the congregation needs to shift regularly. This is due to the fact that the tents are transport, install, and dissemble.
If they wanted to, the church members would just congregate in open spaces and proceed with their service. However, tents are very necessary as they have quite a number of benefits. In addition to accommodating the congregation, why else do churches need tents?
· The tents offer protection against rain, wind, or extreme heat from the sun
· To create additional room or extension if there are more people to accommodate
· Provides beautiful ambiance for guests at celebrations held within the church area such as weddings
· May be used for storage purposes or to provide cover i.e. as car parking
Tips On Buying Or Hiring A Church Tent
A tent can be a huge investment depending on what decision you make depending on whether you buy or hire. The biggest factor affecting this decision is the budget you have set aside for the tent.
Another important thing that you need to consider before getting a church tent is the size – this is largely influenced on how big or small the congregation is. There's really a wide range of tent sizes that you can use to build the space that works for you. Always consult professionals instead of making assumptions. Talk to the tent company who will advise you on the type and size of the tent to get depending on:
· the space available. Put into consideration any obstacles in the area such as trees that may make installation process difficult.
· the seating arrangement
· the slope of the installation site. It may be necessary to even out the terrain
· the activities to take place under the tent
Other factors that determines the church tent cost and which you need to consider when either buying or hiring a tent the material that it's made of; this will determine its durability and if it is waterproof or not. Again, the tent you choose should be strong and easy to pitch or dismantle.
In addition to the actual tent, consider the cost of acquiring other accessories such as mobile toilets, side walls, air conditioning system, as well as the tables and chairs. Ensure that you get all the details as far as pricing is concerned.
Tent Types
There is quite a wide variety of tents. Some of the different types of tents include:
1. Frame tents
2. Aluminum tents
3. Marquee tents
4. Alpine tents
5. Pagoda tents
6. Pergola tents
7. Peg & pole tents
8. Bedouin tents
9. Stretch tents
10. Web tents
11. Cheese tents
12. Army/ military tents
All these tents have different applications such as use at weddings, exhibitions, parties, festivals, and for warehousing/ storage. The capacity that each tent can accommodate depends mainly on the type of the tent, the size, and the seating arrangement. For example, you can accommodate about 2000 people under a 30m x 40m church tent.
Church Tent Supporting Facilities
Tent supporting facilities are very important for the smooth running of an activity happening under the tent. While most of these supporting facilities are very important and practical, some of them may be optional depending on the type of event being held. A tenting company may provide the supporting facilities or you may be required to get them elsewhere. Some of these accessories include:
1. Flooring systems to make the ground flatter and smoother
2. Tables and chairs
3. Sidewalls
4. Wall lining, roof lining, and curtains
5. Doors and clear windows
6. Source of power
7. Lighting
8. Air conditioning
9. Sound systems
10. A rain gutter system
11. Weight plate for safe installation to protect the floor
12. Ground anchors
Church tent's choice of use, type, facilities, features,
These days, most churches use modern clear span tents for church ceremonies. These are designed in such a way that they're not only practical but also elegant. This makes them suitable for use to host all types of church functions such as missions, gospel ministries, weddings, community outreach, musical events, and anniversary celebrations.
Here are some of the main reasons for which the clear span tents are the preferred option for use as revival tents for sale:
1. There's enough space inside and no obstruction
Churches prefer to use these types of tents because the space underneath can be put to maximum use. There are no poles or other interior support columns that may cause obstruction. So there's no interference on how the equipment is placed and the congregation doesn't have any distraction of their view.
2. The structures are safe and durable
Most of the meeting are usually attended by so many people. It's, therefore, very important that their safety be a top priority. The church tent should be made using strong materials and have a long lifespan so that they can stay erected for months and require only minimum maintenance.
3. The structures are easy to set up
Church tent structures are designed in such a way that they're transportable with all their parts fitting inside a standard truck or trailer. Their modular design makes the tents easy to set up and dismantle. The fact that they're easy to set up makes it very easy to expand churches that require fast solutions to increase their capacity.
4. The structures are elegant and look neat
The church tents are the perfect combination of practicality and elegance. The way in which the tents are set up gives the tents a clean look that is aesthetically pleasing.
5. There's a large variety of shapes, sizes, and styles
The church tents come in a variety of shapes, sizes, and styles. The type of tent you choose basically depends on the number of people that you would like to accommodate. For example, a:
i. 15m x 33m tent can accommodate up to 1000 people
ii. 15m x 42m tent can accommodate up to 1260 people
iii. 15m x 51m tent can accommodate up to 1530 people
iv. 15m x 60m tent can accommodate up to 1800 people
v. 15m x 69m tent can accommodate up to 2000 people
vi. 15m x 78m tent can accommodate up to 2200 people
vii. 15m x 87m tent can accommodate up to 2500 people
viii. 15m x 95m tent can accommodate up to 2700 people
| | | |
| --- | --- | --- |
| Tent Size | Area | No. of Seats |
| 15m x 12m | 180 m2 | 120 |
| 15m x 15m | 225 m2 | 170 |
| 15m x 18m | 270 m2 | 200 |
| 15m x 20m | 300 m2 | 215 |
| 15m x 27m | 405 m2 | 290 |
| 20m x 20m | 400 m2 | 285 |
| 20m x 25m | 500 m2 | 350 |
| 20m x 30m | 600 m2 | 425 |
| 25m x 30m | 750 m2 | 530 |
| 30m x 30m | 900 m2 | 620 |
| 30m x 40m | 1,200 m2 | 835 |
| 30m x 55m | 1,650 m2 | 1,050 |
| 40m x 45m | 1,800 m2 | 1,250 |
| 40m x 65m | 2,600 m2 | 1,650 |
| 40m x 70m | 2,800 m2 | 2,000 |
| 40m x 100m | 4,000 m2 | 2,850 |
Tent Types
1. Classic A-Frame tent
This type of tent is available in sizes between 10m to 60m
The eave height ranges between 2.70m to 4.08m
The different sizes of the Classic - Frame tent can accommodate anywhere between 70 to 2,500 guests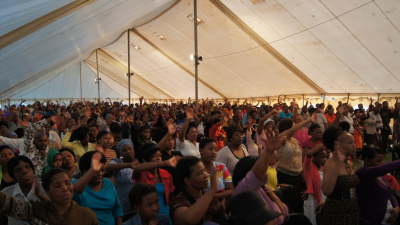 2. Curved Roof-Arch tent
This type of tent is available in sizes between 10m to 40m
The eave height ranges between 3.95m to 4.03m
The different sizes of the Curved Roof-Arch Series tent can accommodate anywhere between 100 to 2,500 guests
3. Combination dome Tent
This type of tent is available in sizes between 10m to 40m
The eave height ranges between 3.95m to 4.03m
The different sizes of the Combination MPT Series tent can accommodate anywhere between 100 to 2,000 guests
4. Polygon tent
This type of tent is available in sizes between 20m to 60m
The eave height is 4m
The different sizes of the Polygon Series tent can accommodate anywhere between 200 to 2,000 guests
5. "Heart" Roof TFS Series
This type of tent is available in sizes between 18m to 60m
The eave height is 4m
The different sizes of the "Heart" Roof TFS Series tent can accommodate anywhere between 100 to 1,500 guests
6. Geodesic Dome tent
This type of tent is available in sizes between 15m to 40m
The eave height ranges between 7.5m to 20m
The different sizes of the Geodesic Dome Series tent can accommodate anywhere between 70 to 2,500 guests
Top 10 Church Tent Supplier in Africa
Midrand Tarp & Tent manufactures a wide range of high-quality PVC products such as peg & pole marquees, framed marquees, and canvas products. The products are customized to fit each customer's needs and so they can be manufactured in your company colors. The products are designed using CAD programs for precision.
Besides church tents for sale, other items that are manufactured at Midrand include banners, draping, pool covers, trailer covers, truck covers, boat covers, grain covers, taut liners, dam liners and any other application where a durable and weather-proof material is needed.
2. Alfares International Tents Mali
Alfares is an international tent supplier based in Bamako Mali. The company was established by its founder Mr. Fares. Over the years, the company has grown to be recognized as a leader in this industry and one of the most reputed business houses. Today they are a reputable manufacturer and supplier of marquee tents in Mali.
They supply tents for religious gatherings, festival tents, carnival tents, wedding tents, exhibition tents, refugee tents, military tents, party tents, and other events. Their tents are cost friendly but this does not mean that they compromise on durability and product quality. This gives them a competitive advantage against their competitors. Alfares is also dedicated to ensuring that their customers get excellent services and maximum satisfaction at all times.
3. Royal Tent
This company was established in 1998 and has taken the church tent rental industry by storm to become a leading manufacturer, distributor, supplier, and wholesaler of tents, marquees, tarps, tables, chairs, chillers, and mobile toilets. Royal Tent boasts of a staff count of more than 300 employees.
Royal Tent products include canvas tents, marquee tents, alpine tents, aluminum tents, frame tents, stretch tents, Bedouin tents, warehouse storage tents, emergency shelter tents, disaster tents, military tents, army tents, as well as peg and pole tents. They are delivered to various provinces in South Africa such as JHB, Durban, Mpumalanga, Gauteng, Eastern Cape, Limpopo, KwaZulu-Natal, Northern Cape, and Western Cape. Outside South Africa, the tents are supplied to Angola, Algeria, Benin, Botswana, Cameroon, Burundi, and Burkina Faso.
Are you searching for a reliable tent supplier in Nigeria? Tent Suppliers Nigeria has got you covered. This company is a well-known supplier of various varieties of tents and marquees in Nigeria and its neighbors. They supply both private and big industry players, the general public, as well as government departments with tents. They're always striving to maintain top-notch product quality, satisfy their customer's needs, and at the same time offer exceptional customer services.
Tent Suppliers Nigeria specializes in providing temporary and permanent tent solutions for different events such as church events, corporate events, sports events, and exhibitions. The tents are customized to suit the different needs of the customers.
Warehouse Tents specializes in manufacturing Marquees and Tents and is committed to manufacturing exceptional tents at very competitive prices. However, the fact that the products are low-priced does not mean that they're of a lower quality; all their tents are manufactured at to the highest standard. All their tents have a 10-year workmanship guarantee on them so they will never breakdown no matter what weather conditions they're exposed to. They're designed in such a way that they can withstand almost anything that mother nature throws at them.
This company has secured a strong customer base from small to medium enterprises to large companies. This may be attributed to their hands on organization and consideration to detail. The fact that they sell high volumes at lower margins has made them to become leading a manufacturer, supplier, wholesaler, and distributor of tents.
Tent Technics is a South African based tent company that was established in 2010. Over the years, it has become one of the top manufacturers, suppliers, distributors, and wholesalers in the country. When you buy your tents from them, you will get a lot of help from their sales team who will tell you exactly what type of tent is suitable for your needs. Once you have decided on the type of tent to get, you then put a 50% deposit so that they can start the manufacturing process.
They offer amazing prices for their products but don't compromise on quality. Tent technics has gained the loyalty of their customers by giving them pristine products through their ingenuity and many years of experience. Some of the tents that they design and manufacture are alpine tents, stretch tents, frame tents, classic tents, star tents, Jasmin tents, inflatable tents, and peg & pole tents.
Tentforsaleafrica has rapidly taken over the tent manufacturing and supply industry not only in South Africa but also in other African Countries. They're the leading tent exporter and wholesaler of tents, marquees, and furnishing. The company has been in for the past four decades and their main customers are the general public especially providing the catholic church tent and providing tents for government institutions.
The different types of tents that they manufacture include event tents, exhibition tents, wedding tents, gazebo tents, pagoda tents, military tents, warehouse tents, banquet tents, and canvas tents. In addition to that they also make plastic tables and chairs, foldable steel tables, portable toilets, tent partitions, tent light, and tent floors.
8. Technotent
Technotent is a tent manufacturer, supplier, wholesaler, retailer, and stockiest. The company is well equipped to incorporate the entire experience from resources to sales and even thereafter. Tents from Technotent are made out of the best materials and they also ensure total quality control and management. The main materials used include steel, polypropylene, PVC, canvas, and galvanized aluminum. These tents are easy to put up and bring down as well as convenient to transport.
The tents are available for purchase and for rent mainly in the cities of Durban and Pretoria. They also offer church space for rent in Johannesburg as well. They gained popularity because they are waterproof, they do not have center poles, and they come with side walls.
Majjanja and Sons Tent Manufacturers is a company based in Uganda that was founded in 1992. Their main objective is to provide people with durable and colorful shelter for their events. Today, it's one of the leading companies in the supply of tents with a large client base running to thousands of people not only in Uganda and East Africa but the whole of Africa as a whole.
They company has been in business for a period of 23 years. This translates to experience in the industry and proper professional knowledge. Their main branch is at Kireka Nkere Zone
10. Empire Tents
Empire tents was established in 1998 in KwaZulu-Natal in South Africa. Over the years, the company has been able to establish itself as a respected supplier and manufacturer on an international scale. They only use high-quality products in the manufacturing process which means that the tents last for years and don't need to be replaced every now and then. Empire Tents fully understands the stringent demands by the client and have developed products that meets these demands. So much care and precision goes into research, conception, designing, developing, manufacturing, testing, and quality control to ensure that only superior products are created.
Conclusion
Church tent revival meetings have become a common thing for both local and international ministries. They've become places where all people are welcome to come and worship. However, this kind of freedom where anyone is welcome has been faced with challenges such as vagrants wandering into the tent and causing disruptions.
It's not just Christians who need tents to hold their fellowships, Different religions also require the tents for various purposes depending on the religious background. In addition to acting as a place where the believers congregate, the tent may also be used as a parking lot for their vehicles.