Perfect Pole Tents for Weddings, Parties, and Commercial Events
Pole Tent – Everything You Need to Know!
It doesn't matter what sort of outdoor event you're planning to organize, you will need a tent to provide shelter and comfort to your guests. All good outdoor events start with a tent, which can serve as a functional and whimsical venue with countless benefits. Also, tents are easier to decorate because they serve as a completely blank canvas.
Though there are many reasons for hiring tents, the one very obvious reason is unpredictable weather. While tents are great for protecting guests from rain and sun, they also provide an outstanding backdrop to the photographs. After all, 'it's all about creating and treasuring memories for a lifetime'. Isn't it?
But the question is – which tent will do best for your event? Well! There are so many different types of tents out there but choosing the best will depend on several factors. These factors may include your budget, type of event, location, and a number of guests to name a few.
Is Pole Tent a Great Option?
Tried and true, a pole tent, an upgrade to traditional pole marquee that is well-designed and properly installed can make a big difference whether you're hosting a small or big event. A pole tent is generally designed to be used on grassy surfaces as it uses stakes driven into the ground and ties attached to the poles.
In a general scenario, a pole tent has at least 1 pole in the center as the main support and others on the sides. It has a roof canopy supported by tall central poles and tied using sidelines connected to ground stakes.
A pole tent is ideal for the outdoor wedding party, birthday party, event party, princess party, carnivals, concerts, award shows, cultural events, graduation party, advanced party rental, foam party, children's party, commercial event, etc.
What Size Tent Do You Need?
Choosing a perfect size is as important as choosing the right type of tent. You may not want to make your guests hit each other while having food or dance. So, discussed below are some popular sizes to make your choice easier…
1. 10x10 Pole Tent – If you want to host a small party or get-to-gather, a 10" by 10" pole tent will be sufficient to fit in around 8 to 15 guests. As it covers 100 square feet, you can easily install it in your backyard or garden.
2. 20x20 Pole Tent – For accommodating around 30 to 60 guests for an event like ring ceremony, cocktail party, birthday, etc; this tent size will be enough. It covers around 400 square feet so you can get it installed anywhere.
3. 20x30 Pole Tent – If you're looking for a solution to for around 40 to 90 guests, a 20x30 pole tent size can be your perfect choice. Covering approx 600 square feet, this is a perfect fit for small to mid-sized events.
4. 20x40 Pole Tent – Looking for high peak pole tents for sale? A 20x40 pole tent is a popular choice for festivals, school events, concerts, and sporting events. This size of tent can be used to fit in around 50 to 120 guests. It covers approx 800 square feet space and, therefore, ideal for mid-sized to large events.
5. 40x40 Pole Tent – Looking for a tent size to accommodate around 100 to 250 guests, a 40" by 40" pole tent can be a great choice. covering approx 1600 square feet of area, this tent size provides enough space for weddings, receptions, anniversaries, promotional events, concerts, exhibitions, and corporate events.
6. 40x60 Pole Tent – A 40" by 60" size can make a perfect commercial pole tent for organizing events like formal dinners, large meetings, promotional events, weddings, birthdays, etc. Covering approx 2400 square feet of area, this size of tent can accommodate around 150 to 400 guests comfortably.
7. 40x80 Pole Tent – Looking for a large pole tent? There's nothing as effective as a 40" by 80" pole tent size as it gives you space as big as 3200 square feet. It allows you to accommodate around 200 to 550 guests comfortably. The giant size makes this tent size an ideal choice for big fat weddings, receptions, exhibitions, and all other large events.
A tent that's either too big or too small may mess up the entire setting. Therefore, it's imperative to choose the most suitable size and capacity for your event.
Pole tents – Where they work best…
It's the usage of pole tents that makes them a big hit
Here are a few application examples…
1. Outdoor Wedding Party – If you're planning an outdoor wedding, a pole tent can be your best option. It can help you create a venue which can serve as a practical and whimsical space for your guests. It will not only protect against the weather but is easier to decorate. Also, you can enjoy cost savings as renting a tent is often much more affordable when compared to reserving an indoor venue.
2. Garden Birthday & Graduation Party – When you're planning a birthday party or a graduation party in a garden, there's nothing that can serve as better than a pole tent. As this type of tent is generally designed to be used on ground or grassy areas, a garden can be a perfect location. Most people enjoy the appearance of a pole tent as there are no poles inside the tent. A large pole tent is ideal for birthdays and graduation especially when you're expecting a large gathering.
3. Festivals – For a quick setup for festivals, there's nothing as effective and beautiful as a pole tent. Stylish and versatile, these tents are widely used for stage covers, food venues, VIP areas, shops, etc. Also, you get to choose from an extensive range of tents to create an innovative venue for different festivals. They can be customized in size and shape to successfully use in different festivals.
4. Luxury Wedding Tent – If you're not sure whether a pole tent can serve as a luxury wedding tent, don't get confused. A pole tent is not just for small or simple events but perfect for big fat weddings. Wondering how? A pole tent has a big showy top with one or more peaks which makes it a beautiful and elegant choice. You have the ultimate freedom to decorate these tents the way you want.
5. Church & Funeral – Pole tents are not just limited to wedding, parties, and festivals, you can also use some of the most sophisticated ones for Church events and funeral. As these types of tents are extremely versatile, they can cater for the smallest to largest events with ease. Also, they can be attached to existing walls, terraces, and frames to transform any area into a fully-functional space.
6. Warehouse & Storage – With this particular purpose in mind, pole tents serve as a great companion. These tents are designed and manufactured to be incredibly strong and safe so that can be easily used for warehouses and storage. To make them extremely accessible, the sides can easily be pulled down or opened up to create an appropriate atmosphere.
Tent Decorating Ideas – Sky is the Limit!
One huge advantage of pole tent rentals for your outdoor event is that is can serve as a blank canvas which you can decorate with any item of your choice. Many indoor venues are often already decorated and you're not left with too many options. However, a pole tent gives you total freedom to customize the décor to your preferences.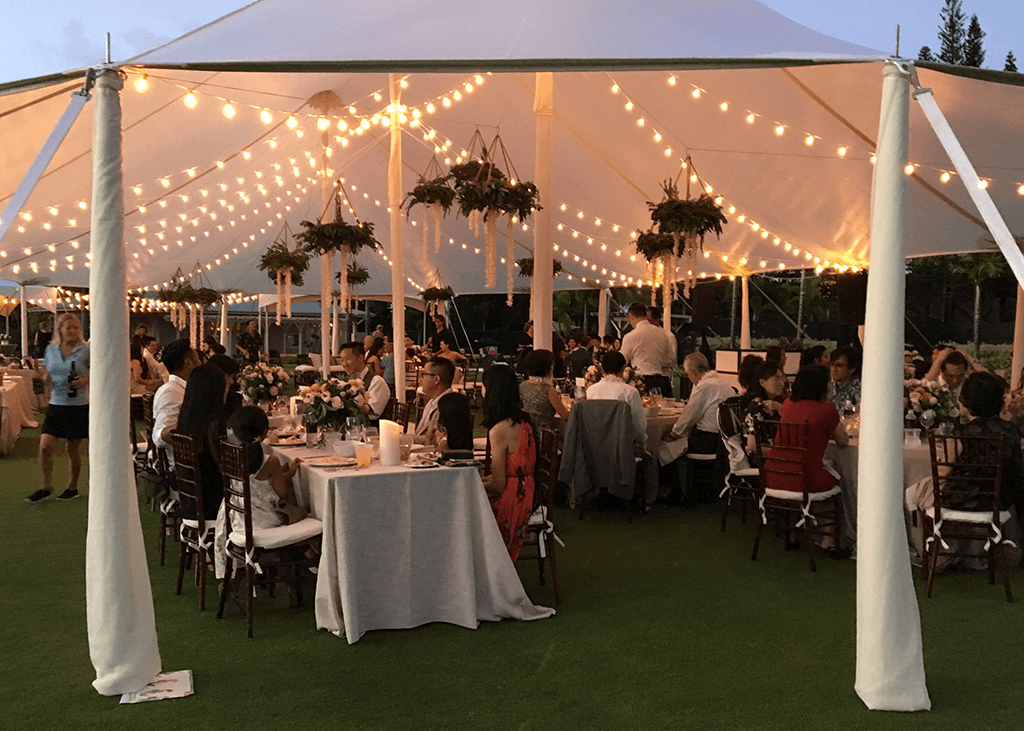 Either you can create a theme and decorate accordingly or just choose different items to boost the appearance. Though the options are endless, here are a few things that can make a big difference… check them out…
ü Lighting – You can create any theme using different types of lights such as a sophisticated one, a luxurious one, or a theme with a pop of color. This is one of the most effective and inexpensive ways to give your tent an outstanding feel and look. Some popular options include LEDs, lanterns, chandeliers, fairy lights, disco lights, etc.
ü Linen – Linen is one thing that can be used in a variety of ways and give an extremely beautiful and luxurious look. Linen can be used to adorn chairs & tables, stage, poles, or the tent itself. Also, you can choose from a variety of materials, colors, patterns, styles, and sizes.
ü Flowers – As a pole tent is designed to sit on the level ground and held down with stakes, you also have the opportunity to decorate the poles and stakes. Using different types of flowers can be the best option especially when you're doing it for a wedding, reception, or a special event.
ü Cushions – Using cushions is a great way to boost the aesthetic appeal of any tent size, style, and type. You can create any look or feel by choosing from a wide range of colors, shapes, sizes, and patterns. Today, cushions are extremely popular with low tables & chairs. If you want a unique look, mixing different colors and sizes can do wonders.
ü Think Something Different – Though there are a lot of options available these days you can always think out-of-the-box. For example – if you're celebrating a friends' or family reunion, you can use photographs or videos reminding the previous moments. Some other options include paper flowers, antique items, umbrellas, etc.
As far as the decorative ideas for a pole tent are concerned, the only limitation is your creativity. One of the best things about these tents is that there are no metal pipes inside a pole tent which mean there's nothing to hinder the decoration.
Pole Tent Accessories – Things that Make Your Event Successful!
It's not just the tent which makes an event successful; the following accessories play a crucial role…
1. Chairs & Tables – No event is a functional one without chairs & tables and there's a huge variety available these days. You can choose from rectangular, round tables, and rustic wooden trestle tables. Some popular chair options include the standard wooden chairs, chairs with pads, and rustic wooden cross back chairs.
2. Linen – Linen is not just meant to cover anything but to bring some style and sophistication to the venue. Linen rentals can be used to make the tables & chairs stand out along with decorating the stage and poles. You can choose from a wide range of fabric, patterns, colors, and styles. You can also save a huge amount of money by decorating the entire area using a different type of linen. Also, it makes any venue look luxurious and sophisticated.
3. Floor – Floor, stage or dance, plays an important role in making an event enjoyable. Some of the popular flooring options you may consider include oak parquet dance floors, black & white floors, and more. Also, you can choose from a wide range of sizes and styles to suit your unique needs.
4. Entertainment – DJ system, sound, lighting, truss, and stage are some popular entertainment accessories that can bring life to any event. Games and activities are also gaining immense popularity these days especially with birthday parties, friend's reunion, and even some corporate events.
5. Rental Dishes – Dishes are as important as the tents because you will not want to keep your guests away from food. There's a lot that goes into making an event successful and dishes are one of the most crucial things. Some essential dishes include serving dishes, storage dishes, and everything that makes a great food service.
6. Tent Air Conditioner – As the weather cannot be predicted, you need to be fully prepared for it so that your guests are comfortable regardless of the situation. Howsoever the weather is, you can be in full control using accessories like air conditioners, heaters, portable fans, etc.
Used Party Tents for Sale
Looking for used party tents for sale? This is a great idea if you're looking for cost-effective tents either for personal or commercial purpose. There are a lot of companies and stores offering used party tents that you can consider if you want to start your own business.
Here are a few benefits of considering used party tents for sale…
- You can kick start your tent business without spending a fortune.
- Buying used tents from a reliable company or store ensure quality.
- You can choose from a wide range of tents as most top companies offer used tents for sale.
- You can put your hands on some amazing designs as most top companies keep updating their stock and put old tents on sale.
- Investing in used tents is a great way to understand the core business and experiment with things.
- You can save a big amount of money as used peg and pole tent prices are relatively less.
Why Choose Us
Whichever style of tent you get for your event, 1000sku.com got you covered and our tents are supremely customizable. You can get one that's just the right size and shape to fit in the space you have.
Furthermore, we provide a free consultation to make sure you pick the style that works best for you and make your event a memorable one. With us, you'll be ready for hosting any event as we also provide all the essential accessories.
With customers always looking for something innovative, the flexibility and versatility of our tents ensure each event can be tailored to your specific requirements. With our wide range of tents and accessories, you can easily bring the 'Wow' factor at your event.
Are you ready to bring style to your event…?