Event Furniture Hire - Where to Rent Tables & Chairs for Party
Introduction
Whether it is a wedding, birthday, anniversary, or corporate event, furniture plays a crucial role. Once you have decided your venue and type of outdoor tent, the next thing you need to consider is the furniture. If you have been tasked to find the best furniture for an event, it can be challenging. Fortunately, there are so many options available in the market that can complement your venue. However, choosing the most suitable pieces that can create the right ambiance and add enough functionality to your event can be a bit tricky.
At any event, you have to be a good organizer and furniture is an integral part that cannot be ignored. Table and chair rentals provide you with the opportunity to hire some outstanding pieces for your event. In addition to complimenting the overall design, furniture helps to create a comfortable environment for you and your guests.
Just imagine your guests standing throughout the party… they might get tired… right? So offering them a lounge section or other furniture will provide them a place where they can relax and enjoy.
Here are some of the benefits you can enjoy by adding furniture to your next event…
Benefits of Adding Furniture to Your Event
ü Adding the right type of furniture will boost the functionality and help to create that 'Wow' factor for your event.
ü The right furniture can bring any theme to life and you can carry it throughout the venue.
ü You can easily provide a relaxing setting for your guests with comfortable tables & chairs or another type of furniture.
ü You can create a flow or an atmosphere where guests can move around and sit comfortably.
ü Adding stylish furnishing will not only boost the functionality but will add to the aesthetic appeal.
ü You can make the best use of the available space and even expand it by using the smart options.
ü Furniture will help you make your event comfortable, stylish, luxurious, and most importantly unforgettable.
Different Types of Events Furniture & Accessories
Events can be held either indoors or outdoors depending on the season or your preference. Wherever or whenever you want to host an event or party, furniture remains an important part. There are tent manufacturers and suppliers that also specialize in wedding table and chair rentals and various other styles of furniture. They also provide kids table and chair rental so that little champs can also enjoy the event.
Following are some popular types of furniture you may consider to make your event or party successful and memorable…
1. Table & Chairs
- Wedding tables & chairs
- Bar tables & stools
- Kids table and chairs
- Folding chairs
- Lounger
- Modular Sofa
- Center Tables
- Rocking chairs
- Folding chairs
2. Pool Chairs & Sun Beds
3. Outdoor Bars & Accessories
4. Garden Umbrellas & Canopies
5. Outdoor Fabrics
6. Hammocks & Swings
7. Recliners
8. Patio benches & Stools
Styles of Furniture…
- Vintage or Modern
- Classy or Industrial
- Natural or Synthetic
- Colorful or Monochrome
- Minimal or Space Saver
Where to Rent Tables & Chairs for Outdoor Events?
Event furniture rental is a convenient and affordable solution for preparing for an event whether it is private, corporate, or commercial. If you don't want to buy furniture, you can simply choose to rent it. Also, you do not need to worry about the transportation and installation as most of the reliable companies provide delivery and design services. All you have to do is find some reliable tent or catering suppliers, explore the options available, and choose what you need.
To make things simpler for you, we have listed the top 10 events furniture suppliers… check them out…
Top 10 Events Furniture Suppliers
1. Inspire Furniture – Located in Johannesburg, South Africa, this company specializes in furniture rentals and sales. The type of furniture you can hire include bar stools, counters, couches, daybeds, chairs & tables, carpet runners, display accessories, bean bags, kids table & chairs rental, wooden table rentals, ottomans, and more.
2. Event Furniture Hire – If you're looking to hire event furniture in and around Durban Area, this could be the right platform to look for. The supplier offers a wide range of products including tables & chairs, stanchions, umbrellas, heaters, red carpets, LED furniture, bar counters, swings, and more.
3. Furniture HireUK – Looking for outdoor event furniture hire? Visiting this store might help as here you can find a wide range of products including chairs & tables, benches, partitions, leather stools, red carpets, catwalk furniture, exhibition furniture, and more. Other categories include a banquet, LED furniture, fine dining furniture, etc.
4. Prime Equipments and Supplies – If you're looking for a manufacturer, supplier, exporter, and importer of commercial furniture & equipment in India, this could be a great platform to explore. The company offers a wide range of products including banquet furniture, event furniture, fireproof storage cabinets, restaurant furniture, etc.
5. Furniture & Interior Rental – One of the leading furniture rental companies in India, the company caters to a variety of events. The main product categories include sofas, center tables, chairs, dining tables, outdoor furniture, props, and more. They can also customize furniture as per your specific needs.
6. Made in China – This is a one-stop-shop for different types of furniture for a variety of events like weddings, corporate events, commercial events, and more. Explore products like dining chairs, wedding chairs, tables, bar counters, bar stools, and more. This is a place where you can connect with different manufacturers and suppliers.
7. Outdoor Event Solutions – Located in Cape Town, the company offer a wide range of products for intimate gatherings, festivals, weddings, exhibitions, and corporate events in any location. The main product categories include premium Astro, white picket fence, flooring, carpeting, decks, tables, chairs, stages, dance floor, umbrellas, and more.
8. Complete Function Hire – One of the leading event hiring companies in Australia where you can avail a wide range of services. Explore the exclusive range of tables, chairs, lounges, stools, ottomans, table settings, day beds, décor, audiovisual, kitchen equipment, and outdoor equipment for different types of events.
9. BeThings – Whether you're looking for cocktail table rentals or wedding table and chair rental, visiting this site might help. Located in the US, the company is a boutique rental house offering event furniture, bars, and décor for private and corporate events. Explore products like bars/bar becks, barstools, benches, ottomans, chairs, tables, sofas, etc.
10. Silver Star Function Hiring – Based in South Africa, the company provides a wide range of products on rent to make every event a memorable one. Some of the popular categories include furniture, décor, glassware, linen, crockery, stage & light, and more. The furniture available includes wooden table rentals, chairs, ottomans, etc.
Tips to Buy or Rent Best Events Furniture
We have put together a list of tips to help you find the most appropriate furniture for your event… here you go…
ü Consider the style of the venue or tent – modern or traditional
ü Determine the space available
ü Know how much furniture do you need
ü Indoor or outdoor events
ü Choose weatherproof furniture and décor
ü Know your budget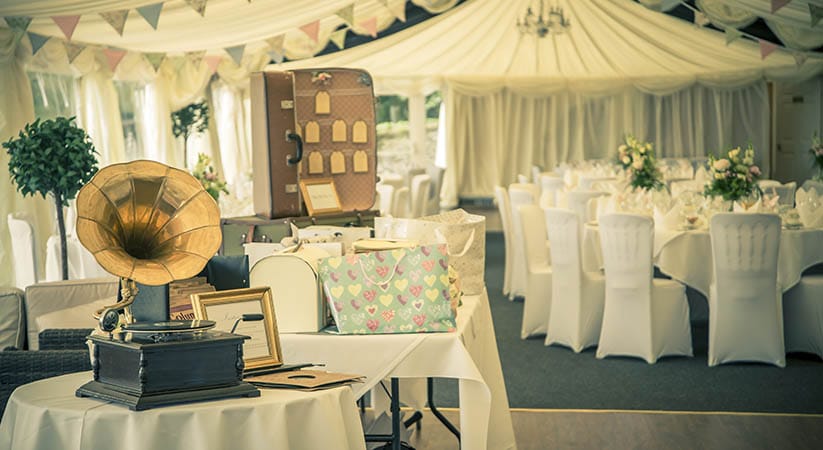 Seeking 'table and chair rentals near me'? The following tips might help…
ü Find a supplier offering different styles of furniture
ü Determine the purpose and expectations of the event
ü Define the purpose of furniture rental: wedding, birthdays, fests, anniversaries, or corporate events
ü Be prepared with some extra pieces if any music band or DJ are invited
ü Know the number of guests that will be using the furniture
ü Check the weather forecast especially for outdoor events
ü Decide if you would like to rent or buy event furniture
ü Be wise and find the most reliable supplier
How to Budget for Your Furniture Rental Needs?
It always happens that you go shopping for one thing and end up buying so many. But do you need those things? Well! When you're considering hiring furniture for your event, it is always wise to set a budget. Most of the event furniture rentals are expensive and, therefore, it is good to make a budget and work accordingly.
The very first thing you need to think is what type of furniture you need for your event. (Don't confuse wants and needs.) Once you are clear of the type of furniture, you need to determine the quantity as there's no fun hiring too many items with limited space.
Once you're done with the planning and budgeting, it's time to look for a reliable supplier and you're almost ready to enjoy the party. Before you start jumping, make sure that you have read all the fine print and aware of all the terms and conditions concerning your contract.
How We Can Make a Difference?
Planning an event can be a daunting task especially when you want to keep everything unique. Fortunately, we are here to help and our experienced team can discuss your event's needs in detail and help you make your event a memorable one.
At 1000sku.com, we cater for weddings, parties, and corporate events by providing best tent and furniture solutions. We can transform any space, indoors or outdoors, into an outstanding party venue by offering a wide range of furniture options.
Combining our catalogue of products and services, you will have the chance to make an awesome first impression by using stylish furniture at your event. Our stylish and functional furniture can be a fantastic addition to your event.
If you want your guests to keep talking about your event for months, fix an appointment with one of our event stylists… We are happy to help!