Large Tent / Huge Tent
Large Tent Hire
Are you a big fan of the outdoors? At times you just need a break from the city life and celebrate an event in an open space.
Large tents are ideal for people that are hosting large events such as weddings, receptions, exhibitions, sports events, banquets, and many other events. The best thing about a large tent is that it can easily provide accommodation for a large number of guests. Available in a variety of colors, styles, and sizes, tents not only protect against bad weather but also create a luxurious atmosphere.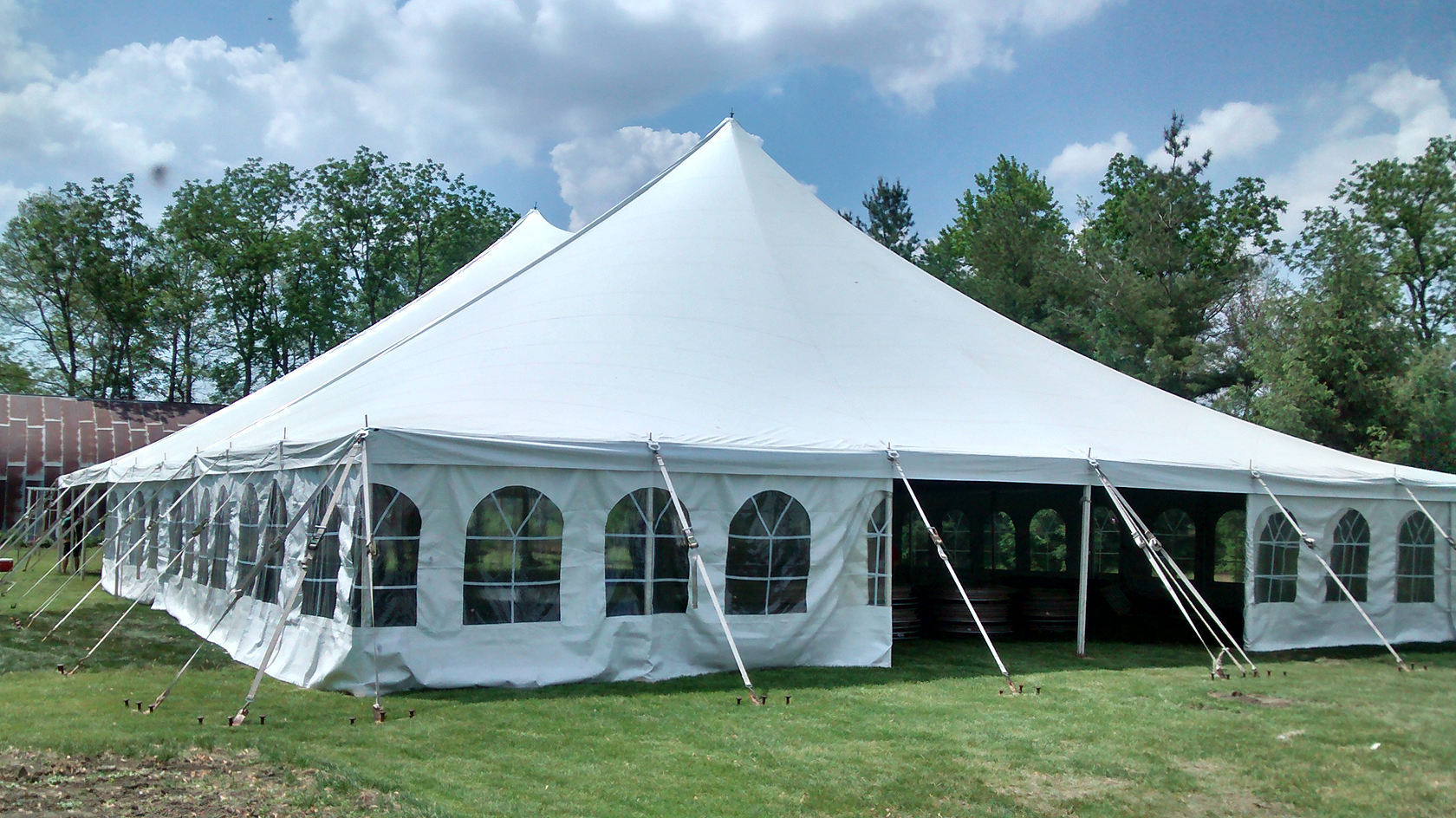 When we talk about hosting grand events, large party tents are strong and durable and can meet the demands of any occasion. While the innovative design allows for limitless configurations, the custom tents are yet another option for those with specific requirements.
Benefits of Using Large Tents for Events…
ü Sometimes you're not sure on how many guests will show up to your party but thankfully a large tent can easily handle the crowd.
ü Large tents for events are spacious and have no inside barriers, allowing s smooth flow to every activity.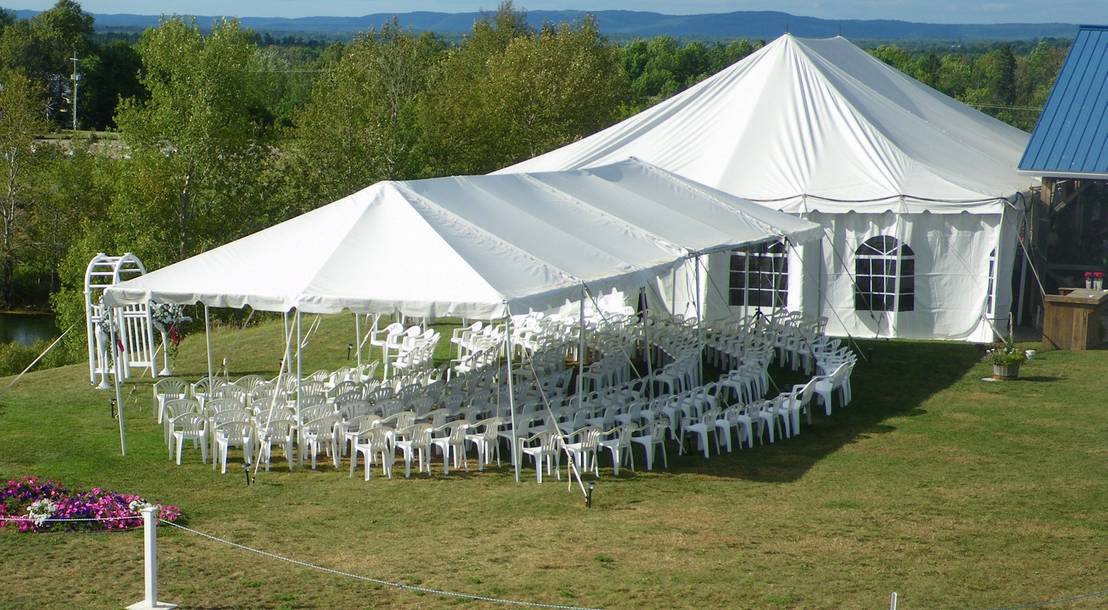 ü Big tents provide a blank canvas to decorate and create any theme of your choice which might not be possible with too small structures.
ü Large tents help keep the space mess-free as they allow easy movement inside the tent.
ü Tent rentals can be used during ay season as the structures are designed to protect from the weather.
ü While hosting corporate events, large tents help in branding and concept creation. As they are customizable, you can include the company name, logo, etc.
ü A tent comes in all shapes and sizes to suit the different needs of different occasions. They can also come equipped with accessories like sidewalls, flooring, stages, etc.
With that said, let's dive deep into the different types of large tents…
Large Tent Types (introduce, large sizes)
1. Large Circus Tent – Ever since circus gets popular, a large circus tent with features like flexibility, portability, and versatility has been considered to be the ideal structure. As the traditional circus tents were supported by wooden poles and stretched with ropes, they were prone to collapse caused by a damaged wooden beam or broken ropes. Therefore, a large durable and portable tent is a more ideal solution. Main features of a large circus tent include aluminum framework, PVC roofing, modular structure, and firmly fixed.
2. Large Pop Up Beach Tent – Whether you want to relax in the outdoors with your family and friends or planning to host a beach event, large pop-up beach tent can be an ideal solution. The pop-up tents do not require any complicated assembly and provides sunshade, UV protection, a stable structure, and a large space to enjoy any event. Tents with doors and windows boost the air circulation, while flaps over the windows allow for privacy.
3. Large Dome Tents – A simple dome tent has a rectangular floor and two poles running from one corner to the diagonally opposite corner. The poles cross each other at the peak but the structure of a large dome tent for events like weddings, parties, and corporate events may differ from the simple one. The large fire retardant, waterproof, soundproof, and durable dome tent is ideal for parties, branding & advertising, beaches, military relief, wedding, etc.
4. Large Frame Tent – A large frame tent is ideal for both private and commercial events as it requires fewer poles allowing for maximum usable space inside the tent. As far as the installation is concerned, the tent can be easily installed on decks, pavement, concrete, and other hard surfaces. These types of versatile tents provide open, unobstructed space for small, medium, and large-sized events. Also, a frame tent is freestanding and, therefore, aesthetically pleasing.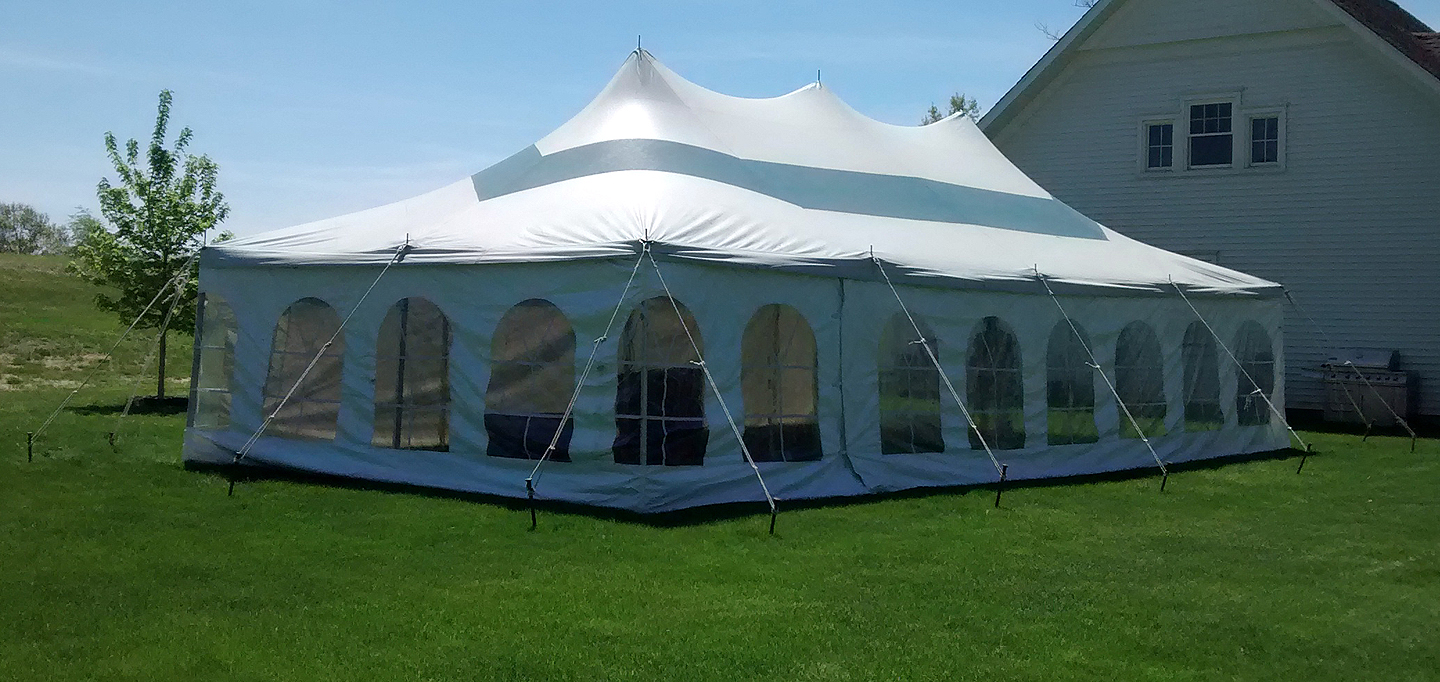 5. Large Pole Tent – Pole tents offer a classic design that has been extremely popular in the industry for decades. They are one of the most popular tent types due to the flexibility, ease of transport, set up, and takedown they offer. Also, these structures are versatile enough to meet the demands of almost any event. The large poles tents allow you to add additional features and ideal for grand events and ceremonies. Both single pole and double pole tents are worth considering for your next event.
6. Large Inflatable Tent – Inflatable tents are also known as air tents and used inflatable beams, pumped up to provide a base to the structure. As the name suggests, the tents are inflated using a pump, meaning you don't have to worry about the assembly as no metal poles are required. As these types of tents are a lot faster to erect than traditional tents, they are an excellent option for events like branding and advertising, product launches, product display, birthday parties, etc.
Apart from the above-mentioned list, the large tents have countless applications such as…
ü Large Commercial Tents
The large commercial tents are usually designed with high-quality, durable materials so that they can easily sustain wear and tear. These tents are ideal to be used for storage, portable warehouses, equipment covers, instant temporary buildings, and more. Also, the advanced technology used to design these tents allows them to withstand challenging weather conditions such as high winds, snow, extreme heat, etc. Optional hangers, doors, windows, and floors make them a perfect fit for commercial use.
Popular Large Commercial Tents: Pole Tents, Frame Tents, Marquee Tent, & Dome Tent.
ü Large Festival Tent
Regardless of what type of sort, music, or hobby you're into, there must be a festival to celebrate it. A large festival tent is designed to keep people sheltered and dry regardless of the season they're celebrating. These types of tents are designed to provide hassle-free festival accommodation to a large number of people. Also, these are more compact and reasonable as compared to other tents such as corporate or commercial, making them ideal for multi-day events. The tents are more spacious, well-ventilated, and weatherproof to provide a comfortable space for guests.
Popular Large Festival Tents: Pop Up Tent, Frame Tent, Marquee Tent, Stretch Tent, Clear Tent, Carnival Tent, etc.
ü Large Industrial Tent
The industrial customers often look for highly reliable and durable solutions due to the challenging conditions. The large industrial tents are designed for turnarounds, shut down projects, storage & warehouses, and other temporary buildings. The tents are available for both short term and long term rentals. Furthermore, the anchoring is done as per the specific requirements of the facility. The tents are available in full climate-controlled options with fire retardant fabric. Some of the main industrial applications include Government, Mining & Mineral, Schools, Sports & Events, Environmental, Oil & Gas, etc.
Popular Large Industrial Tents – Clear span Structures, Blast Resistant Frame Tents, Commercial Tents, Climate Control Tents, Disaster Relief Tents, etc.
ü Large Outdoor Inflatable tent
A large outdoor inflatable tent uses inflatable air beams instead of those traditional steel or fiberglass poles or stakes. The beams are inflated using a pump and keep the tent stable and upright. These types of tents are taking the entire world by storm due to the ease of installation they offer. It has become a preferable option for anyone who is looking for something that can be pitched in mere minutes. The tents are available in a wide range of sizes and style options to suit both private and corporate needs. It is an ideal solution for any events that require quick setup for creating a temporary structure.
Popular Large Outdoor Inflatable Tents: Pop Up Tent, Inflatable Bubble Tent, Inflatable Dome tent, etc
ü Large Insulated Tent
A large insulated tent is like the quilted comfort as it is designed with insulated walls and perfect for all seasons. It creates an insulated environment which protects you from the elements like wind, snow, sun, and rain. This is generally a structure with air beams and the breathable insulation layer with vents. As far as the design options are concerned, the insulated tents are available in a black-out design, sound dampening, weatherproof, etc. The tents can be used for a variety of applications such as festivals, private parties, reunions, etc.
Popular Large Insulated Tents: Inflatable Tents, Pop Up Tents, etc.
ü Large Military Tent
A large military tent is designed for military, troop movement, and government forces. These types of tents are engineered with highly durable and quality materials and available in many different size structures and styles. Some of the main applications of military tents include base camps, command centers, warehouses, garages, security checkpoints, sleeping tents, mess halls, maintenance, medical shelters, hangers, and more. The specific requirements of the military forces are determined before designing and manufacturing such type of tents.
Popular Large Military Tents: Industrial Tents, Commercial Tents, Stretch Tents, Blast Resistant Tents, Climate Control Tents, etc.
ü Large Party Tents
The large party tents are designed to provide portable shade coverings on a variety of different surfaces such as grass, concrete, etc. The Tents are a perfect solution for wedding planners, event and corporate planners, retailers, catering companies, and individuals planning to host a party. Large tents can do wonders if you're planning to host a grand party and include accessories like chairs & tables, linen, stage lights, table décor, bar, etc.
Popular Large Party Tents: Pop Up Tent, Frame Tent, Stretch Tent, Clear Top Tent, Marquees, Gazebos, Canopies, etc.
ü Large Wedding Tent
A wedding day is a once in a lifetime event and everyone wants to make it as perfect as possible. Planning an outdoor wedding reception can be a challenging task without the right type of tent. A large wedding tent can be your perfect solution which not only helps prepare for any weather conditions but adds to the aesthetics. Today, weddings tents are available in an array of design and size options to suit different needs. The tents can also be customized to suit specific needs. Some of the main applications include beach weddings, garden weddings, and terrace weddings.
Popular Large Wedding Tents – Pole Tent, Frame Tent, Gazebos, Clear Span Tent, Marquees, Clear Top Tent, etc.
ü Large Storage Tent
A large storage tent provides an ideal solution to various industrial needs, whether short-term or long-term. The temporary storage and warehouse tents are designed to meet the specific needs of the clients. The tents are water/mildew resistant, wind rated, flame retardant, robust flooring, and custom lighting, heating & cooling systems, enforced sidewalls, and controlled entry points. The temporary warehouse buildings can be installed on almost any surface including soil, concrete, asphalt, etc. Also, they are engineered to withstand the challenging conditions or wear and tear.
Popular Large Storage Tents: Commercial Tent, Industrial Tent, etc.
ü Large Tailgate Tent
A large tailgate tent is an excellent solution to extend any space and it is one of the easier tents to assemble and set up. This type of tent slide over the back of a vehicle providing you with more space and storage. The tailgate canopies are designed to provide some extra space to the private as well as corporate events such as parties, reunions, product demo, product display, consulting, etc. Also, the tailgate tents are available in many different sizes and styles so that you can choose as per your specific needs.
Popular Large Tailgate Tents: Pop Up Tent, Canopies, Gazebos, etc.
ü Large Tarp Shelter
A tarp tent is a plastic, tarpaulin or nylon sheet, used to make a temporary shelter. The tent is usually rigged with poles, tent pegs, and ropes. A large tarp shelter is commonly lighter and cheaper as compared to other types of tents. It may not provide as much protection from harsh weather conditions such as rain, wind, snow, as a normal tent does. However, with the advancement in technology, the fabric used for a tarp shelter has evolved. Today, weatherproof and durable large tarp shelters are also available.
Popular Large Tarp Shelters – Poles Tent, Frame Tent, etc.
ü Large Yurt for Sale
A yurt tent is one of the most innovative and luxurious options available. A traditional yurt is a portable, round tent with sidewalls, a door frame, and some other addons. The roof structure of a yurt is usually self-supporting but the large yurts may require some sort of center support or interior posts to support the crown. Today, yurts are used to make many events memorable such as wedding receptions, birthday parties, anniversaries, reunions, corporate parties, and more. The large yurt tents are available in a wide variety of interesting colors, patterns, styles, and sizes. You can find large yurt for sale for your next event and enjoy the luxury and spaciousness.
Choose us
For over 20 years, we at 6StarShop have been in a tent business and offer a variety of tents to meet the needs of our clients. We specialize in budget-friendly large tents for both private and commercial applications. We pride ourselves on providing exceptional customer services and consultation for choosing the most suitable tent.
We provide solutions to but not limited to weddings, receptions, birthday parties, festivals, reunions, sporting events, corporate events, exhibitions, and commercial events. Apart from a wide range of tent, we also provide essential accessories such as decorative lining, sound, stage, lighting, truss, floor, carpet, AC, glass door, glass wall, clear PVC window, and more.
You may also want to know that we have served some popular brands like Mercedes, BMW, and LG.
Get in touch with us to learn more about our wide variety of tent options…