How to decorate a canopy tent for a wedding
Introduction
Outdoor events like weddings, receptions, birthdays, anniversaries, corporate parties, etc are full of fun. When we talk about outdoor events, we cannot imagine them without tents. Outdoor tents come in all styles, shapes, and sizes or we can say they're customizable. They are like a blank canvas and you can draw anything of your choice.
Although tents are like a blank canvas, you need to make sure everything is coordinated such as the tent, the overall theme, the venue, etc. There are many ways to decorate your tent and make it as beautiful and captivating as you want. You can easily create magic by using decorative pieces and make your wedding an unforgettable experience.
Decoration has become an integral part of tented weddings because everyone wants an outstanding backdrop for clicking pictures. Also, decorative pieces can bring life to any event, be it private or corporate. When we talk about weddings, they are incomplete without decoration as both the bride and groom want to make their big day memorable.
Do you plan to rent a canopy tent for your wedding? Well! Canopies are extremely popular these days due to the decoration options they provide. They are basic tents with lots of decoration opportunities.
Let's discuss in detail starting with the canopy tent…
What is a Canopy Tent?
A canopy tent is a structure which consists of two main parts, a frame, and a top covering. The top covering of the tent is called a canopy top and it can easily be collapsed into a portable size. This tent style provides shelter and protection from different climate conditions and can be erected and removed easily. The tent frame is constructed of aluminum or stainless steel while the top is usually made of polyester.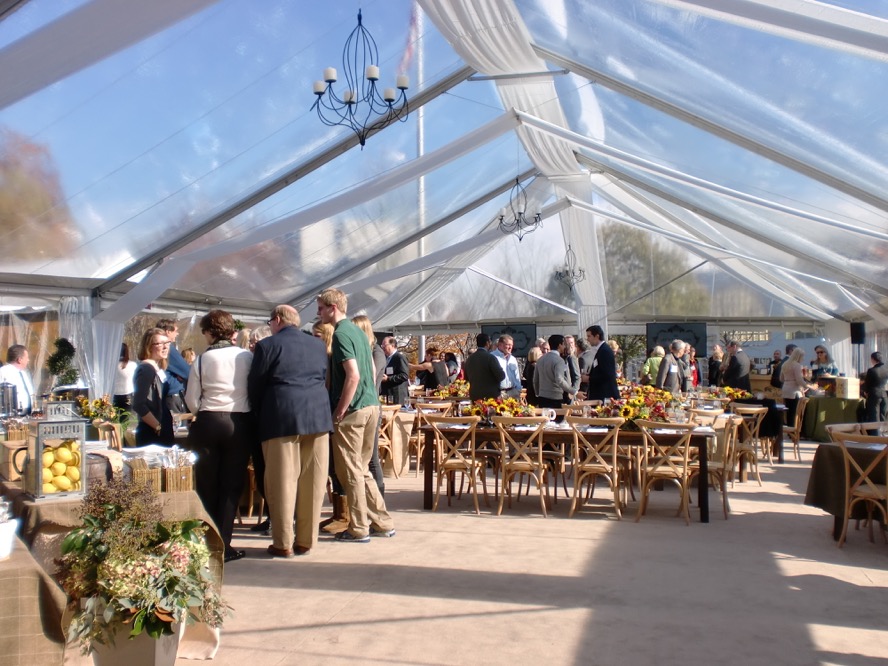 Canopy tents are ideal for big events like weddings, flea markets, carnivals, etc. These are basic tent structures and have a somewhat flattened-style roof. Smaller canopies are often used for a small garden or backyard canopies as they are not equipped with sidewalls. It is an economical alternative over another type of tents.
There are different types of canopy tents you can choose from such as…
- Frame tents
- Pop up canopy tents
- Pole tents
- Custom canopy tents
How to Decorate a Canopy Tent for a Wedding?
If you're getting married on an outdoor property, you've likely already rented a tent. Couples often prefer a canopy which is a basic tent which means they can decorate it in different ways. The result? After decoration, the ordinary tents become a focus of attention that nobody can keep their eyes off.
From silky, draped linen, to colorful flowers, there are many ways to decorate your canopy tent and upgrade your wedding. Some of the most popular ones include…
ü Tent Color – Decoration is not just about the accessories, it is also about choosing a different color. Most weddings tents are typically white and you can break the stereotype by choosing any color you would like. Today, tents are available in a wide variety of color and you can also choose different combinations to create a unique theme. Mix and match can be a brilliant idea if you want something simple and stylish. The colorful carnival and Indian-themed weddings tents are gaining huge popularity as they do not require too much decoration.
ü Lighting – If it's an evening event, you can make your tent look amazingly beautiful with lights. You can add both functional and decorative lighting to enhance the aesthetic appeal of the canopy tent. You can wrap strings of small white lights around the poles of the tent to create a fun and inviting atmosphere. Hanging lanterns from the ceiling can also be a great idea if you want to bring a cozy vibe to your event. LED lights are a top choice for all types of tents and events as they are safe and environment-friendly. Some of the popular decorative ten lights include bottle & jar lights, candles, chandeliers, globe lights, and more.
ü Flowers – Flowers will always remain an integral part of the weddings because they add a whimsical touch to the tent. Use beautiful flowers like a daisy to twist around the poles or hang some bunches from the ceiling. You can also arrange flowers in large vases and place them on the tables or corners of the tent. For a natural vibe, install your tent close to a garden so that guests can enjoy the natural beauty.
ü Garlands & Lamps – Hang garlands and patterned lamps to create a natural yet stylish look. You can also hang floral garlands to add whimsy. Try to make the arrangements right above the tables so that everything looks properly coordinated.
ü Fabric – Fabric can be used in a variety of ways to decorate a canopy tent especially when there are poles and frame. You can create a fairy-tale look by draping tulle or chiffon to the supporting poles.
ü Birch & Lanterns – Bring the natural beauty of outdoors in the tent by using birch trees as support beams. You can further enhance the natural look by hanging lanterns such as paper lanterns, metal lanterns, or woven lanterns.
ü Cozy Rugs – Using carpets and rugs can be a great idea to create a cozy and comfortable environment. Either you can use a vintage rug to enhance the beauty of your tent or go for some modern, colorful designs.
ü Hanging Shelves & Tassels – Bring that bohemian vibe to your event by adding a hanging flower or candle shelves and tassels to your tent. Tassels can either be bought from stores or handmade. They come in a variety of colors to match every palette.
ü Candles & Candle Holders – Candles can be used as a centerpiece and they look lovely at night. Use rusted brass candle holders to create a luxurious look and light up your event the best possible way.
ü Plants & Orb Candles – Mark the head table with a lush-green tree and hang some orb candles to bring a romantic vibe. You can either choose vintage-inspired orbs or the innovative designs.
ü Green Scene – If you're a nature lover, you can go for a jungle-inspired theme for your wedding. All you have to do is add some tall, leafy centerpieces and create a feeling as everyone is sitting in the middle of the woods.
ü Ribbons – Ribbons can bring a sense of fun to any tent and can be used in a variety of ways. Use colorful ribbons and hang from the center pole to the corner poles while creating a look of a canopy.
ü Lined Ceiling – To decorate the tent ceiling beautifully and elegantly, use the lining to cover the entire ceiling. A pleated and fully-lined ceiling does not require extra decoration and can still create plenty of interest.
ü String Lights – Using string lights is an excellent idea and can either be hanged or twisted to create different looks. Strings can either be used with other ceiling decor or used alone to make a statement.
ü Crystal Chandeliers – Chandeliers are a big hit for all types of wedding themes as they add a striking appeal to any space. You can also use multiple chandeliers to create a bold statement and highlight the tent ceiling.
ü Gobo Lighting – It is a popular and easy way to decorate a canopy tent for a wedding in which the entire ceiling is used to project lighted designs. You can choose any designs or get them custom designed as per your wedding theme.
ü Clear Top Tent – If you're a minimal kind of person, there's nothing as appealing as a clear top tent. Using these tents, you don't need to spare on expensive decorative items as it allows natural sunlight, fresh wind, blue sky, and starry night to fall in.
ü Seating – The chairs and tables can also be decorated in a variety of ways using linen, flowers, drapes, candles, etc. Use ribbons to make bows behind the chairs and you can use multi-color fabric to bring a dramatic feel.
ü Color-Blocked Dance Floor – No wedding is complete without a dance floor and fortunately, it can also be decorated. All you have to do is choose the color-blocked dance floor and add glamour to your event.
ü Swings – Adding swings to the tent can be an excellent way to add fun to your wedding. Hand one or two swings with ropes decorated with flowers and they will also serve as an outstanding spot for photos.
ü Cake Cutting Tent – Whether you're having a big wedding party or prefer a small affair, a separate cake cutting tent can do wonders. All you have to do is installed a small tent decorated with some flowers, lights, etc.
ü Furnishing – Furniture is an integral part of any event and available in a variety of styles, patterns, colors, and sizes. Choose some elegant pieces to create a cozy and comfortable atmosphere. It also gives the tent an extra touch of luxury.
ü Tent Entrance – There's no fun of decorating a wedding tent without creating a remarkable entrance point. There are many ways to create a stunning entrance such as using flowers, string lights, antique pieces, etc.
The above-mentioned are just a few examples of decorating a canopy tent for a wedding. As far as the options are concerned, the sky is the limit.
Most Popular Décor Items
ü Birch & Lanterns
ü Flowers
ü Chandeliers
ü Color-Blocked Dance Floor
ü Candles & Candle Holders
ü Green Leaves
ü Green Plants
ü Swings
ü Lights
ü Hanging Shelves & Tassels
ü Garland Wrap
ü Carpets & Rugs
ü Cake Cutting Tent
ü Mirrors
ü Pendants
ü Lounge chairs & tables
ü Linen & Drapes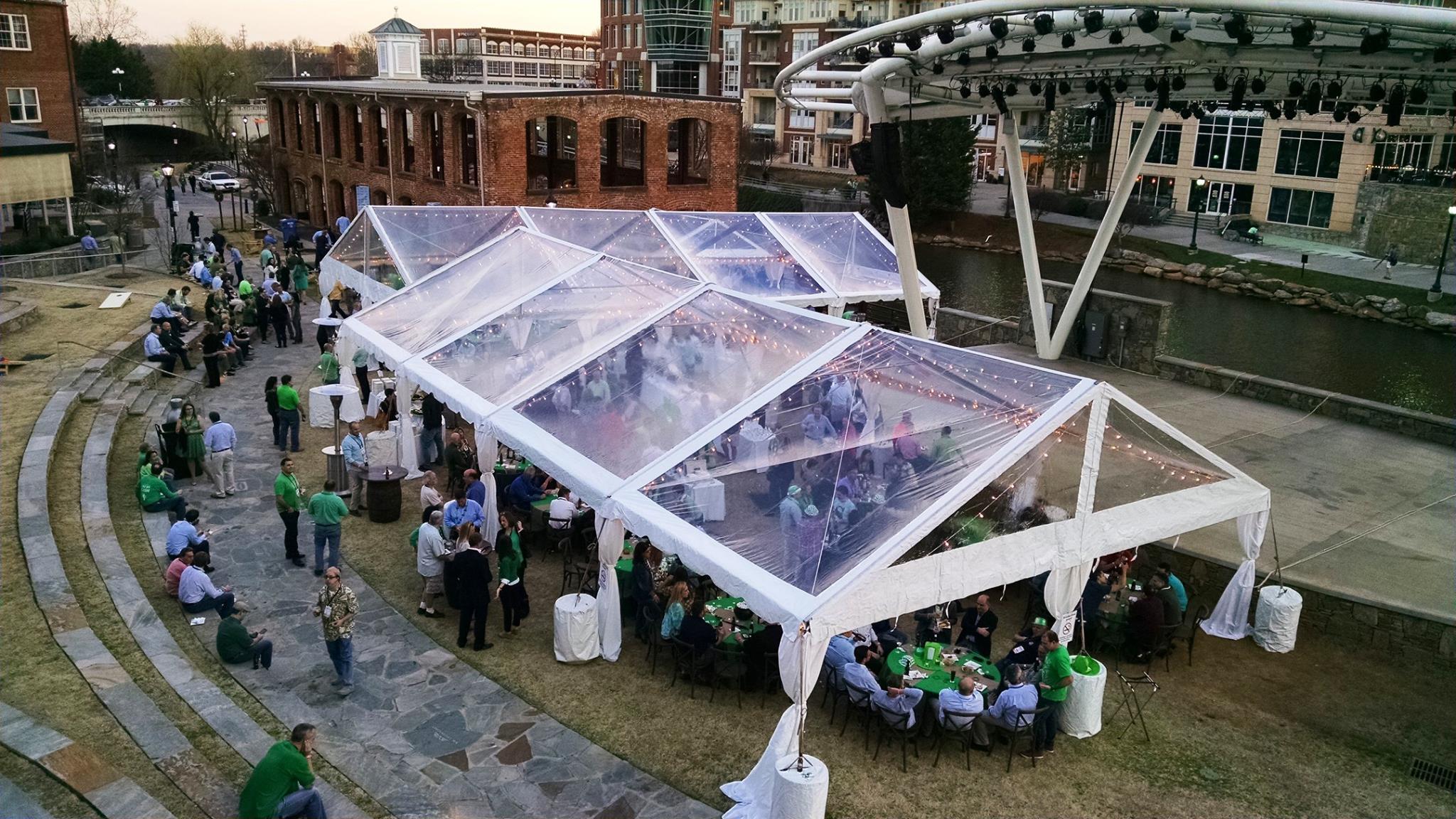 Importance of Decoration in Outdoors Tents
A bare tent is just like a canvas with no panting and decoration…
- Improves the aesthetic value of the tent
- Transforms the original look of the bare tent
- Brings life to any event
- Works well with all kinds of tents
- Gives your guests a suitable spot to click pictures
- Makes every event unforgettable
- Adds to the beauty as well as functionality
- Complete the look of a wedding tent
Tips to Decorate a Tent Without Spending a Fortune…
Tents help couples plan their dream wedding as they can decorate them in any style or theme. These beautiful structures are perfect for different styles of weddings such as classic, contemporary, rustic, bohemian, and more.
Here's how you can decorate a tent without breaking the bank…
- Work with whatever you have at hand, such as lights, flowers, lanterns, etc.
- Plan a budget and seek the opinion of a professional.
- Go for inexpensive yet stylish-looking items like candles, lanterns, etc.
- Coordinate the décor with the overall tent theme.
- Find a reliable and affordable decorator.
- Use your creativity and go for DIY (Do-it-Yourself).
The Final Verdict
Decoration can make your party a hit!
Tents can add a fast, easy shelter to any party venue but plain tents can look drab. However, there are many ways to make simple tents look amazingly beautiful. While the exact way you will choose to decorate a tent will depend on your preference, there are many options to choose from. All you have to do is choose the right type of decoration for your tent and add elegance to any event.
When it comes to decorating a canopy tent for a wedding, the options are countless…
Light it up to give an eternal glow… add grace with extra folds… go for clever coloring to add bursts of color… try textures to add a luxurious feel… go bold with balloons… hang centerpieces to create a dramatic atmosphere… top it off to give it better visual appeal…
With so many stunning options to choose from, you can easily decorate any type of tent and make it as beautiful as you want. Consider your choices carefully and give your event a perfect touch of decoration…