Top 10 Inflatable Rentals Suppliers +Inflatable Tent Manufacturers [Free List]
Are you looking for inflatable tent suppliers and inflatable tent manufacturers within your area? With the coming festive season, the demand for inflatable rentals is expected to surpass the supplier's supply capacity.
Every Inflatable tent manufacturer has its own distinct types of inflatable tents or rentals. To know how much it costs to rent an inflatable slide and the best inflatable rentals near me, keep reading this article.
The main inflatable party rental user targets are the kids. Before getting into the heart of this article, here are the best tips when choosing for kids party inflatable rentals.
7 Factors to Consider When Choosing Kids Party Inflatable Rentals
Whether you are looking for childrens party inflatables for hire or sale, profits and suitability are some of the factors to consider. Below are other factors;
· Age restrictions
· Weather conditions of the place to set up
· Number of children it can accommodate
· The theme of the event
· The durability of the materials used to make the bounce house and slides
· Cost of the kids inflatable party rental
· Size and design of the kids party inflatable rental
You can find some of these party rentals going for $400 or $200. So how much does it cost to hire an inflatable slide?
How Much Does It Cost To Rent an Inflatable Slide
The cost of renting inflatable slides differs according to size, type, and cost of purchase and structure components.
Whereas every inflatable rental company has its own pricing, the renting costs are usually within a certain range.
To understand different companies pricing, here is a comparison chart;
| | | |
| --- | --- | --- |
| Company name | Inflatable Rental Description | Rental cost |
| Mr Bounce | Water slides dual lines 25-27ft | $325-$350 |
| | Water slides single lines 12ft -22ft | $200-$275 |
| | Single line dry slide | $ 200 |
| CJjSevenRentals | 15ft-18ft single water slide | $220-$265 |
| | Combo wet slides | $210 - $230 |
| | 24ft simple water slides | $310 |
| | 24ft double waters slides | $375 - $450 |
| capecodinflatable | Single Lane Wet/Dry Slide Combo | $250 |
| | Double Lane Wet & Dry Slide | $275 - $375 |
There are thousands of inflatable rentals and inflatable tent manufacturers in every region of this world. But do you know the best near you?
Top 10 Inflatable Rentals Near Me
Company

Inflatable rentals

Location

1

Fun Bounce House

Dry and wet Slides, bounce houses

USA

2

Time 2play Inflatables

Bounce houses, combo slides, generators

USA

3

Rainbow Inflatables

Inflatable marquee tents, stretch tents, inflatable gazebo, slides, bounce castles

South Africa

4

All Blown Up

Party &sports bounce houses, slides, tents, rental supplies

USA

5

Innovations Extreme

Church rentals

UK

6

Inflatable Event Professionals

Wet and dry slides,

Washington

7

Bubble Tent

Inflatable bubble tents

Poland

8

Martibird Inflatables

Slides, movie screens, chairs & tables, bounce houses

USA

9

KnB Inflatables

Wet &dry slides, bounce obstacles

USA

10

Extreme Canopy

Event tents, banners, instant canopy tents

USA
Among the inflatable rentals for hire at Fun Bounce House include inflatable slide rentals, bounce house and themed bounce houses rentals. Other party accessories available include pop up tents, chairs, tables, concession machines and park packages.
They are located in South Florida, USA.
This is a family-owned business located in the USA and has the following inflatable rentals bounce houses, water and dry slides and combo slides. Other rental supplies are inflatable movie screens, generators and spin art machines.
If you are looking for inflatable tents South Africa, Rainbow is among the few companies with inflatable tents, stretch tents, inflatable gazebos and inflatable marquee tents.
Their inflatable brochure includes jumping castles, mega slides, extreme gladiators, climbing walls and inflatable advertisements.
4. All Blown Up
Want an inflatable rental company with an insurance policy that covers your customers? All Blown Up kids' rentals are fully covered. Here are the best party inflatables for hire; extreme dance party, round and square birthday bounce house.
They also offer Dj services and pop up canopies and tables.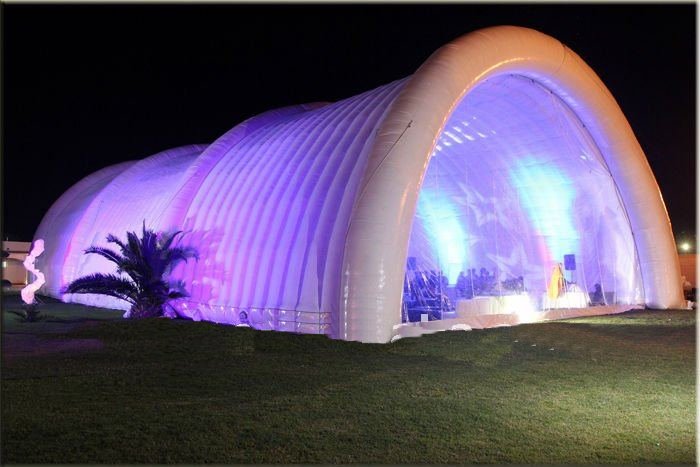 For over 25years, Inflatable Church has been the best wedding inflatables supplier in the UK. For only $15,000 you can wed anywhere and anyplace with an inflatable church, inflatable Mosque or i9nflatable marquees.
Other manufactured inflatables are inflatable chapels, inflatable nightclubs and inflatable pillars.
6. Inflatable Event Professionals
Are you searching for an inflatable slide rental near me? Inflatable Event Professionals is based in Washington and offers rental services to all major cities around it. They supply their inflatable rentals to birthday parties, church festivals and corporate events.
7. Bubble Tent
This is the home to the most durable inflatable bubble tents. The bubble tents supplied by this company are SnowGlobe +Tunnel, Bubble tent with Tunnel and Giant Bubble Tent.
Their outdoor inflatable bubble tents are mostly used for advertising, as café on rooftops, restrooms in offices or as guestrooms.
Martibird is a family-owned business with a large variety of inflatable party rentals. They include dry and waterslides, character bouncer, bounce houses and toddler inflatables.
The extra rentals supplied upon request are movie screens, form parties, tables and chairs and mechanical rides.
To get the best inflatable rentals near me, KnB Inflatables has a large supply network within the US to ensure orders are delivered to your exact location.
Their inflatable party tents are designed to fit in both outdoor and large buildings. These are the inflatable event rentals to outsource; Bubble Bowling, Forbidden Temple Obstacle, Obstacle Course, Dual Castle Wet or Dry and Shark Bite Surf and Slide.
10. Extreme Canopy
They are popularly known for their branded instant canopy tents, inflatable event tents, crest tents and star tents. Their other ranges of products are outdoor banners, promotional flags and pop up display banners.
Extreme Canopy is a US-based company with over 15 years in the manufacture and supply of customized canopy tents and instant tents.
Best 10 Inflatable Tent Manufacturers [Free List]
Company

Inflatable Tents

Location

1

Yolloy

Bubble tents, inflatable air mattress, inflatable dome tent

China

2

Joy Inflatable

Wedding party tents, water floaters, inflatable sports

China

3

Tonle Inflatables

Theme parks, customized tents, shelter tents

China

4

Anka Factory

Custom dome tents, marquee tents, star tents

China

5

Air Brother

Party tents, marquee tents, wedding tents, house tents

China

6

Instant Marquee.co.uk

Pop up tents, inflatable i-dome tents, Marquee tents accessories

UK

7

Beston Inflatable

Wedding tents, dome tents, canopy tents, marquee tents

China

8

Creative Inflatables

Custom shape inflatables, inflatable tents, dome tents

USA

9

Firetex

Inflatable dome tent

India

10

East Inflatables

Dome tents, wedding tents, canopy tents, pub tents, tunnel tents

China
1. Yolloy
Whether you are looking for inflatable marquee hire, inflatable dome tent, inflatable building or clear inflatable tent, Yolloy will manufacture for you.
Other products manufactured include outdoor inflatable bubble tent, inflatable water toys, Inflatable floating swimming and flying manta ray Towable Tube.
This is a Chinese inflatable tent manufacturer with over 10 years of experience. Its wide range inflatable tents are inflatable igloo tent, inflatable bubble tent, an inflatable giant tent, inflatable advertising tent and inflatable spray booth tent.
Other manufactured inflatables include inflatable water parks, water slides, inflatable party tent and inflatable marquee wedding party tents.
Tonle Inflatables supplies its manufactured tents to over 120 countries in Europe, Asia, America and Ocean. They also specialize in customized inflatable tents
Its product categories are inflatable tents like bubble tents, bar tents, shelter tents, advertising inflatables, inflatable theme parks, inflatable games and inflatable bounce houses.
4. Anka Factory
For over 10 years, this company has been manufacturing custom outdoor inflatable bubble tent, inflatable sports tents and wedding inflatables party houses.
Other manufactured items are inflatable models, folding tents, inflatable toys and air balloons.
5. Air Brother
Air Brother was founded is among the biggest inflatable tent manufacturers known for making the largest sports dome tents in China.
They produce the following product varieties; Inflatable decontamination tents, Inflatable tent house, white wedding inflatables, inflatable marquee and inflatable party tent among many others.
This is a UK based inflatable tent manufacturing company with 12 years producing inflatable dome tents, pop up tents, marquee tent accessories and event accessories.
If you want to hire printed gazebo tents, mini and instant marquees, instant bar tents and pop up tent market stalls, this is the best company for you.
If you want to buy inflatable moon dome tent, white marquee tent, canopy tent, inflatable advertising tent and inflatable wedding tents, hire or buy directly from Beston Inflatable.
For years now, this Chinese inflatable tent manufacturer has been an attraction due to its high-quality products, excellent customer service and high safety standards on every manufactured item.
Looking for custom inflatable tent designer in the USA? For over 35years, Creative Inflatables have been specializing in the designing and manufacturing of corporate branded promotional tents, pop up tents with 3 years warranty, inflatable dome tents and custom shaped inflatables.
Their manufactured inflatables are inflatable logos, inflatable arches, rotatable inflatables and sealed inflatable.
9. Firetex
Firetex is among the few inflatable tent manufacturers in India with the capacity to manufacture large inflatable dome tent. They are also experts in Armour products and fire protective gear.
They started manufacturing inflatable outdoor tents in 1994 and their rental capacity is 50 per month.
10. East Inflatables
East Inflatables is an inflatable tent manufacturing company with over 62 different inflatable tents. Among them include wedding inflatables, inflatable pubs, inflatable white dome tents, popcorn and candy floss shelter, cube tents and inflatable tent canopies.
Conclusion
There are hundreds of inflatable rental suppliers in wherever you go. It's therefore simple to hire inflatable rentals near me and get supplied in less than 24hour.
Equally, the number of inflatable tent manufacturers around the globe exceeds the inflatables demand during off-peak seasons. Every company has its own inflatable tent designs. To choose the most suitable tent for your occasion, you have to go browse more than 10 different inflatable tent manufacturing companies' catalogues.