Table Rentals – wedding party banquet table rentals & setup:cocktail/round/long/wooden/high top/plastic/folding tables
Massive events like weddings, receptions, corporate events, and medium-sized events like birthday and anniversaries these days are celebrated wither in party halls or large tents. When we talk about celebrating some special events, they often end for hours and to make them functional you need furniture. Table and chairs are some basic furniture pieces that play a key role in making a celebration the grand success. Apart from offering a comfy place to sit and relax, they also add to the aesthetic appeal of your event.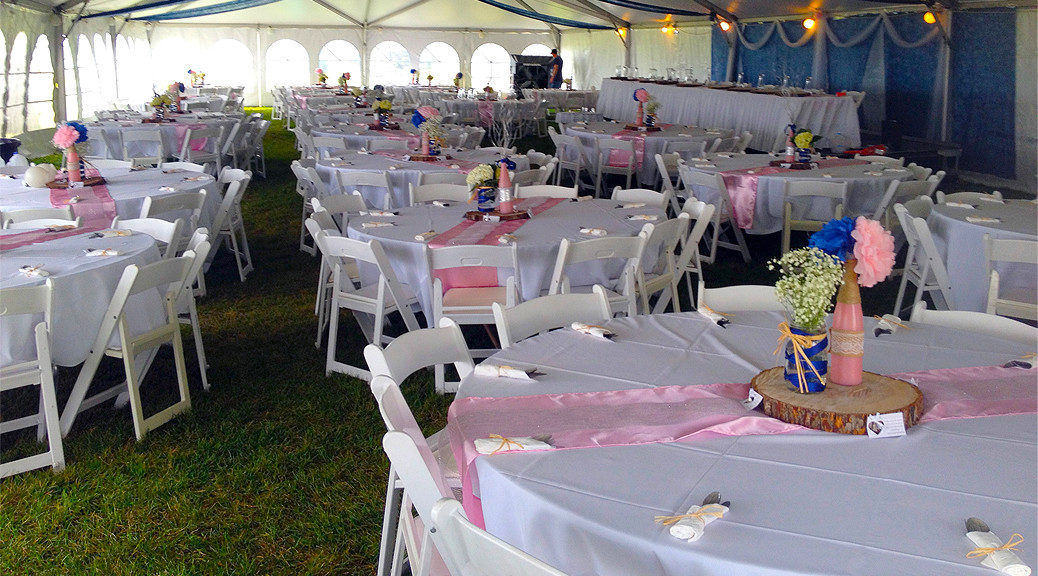 Event seating and the flow of an event is extremely important because furniture is something which adds a layer of comfort and luxury to your event. Therefore, table rentals should never be overlooked especially when you are planning to host a grand event which involves hours of fun and food. Furniture also helps to create an inviting atmosphere so that guests can enjoy the event without being uncomfortable.
With the introduction of timeless modern furniture including tables, chairs, linen, and other items, it becomes easier to achieve any look that you could ever imagine. When you are planning for an outdoor event, outdoor furniture like lounge settings helps expand and extend the space. Often, outdoor space is not used to its optimum and guests end up standing awkwardly around. But you can avoid this kind of awkward situation by using comfortable and stylish lounge furniture.
Though the list of event furniture is endless, in this article we'll concentrate more on tables. Table rentals are a must have for any event or party and a huge selection of sizes and styles is available these days. The tables you choose for your event id of great importance as it not only boost the functionality, it also gives a stylish appeal. Table when used efficiently can create the right mood.
There are many types of tables that you can choose, some of the most popular ones will be discussed below…
Different Types of Table for Your Event
A table is never just a table; it is more than that when we are looking at different options for events like weddings, receptions, birthdays, and corporate events. Though the choices are endless, the theme of your wedding will help narrow down the options. The best way to narrow down the choices includes some sort of planning. It may include balancing out space and using every corner to its maximum extent.
Check out the following options…
ü Round Table – Mostly used in weddings and dinner parties, the round tables allow a large number of people to sit close to each other. These types of tables look great when adorned with centerpieces, table skirts, and lanterns.
ü Rectangular Table – Mostly used for organizing a casual event such as family reunions, corporate party etc. The best part about using these types of tables is that you can line them next to each other to make a row. Decorate with overlays and table cloths.
ü Cocktail Tables – As the name suggest, these type of tables are placed near the bar area or around dance floors. They are ideal for cocktail parties, private and corporate, and available in many designs and sizes.
ü Trestle Tables – Ideal for festivals, craft, and antique fairs, these types of tables are like big desks. The tables are also used in large events like weddings and dinner events where a large number of people are expected.
ü Bistro Tables – These types of tables are ideal for bars, conference venues, private parties, and get-to-gathers. Available in various styles and colors, these tables are either made of aluminum, acrylic or wood.
As there are many types of tables available to choose from, it is important to focus on how they will be used and what function they will serve in the event.
Still confused? The following table might help…
| | |
| --- | --- |
| Type of Table | Ideal for Events/Parties |
| Round Tables | Weddings, Receptions, Formal Events, Dinner Parties, Anniversaries, Fundraisers, etc. |
| Rectangular Table | Birthday Parties, Reunions, Picnics, Sports Banquets, Corporate Parties, etc. |
| Cocktail Tables | Cocktail Parties, Dinner Parties, Dance Parties, Corporate Parties, etc. |
| Trestle Tables | Festivals, Fairs, Crafts, Weddings, Birthday Parties, etc. |
| Bistro Tables | Bars, Conference Venues, Reunions, Private Parties, etc. |
Why Should You Consider Table Rentals?
Why buy when you can rent and achieve the luxurious look you want for your event without spending a fortune. Hiring tables will be beneficial in many ways, let us examine some of the main benefits…
§ Hiring tables make you relaxed as you know that the guests have a comfortable and inviting space to relax and have a wonderful time.
§ Tables create a comfy and inviting atmosphere so that guests can enjoy themselves and have a wonderful time at the event.
§ A timeless modern design will work nearly with every single event that you could ever imagine.
§ Tables decorated with tablecloths and centerpieces make the environment much more luxurious.
§ The comfortable and stylish tables create an intimate space allowing guests to have a gala time with their loved ones.
§ You have the added benefit of customizing event furniture like tables and chairs with unique designs and colors.
§ For a corporate event, tables play an important as such types of events are often attended by local media and trend-setters.
§ As much as furniture looks great, it is also functional and provides a comfortable place for guests to sit and enjoy your event.
§ When we talk about table rentals, the options are countless such as round tables, bar tables, etc.
§ Tables and other furniture make an atmosphere that is inviting and welcoming, allowing for maximum engagement.
Table Décor – Tips to Make Your Tables Stand Out
Décor is not just a color scheme or putting some flowers on the table, it is more than that. When we talk about decoration option for tables for your event, the sky is the limit. Having a beautifully set table for your event is the best way to create an ever-lasting impression. It can set the ambiance for a party and turn it into a special experience.
A little bit of extra touch can make a whole lot of difference and your simple looking tables can become an eye-catching piece.
Here are a few tips to male your table a beautiful gathering place…
ü Nature-Inspired Table – If a minimal design is what you prefer, go for nature-inspired tables for your event. Create a natural focal point such as flowers, green plants, etc surrounded by neutrals.
ü Pretty in Beautiful Color – If the table is colorful, you don't have to think about other decorations to make it stand out. Go for pretty pink or blue and balance the décor with some color, oversized lanterns, or tissue balls.
ü Tulle-Skirted Table – Tulle skirts are not just for baby girls, they can be a perfect choice to decorate the center or main table. Use colorful tulle to accentuate the table and add a lovely dimension of volume to a simple party table.
ü Make Use of Centerpieces – Using centerpieces is one of the easiest and best ways to decorate a party table. Use things like flowers, candleholders, lanterns, antique pieces, toys, etc to transform the entire look of the table.
ü Recall the Memories – If looking for decoration options for a birthday party, using photographs of the birthday girl or boy to decorate the table can be a wonderful idea. Your guests will love looking over the photos and your event will be a memorable one.
ü Place a Charming Container – Use big blossoms, such as roses and peonies displayed in a fancy bowl. This is a unique idea that your guests will love and also not a very expensive one.
ü Use an Umbrella or Canopy – If you are planning an outdoor party, using colorful umbrellas and canopies can be an excellent idea. This will not only protect your guests from the sun but boost the aesthetic appeal of the table.
ü Make the Most of Lighting – Use candles, lanterns, chandeliers, and overhead lights to set an intimate tone for the tables. While using lighting, make sure that the lights go with the rest of the table décor.
ü Use Tablecloths & Overlays – Covering up the tables with fabrics like satin, cotton, and taffeta can add refinement to an old table. Use lace and tulle to make it look delicate and elegant while bold color cotton fabric adds visual interest.
ü Choose Dishes Wisely – You don't need to use just decorative items to adorn the tables; dishes also play a crucial role. Your dishes will vary depending on the type of party and they need to be appropriate for the theme of your party.
ü Coordinate Napkins – Use cloth napkins that complement the theme and color scheme of your party or event. You can mix and match different colors to give a fun touch and something simple for a more delicate look.
ü Play with Colors – The color scheme is a big part of setting the tone for your event and you can mix them up for creating fun patterns. Bold colors look energetic while light colors give a more delicate feel.
ü Add Homemade Detail – Give tables a personal touch by adding something made by you or your loved ones. Some of the examples include homemade centerpieces, name cards, flowers, gifts, etc.
While decorating tables, pick a theme and decorate accordingly. There are so many fun ideas to make simple looking tables the most luxurious pieces. You can go to a local party store and see what options are available. You don't have to break the bank to decorate tables as there are many cost-friendly options available to set a fun tone for the party.
Conclusion
Whether it's a wedding, a large corporate event, or a small reunion, tables are of great importance in your event. Therefore, you need to choose the right table to create a perfect look. For best results, do some research before choosing event furniture and always consider table rentals from a reliable company or supplier.
The tent suppliers like 6StarShop offer a selection of event furniture and also provide customization.
Are you ready to host an event that stays memorable for years to come?