Party Linens Near Me – Top Tips to Consider When Choosing a Party Linen
You are going to have a memorable day in the next few day or weeks. And having everything sparkling and well arranged is what you are planning for. Currently, you are starting with the basic party accessories. Ensuring you have your guest list ready, booking of the party location is done, having made the decision on which design or theme for your party, and other things you will require is all done. Then you must think about party linens. Small as it may seem this is one of the most crucial accessories that you need for your party to have that unique style.
I know choosing a party linen may be tedious or challenging you have an option of hiring a party linen rental to make sure your party theme and linens match. If you find it a challenge then the following are top tips you need to know before you choose a party linen for your party.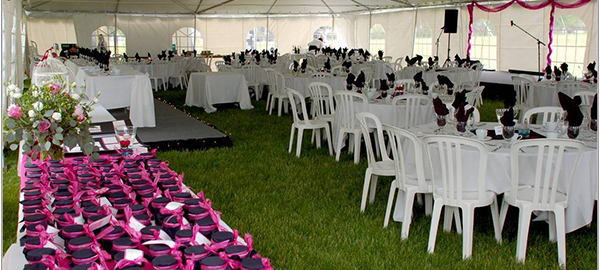 Size
The size of party linen you rent for your table for rent is important. Its ironic to hire a small sized party linen for a large table. You require a linen that will fully cover the table. To make your tables look fantastic you need elegance and you can only achieve this by choosing the right size party linen.
You want a linen that will cover your tables fully. First consider the size and height of the table before renting a line. The following are examples of party linens used during event.
· For a 24" or 30" cocktail table you need either a 108" or 120" party linen and 120" or 132" party linen respectively
· Depending on the size of round table you have hired like 6", 5", or 4" table you will require a 132", 120", and 108" linen respectively.
· Furthermore, if you are having banquet tables then the following are linen sizes you will have to hire. 6" banquet table requires a 90x132ft linen while 8" banquet table will need a 90x156ft linen.
These are only but few examples of table and linen sizes you will require. Your party rental company has the expertise and will advice you accordingly on which party linen size is the best for the tables you have rented for your party.
Shape
Party linens are round or rectangular in shape. Therefore, depending on the shape of your party table then just know you can find party linens in the mentioned shapes.
Fabric/Material
The fabric of your party line is important in making your wedding party, graduation, corporate event epic. There are many fabric materials used in the manufacture of lines. They include:
· Satin – made from silk or polyester this is a type of linen material you can use during your party. It brings the sense of elegance in the best way. Currently, most satin party linens are made of polyester fiber as silk is too expensive. It is best used for a dinner party.
· Damask – for that amazing appearance during your party. A damask party linen is mostly preferred. Made from silk this is a type of linen you can use. With the price of silk, you may find damask linen made of satin texture.
· Cotton – this is a common material used in making of party linen. That is because it is easily available and cheap. For catering tables this is the best linen to use.
Other materials used in manufacturing party linen constitute of: burlap, taffeta, organza, polyester, and sequin.
Color
The color of your party linen is essential. You cannot afford to hire a different party linen color to the color theme of your party. Ensuring that all your party looks colorful then its good to have a certain matching colors for all your decorations for your party.
Cost
The best thing about working with a party linen rental is that they have variety. So, if you cannot afford to rent the linen of choice due to cost then you can find a cheaper and stylish party linen. Thus, don't push your finances too far if you are not able just rent a cheaper linen. I am sure it will make your party alluring.
Season
Considering the season when you are throwing your party is equally important. Why do I say so? It is because different seasons of the year have specific colors. Therefore, don't be in a hurry renting a party linen. Consider the season you are hosting your event. If you have no knowledge about the right colors of a certain season. The party rental companies have experts who will guide you appropriately.
Type of Event
Is it a wedding, birthday, graduation, anniversary, festival/carnival, or corporate event? Then all these events have a specific type of linen you should hire. There is no way you can use a wedding party linen for a graduation or corporate event and vice versa. They won't match and your event may end up being dull. Hence, before you choose a party linen ensure it is the right one for your event.
Theme
Be it a tea party, garden party, dinner party, cocktail party, or any other party the themes you will use are all different. Each party has its own themes. Thus, when going all out to rent a party linen consider the theme of your event. It will guide you effectively on which type of linen is best.
To make your event or party the best then the tips above are what you need to consider. After knowing what you need, I know you require to know the best party linen rental. The following are some of the best you need to work with.
Party Linens Near Me:
Working with an expert is what you require for your party. And who's the best if not the following party linen rental companies?
Searching for a company that will fully satisfy your party linen needs. The lake region tent & event should be your choice. They also do other party rental like table, chair, pipe & drape, and tent rental. It I found in New Hampshire. Hence, if you want the best and high-quality linens and other party services, they are your best choice.
For chair cover and tablecloth rental then the company you need to contact is AM Linen. It is in 2623 Brenner Drive, Dallas, Texas. Therefore, if you are looking for the finest party linens, they have them. They also ship countrywide if you are in USA.
For classy and stylish event, you need linens that are elegant. Where can you find them if not at EventAccents? Found in Honolulu, Hawaii they have made a name for themselves as one of the best event rental company. They provide different party accessories apart from party linens for the past nine years. So, to get to work with them you can contact them when you visit their website.
For a friendly and sophisticated event working with a professional is what you need to do. Roof Garden are here to make your dream event a reality. High-quality linens for your wedding party or any other event is what they deliver. Additionally, they will help in planning of your event. Thus, work with them for a great party.
If you are in Maryland, DC, and Virginia then a grand event party rental is the right company you need to contact when it comes to party linen rental. Being a party rental company, they have other party items for rental like canopy tent, marquees, dance floor, staging, tables, chairs for rent, and other party accessories. Therefore, to get the best of services a grand event party rental is who you need to hire. They have also won an award for having the best customer services.
Getting a linen that matches your preference is usually a challenging task. Being so you need a rental company that is well-versed with linens. Not only party linens but matches the theme or design of your event with the linens. That is what J. Curb events does. They will ensure that your event is sparkling and your guests are comfortable. Contact them for the best party designs. They are in Stephenville, Texas, USA.