Wedding Tent Rentals Near Me:Cost,Packages,Sizes,Images & Decoration Ideas!
Your wedding needs to be an amazing event in your life. An event that you will remember for years to come. That means it must be exciting. And to make it so you need wedding tents. For decoration, comfortability, and protection against weather conditions, you need to tent hire. While planning for your wedding there are many things you need to hire. However, you can simplify this by choosing a wedding tent rental company. They always provide all the products that you require apart from a tent.
Types of Wedding Tents
Variety is what every product has. That is no different when it comes to wedding tents. There are different types of tents you can rent for your party. Also, you require a tent that will make your party unique not only to your guests. For you, it might be a challenging situation as you may not have the expertise to know the different types of wedding tents for your outdoor event.
The following are the best types of tents you can hire.
Stretch Tent
For your outdoor wedding consider renting a stretch tent. If you are looking for a large tent for your wedding party then this is the best. It covers a wide area and provides a good atmosphere for your event. Therefore, if you know the number of guests attending your wedding is high renting a stretch tent is the best idea. Additionally, a stretch tent is waterproof, fire-resistant, flexible, and beautiful. This is marquee you can rent for a party.
Frame Tent
Looking for an outdoor tent that will make your wedding exhilarating? Then look no more a frame tent is what you require. This type of tent doesn't require much and can be used on any surface where you are hosting your wedding party. It does not require too much support. Hence, provides a large seating surface area.
Pole Tent
Planning to host your wedding on a grass surface? Then a pole tent is the right type of tent you must rent. A pole tent needs to be well fitted on the surface to provide enough support. That means it cannot be used on surfaces like concrete. Furthermore, if you are planning to do decoration and have lightings during your outdoor wedding party. Then, you need to rent pole tents.
Oyster Pearl Tent
The design of this wedding tent is from the Arabic Mughal Empire. This is one of the best wedding tents designs I have ever come across. If you are looking for elegance then renting an oyster pearl tent can be the best option. It has sidewalls that can be opened or closed depending on the weather condition. Therefore, to reduce the chances of cutting short your wedding due to weather condition then rent an oyster pearl tent.
Yurts
Dome-shaped this is one of the best types of wedding tent you can rent. For good ambiance think of Yurts. It's well designed and once set up it looks like a house. It is more of a small arena because it wide and the ceiling is high. The manufacturers were inspired to make this design from central Asia. Therefore, while looking for a tent to rent then Yurts is the best.
Wedding Tent Size
What tent size do I require for my wedding? This is a question you are asking yourself. To know the right tent size for your wedding you need to know the number of guests that will be attending your party. Apart from the number of guests attending other things you need to consider include:
· Entertainment
· Catering
Those coming to your event need entertainment, food, and drinks. So, while planning which type of tent is best for your wedding. Put the above requirements too. The following are different tent sizes and what you need to consider.
· 20x20ft. Covering 400sq.ft, this is best when you have 40 guests. However, if you have 40 guests and require catering and entertainment you need to get a 20x30ft and 20x40ft tent respectively.
· 20x30ft. This tent will cover 600sq.ft of area. Best for 60 visitors. Inclusive of catering and entertainment rent a 20x40ft and 20x50ft tent size respectively.
· 30x40ft. Being a large tent it means it can support up to 120 visitors. 1200sq.ft is the area it covers. With the same number of guests but need entertainment and catering, you can rent a 30x50ft or 30x60ft tent.
There are many different tent sizes in the market. They are not limited to the above three tents sizes. Depending on your needs you can request for a tent size be it small or large tents. Nonetheless, before you rent a tent consider the three key things the number of guests, entertainment, and catering. I know you will find the best tent for your event.
10 Wedding Tent Rentals Near Me
Looking for a wedding tent rental? Then, look no more because the following are the best wedding rental companies you need to know.
Found in Shipley, West Sussex, United Kingdom. This is one of the best tent rentals. It has been operational since 2006. For wedding tents and wedding planning then they are the experts. Feel free to contact them for more information about wedding tents.
In 2013 events under canvas was started. They have been one of the best wedding rentals in Suffolk, United Kingdom. Apart from wedding tents they also do wedding planning. They made a name for themselves after winning ones to watch category in the business awards in 2017. They are also official wedding tent suppliers for Rock My Wedding. Which makes them an expert in this field. Furthermore, they have a great team which will ensure your wedding is successful.
Looking for a rental company to cover all your wedding requirements? Then GNS party rentals should be your choice. They serve in different cities that include:
· Ajax
· Toronto
· Oshawa
· Thornbill
· Oakville
· Richmond Hill
· Markham
· Pickering
· Mississauga
· Brampton
· Scarborough
· Newmarket
For exclusive wedding rental accessories, GNS is the best.
Finding the right tent size can be stressful at times. However, there's not much pain when you get the right tent size and unable to get wedding accessories. To avoid such circumstances then you need a company that has all these at the same place. US tent rental is more than tent renting. You will find all the party accessories you require. With them you are secure your wedding party will be astounding. They are in Matoaka Rd, Sarasota, Florida.
Florida is the location of Kirby tent rentals. In need of wedding tents any type, tables, chairs, and other items. Then your best partner is Kirby tent rentals. To make your wedding exciting you need to work with Kirby tent rentals will be the best choice.
Planning for a wedding in the next coming weeks? And do you stay or want to hold your wedding in Seattle? Then CORT party rental is one of the most experienced wedding party tent rentals. From lines, tables, chairs, catering services, and tents you can all get them at CORT party rental.
In China? Or do you want to do an outdoor wedding in China? Then LP Outdoor is simply the best option for you. They provide excellent services to their customer as far as wedding tents are concerned. So, for the best wedding tent size and design then contact LP Outdoor.
Are you looking for a partner to make your wedding exhilarating? Then Trainham's tent rental should be your partner. They will help you in planning and ensuring that your wedding party is a success. Apart from wedding tents they also provide other rental accessories like linens, pole drapes, tables, chairs, Dj equipment, lighting, and many more.
You need a person who knows how to handle parties and making it fantastic. TC's tents is here to make your event incredible. If you are looking for frame tents, canopy, large tents, or small tents, or any type of tent. Then they will ensure they deliver it to your event. They have exclusive prices for all their rental accessories. Therefore, to work with the best then TC's tents is the best.
Established in 1998 Vini's party rental has been serving the residents of Los Angeles with party rentals. They provide party rental equipment's like tables, chairs, party tents, and other items. Additionally, they provide party services like event planning and others. Therefore, to make your dream party spectacular you need to work with Vini's party rental.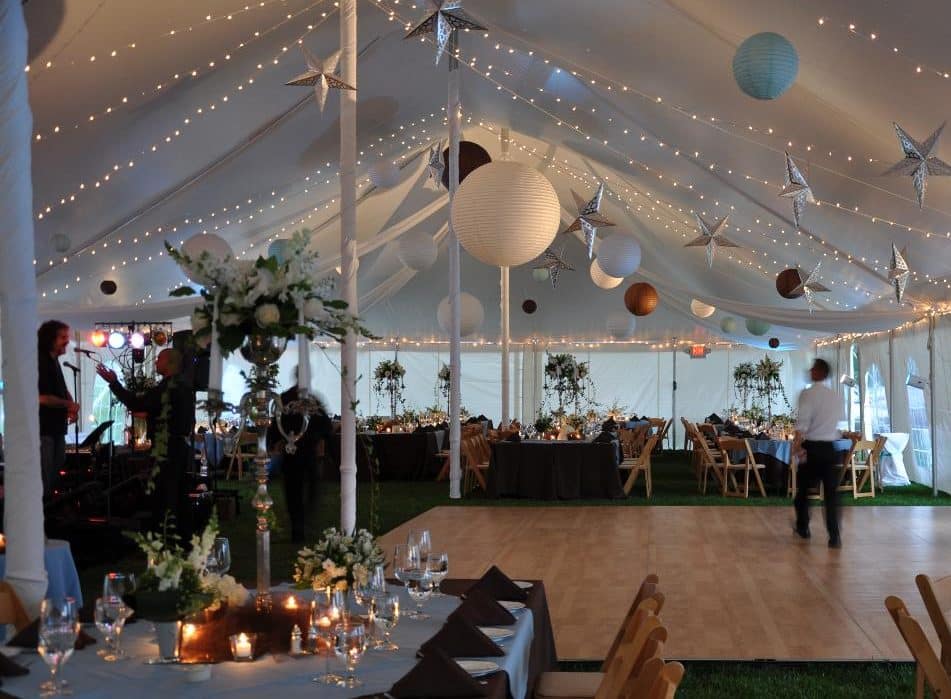 Why Choose Us for Your Wedding Tent?
We all want to be proud of what we do. This is to make your wedding glamorous. We have all types of tents you can choose from. We don't offer tent rental services alone but tent accessories too. Therefore, if you want to have a fabulous wedding party then work with us.
At 1000sku.com we ensure that we provide you with high-quality wedding tents. Look no more because we are here to serve you. Looking forward to working with you during your wedding.