Wedding Tent Rentals – Things You Should Know to Make Your Big Day Memorable
Wedding tents give you the best of both worlds – a celebration in the lap of Mother Nature and shelter from the uncertain weather. They not only offer the beauty of the outdoor environment but give you a place where your guests can enjoy to the fullest. As far as the availability of wedding tents is concerned, they are available in a stupendous variety of sizes, styles, and colors. The numerous design options make them a versatile option for any outdoor event. Most of the tents can be erected at all sorts of wedding venues, from pristine beaches to your backyards and gardens.
One of the most beloved aspects of wedding tents is that they can be customized as per your specific requirements. Isn't it great that you can have the tent designed and manufactured as per your taste and preference? You can make it what you want!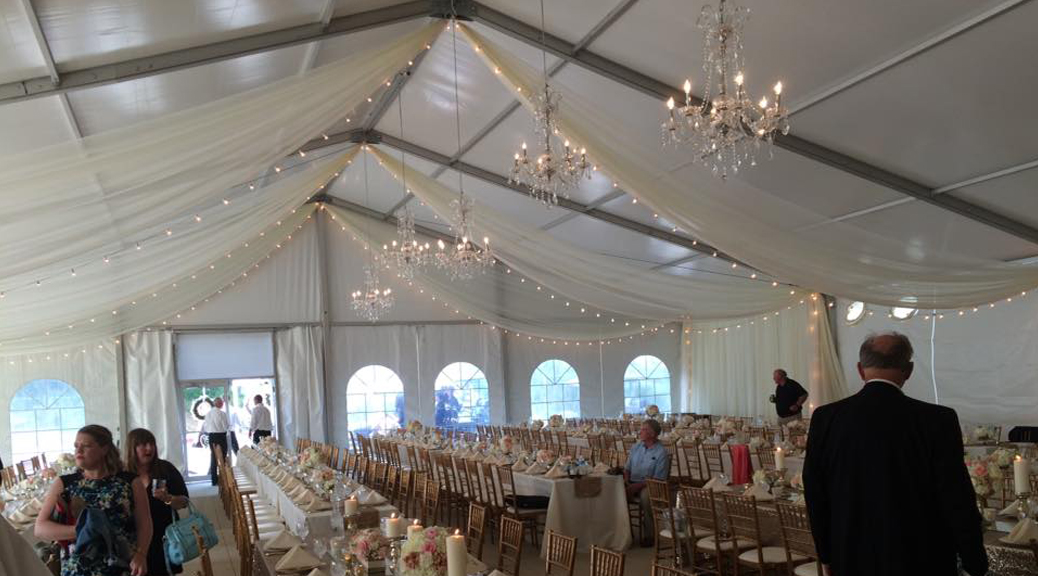 Moreover, a tent provides a blank canvas for decoration such as lighting, flowers, furnishing, floors, and more. Plus, you can be as creative as you want to make it as unique as possible.
Let's dive deep into the topic so that you can choose the perfect wedding tent for your big day…
How much does a tent cost?
Wondering how it costs to rent a wedding tent?
The cost of the tent will depend on the type of tent you choose. If you just want to get an idea of how much does it cost to rent a tent for a wedding, it will cost around $350 to $500 to rent a tent for 20 to 40 people. If you are looking for a big tent, you may have to spare around $500 to $1,500 per day depending on the size and capacity of the tent.
What are the features to look for in a wedding tent?
If you are planning to spend a good amount of money or renting a wedding tent, you should consider a structure with best features. Here are some of the features to look for…
- Heavy-duty
- Waterproof
- Spacious
- Lightweight
- Easy to set-up
- Durable
- Portable
- High-quality
Renting a tent without a basic understanding could land you in an awkward situation. Therefore, know the characteristics of the tents before spending your hard-earned money.
Types of Wedding Tents
Though the options are practically endless when you look for wedding tents, a few of them are making people crazy. Here are the ones that are extremely popular these days and perfect for a wedding, regardless of the type and size. Check them out…
1. 10x10 Pop Up – Pop-up tents are instant tents which mean they can be installed in a shorter period as compared to another type of wedding tents. These are tents that pop up into a particular shape when they are unfolded. In most of the pop-up tents, the poles are pre-attached to the tent fabric. However, they are not resistant to strong winds or a big event.
2. Frame Tent – One of the most common wedding tent types, a frame tent uses a metal frame to support the tent instead of poles. This type of tent is more versatile as compared to other tents but may lack in beauty. However, the exposed metal pipes can be used to hang decorative items like lanterns, flowers, and lights. They can also be adorned with layers of draped fabric.
3. Stretch Tent – An amazing alternative to a marquee, a stretch tent is a free-form tent and provide excellent functionality. The overhead covering consists of a single sheet of stretchy fabric, square or rectangular. This type of tent is perfect for an intimate setting, while also allowing for extra seating, catering, and other activities. A stretchy tent is perfect for summer weddings as they provide full coverage.
4. High-Peak Tent – High-peak tents as the name suggests come with a multitude of peak options and looks great. Whether it's a canopy tent or a marquee tent, you can opt for a high-peaked one. These are large tents designed for outdoor events like a wedding, graduation, corporate event, etc. They offer an ultimate functional internal space and the center is elevated with an easy to install the pole.
5. Pagoda Tent – A cross between the pole tent and the frame tent, a pagoda tent gives you the features of many tents. It has a peaked roof and used for large events like weddings, exhibitions, resorts, corporate events, etc. This type of tent is durable enough to withstand extreme weather conditions as the canopies are made using the aluminum structure. Also, the tent is waterproof and UV resistant.
6. Pole Tent – Defined by their central beams, pole tents are typically staked into the ground and has a big showy-top. As the entire frame is supported by poles and guy-wires, the tent is durable and ideal for different types of events. However, pole tents cannot be installed on concrete or other hard surfaces as a lot of poles are involved. But you can easily set up these tents on surfaces like grass or soil.
Because the weather is such an unpredictable thing, you must choose the best fit for the event. Choose something that can cater for anything such as the weather, number of guests, catering, decoration, DJ, dance floor, etc.
Wedding Tent Decorations – Tips to Make Your Tent Stand Out
So, you are ready to host the biggest party of your life, tents can offer a plethora of playful design options and make your event stand out. Universally admired for their durability and functionality, wedding tents are like a blank canvas where you can draw anything of your choice.
Whether you are planning to host a grand wedding ceremony or just a celebration with closed ones, wedding tent decorations can bring a whole lot of difference. There are many ways you can transform a simple tent into something unique and luxurious.
Are you ready to make your simple tent look like a million bucks? Check out the following innovative ways to embrace the uniqueness of your tented structure…
ü Consider Draping – A great way to add glamour to any event without breaking the bank! Use drapes, plain or colorful, to bring that perfect ambiance and a special touch.
ü Pay Attention to the Head Table – The head table should get special treatment! Use things like flowers, chandeliers, lanterns, and LEDs to create an intimate environment.
ü Floral Installations – Hanging floral installations is still a major trend! Let your event feel like a fairy tale by using flowers instead of chandeliers or other decorative pieces.
ü Create a Striking Entrance – Crafting an inviting entry is as important as the wedding tent itself! Use stuff like flowers, paper lanterns, etc to decorate the entrance gate.
ü Multi-Colored Tents – Opting for colorful tents is itself a decoration! You can also use multi-colored drapes to accentuate white or neutral tents.
ü Play with Textures – Opt for several fabrics to make a style statement! Consider sheer or transparent options to add a luxurious feel to your wedding tent.
ü Use Balloons – Balloons are not just for birthday parties! Use balloons to decorate your tent as they are a quick and fun way to decorate any type of tent.
ü Consider Rugs & Carpets – Outdoor rugs and dance floors complete the look! Floors are a wonderful decorating opportunity but use them wisely.
ü Drape Ribbons – Add color and fun to a traditional tent using colorful ribbons! You can also transform the simple-looking chairs into something cute using ribbon drapes.
The above-mentioned are just a few tips to elevate the inside of your tent, there are still more to go. However, for any kind of decoration, you need to understand the structure and choose the one that's right for your event. Also, you need to be clear on the theme and atmosphere you want to create.
Find some of the industry's top vendors and take help from their expertise to create a dazzling atmosphere at your wedding
Top 10 Tent Manufactures – Places to Look for Wedding Tents
This is important that you rent the best tent for the wedding whether you choose a backyard tent or a large canvas tent. To make your search for an outstanding tent easier, we have listed the top 10 tent manufacturers… Check them out…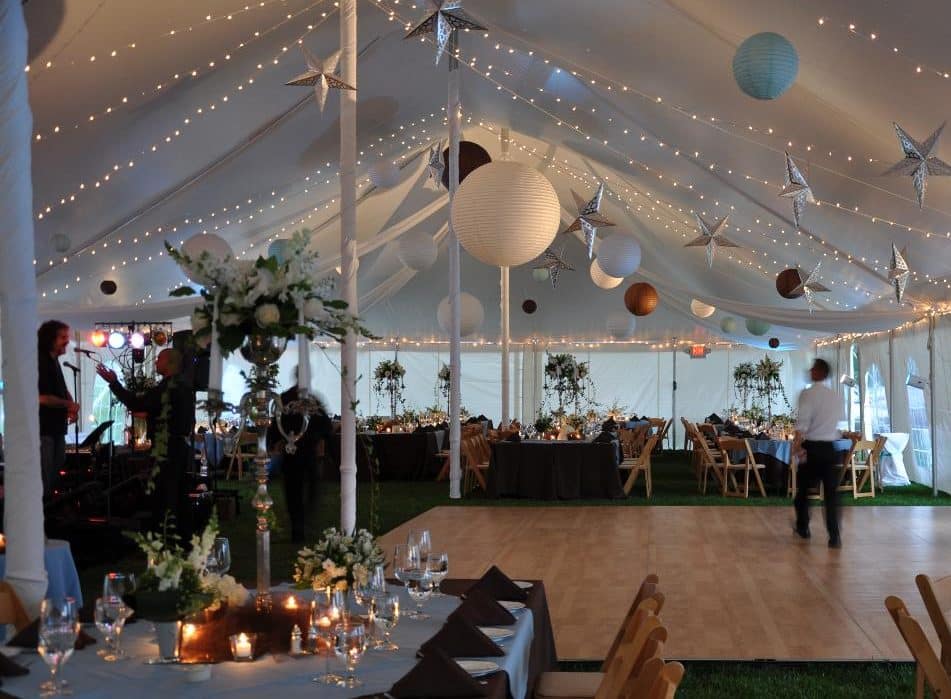 1. Tent Manufacturer – Located in South Africa, this tent manufacturer is known for manufacturing tents, marquee, table, and chair. Some of the best tents you can explore include frame tents, alpine tents, peg & pole tents, pagoda tents, stretch tents, army tents, canvas tents, and more.
2. Bargain Tents – One of the leading tent manufacturers in South Africa where you can find a large variety of tents. Some of the popular types include frame tents, stretch tents, pagoda tents, marquees, aluminum tents, peg & pole tents, and more. They also provide tables, chairs, linen, draping materials, and other essential things.
3. Shelter Tent Manufacturing – A leading clear span tent manufacturer in China offering a wide range of tents in the different parts of the country. The main product categories include party tents, wedding tents, events tents, exhibition tents, warehouse tent, double-decker tent, etc. The tents are ideal for weddings, concerts, launches, trade shows, etc.
4. Guangzhou CaiMing Tent Manufacturing – One of the major manufacturer and suppliers in China where you can find a wide variety of tents for different events. Explore product categories like pagoda tents, gazebo tents, dome tents, multi-sided tents, polygon tents, custom-designed tents, and more.
5. Extreme Marquees – The manufacturer and supplier offer event marquees and event tents for weddings, parties, and other events. The main styles of event gazeboes include the Pavilion, the Pinnacle, and the Crest. Also, you can find inflatable tents, folding marquees, and shade products along with essential accessories.
6. Indian Tents – One of the leading tent manufacturers in India where you can find a wide range of innovative tents. The popular categories include wedding tents, resorts tents, Arabian tents, garden tents, and more. The main highlight of this company is the traditional handmade cotton canvas luxury tent.
7. Royal Tents – Counted among the leading tent manufacturing companies in India, this is the place where you can find a huge range of tents for different occasions. Explore the categories like luxury tents, wedding tents, garden tents, handmade tents, events tents, exclusive tents, and more along with decoration options.
8. Miami Missionary Tent – Located in the USA, the company design and manufacture a wide variety of tents for weddings, parties, meetings, and other special events. The tents are fire resistant, water-repellant, and strike-resistant. Check out the categories like pole tents, frame tents, canopies, and more.
9. IPM Bohemia – A one-stop-shop for a variety of needs such as wedding tents, flooring, themed interiors, lining, furniture, lighting, and much more. Explore a wide range of tent designs such as canvas pole tents, Exotic Indian tents, and more. The tents are ideal for weddings, parties, corporate events, festivals, public events, and other events.
10. Tent Technics - The wedding tents manufacturer in South Africa offering a wide range of tents including pole tents, stretch tents, frame tents, canvas tents, inflatable tents, and much more. Other services you can explore include catering, mobile products, and furniture for a variety of events.
Top 10 Tent Manufacturers & Suppliers
No.

Tent Manufacturer Name

Products/Services

Location

Contact Details

1

Tent Manufacturer

Tents & Accessories

Durban, South Africa

Tel: +27-87-056-2552

Email: info@tentmanufacturer.co.za

2

Bargain Tents

Tent Manufacturer

Durban, South Africa

Tel: +27-31-825-5645

Email: info@bargaintents.co.za

3

Shelter Tent Manufacturing

Tent Designing & Manufacturing

Guangdong, China

Tel: +8620-6660-3258

Email: admin@shelter-strcutures.com

4

Guangzhou CaiMing Tent Manufacturing

Tent Manufacturer and Rental

Guangdong, China

Tel: +86-157-119-199-61

Email: info@CmTents.com

5

Extreme Marquees

Tents & Marquees

Australia

Tel: 1300-850-832

6

Indian Tents

Handmade Tents & Umbrellas

New Delhi, India

Tel: 011-2354-3156

Email: sales@indiantents.com

7

Royal Tents

Tents & Decoration

Rajasthan, India

Tel: +91-94133-29270

Email: enquiry@royaltents.com

8

Miami Missionary Tent

Tents Manufacturer

Oklahoma, USA

Tel: 918-540-2435

Email: info@gospeltent.com

9

LPM Bohemia

Tent & Marquee Hire

Kent, UK

Tel: +44-1892-725489

Email: national@lpmbohemia.com

10

Tent Technics

Tent Manufacturer & Wholesaler

Pretoria, South Africa

Tel: 078-800-0749

Email: info@tenttechnics.co.za
Why Choose 1000sku.com?
Looking to hire a wedding tent for your special day? We at 1000sku.com offer an exclusive range of tents that are designed for different events, functions, and weddings. We have gained customer loyalty by providing high-quality, pristine products designed by a team of experienced and professional designers.
If you're looking for the most comprehensive range of beautiful tents, we look forward to discussing your requirements. We are here to provide you with a personal service tailored to your individual needs because we understand that not every event is the same.
Explore our finest collection of tents, furnishings, and other essential things to make your wedding a memorable day of your life.
Contact us to know how we can help!