Large Canopy Marquee Tent for Hire – Type of Tents, Parts, & Accessories
Whether it's a backyard party or a garden wedding, renting a tent big enough to accommodate everything easily can be a great idea. A perfect tent not only gives your guests protection from the weather but also help keep the event contained in one area. It also offers a cozy and comfortable place to enjoy food and fun activities.
When it comes to planning a big event, large canopy marquee tents play an important role by ensuring that everything goes smoothly. A large garden tent allows you to create a unique environment and you will have more freedom of the layout and decoration. You can also experiment with everything you want to make your tent look stunning.
Well! Before discussing the different types of tents and accessories, let's check out some popular tent rentals companies that you may consider…
Top 5 Tent Rentals near Me
1. Cape Tents – If you are looking for Bedouin-style tent Rental Company in South Africa, Cape Tents can be your perfect choice. They offer a wide range of tents for wedding receptions, corporate functions, cocktail parties, and similar events. As far as the quality is concerned, the tents are UV resistant, waterproof, and fire retardant.
2. Premier Event Tent Rentals Inc. – When you are in search of tent rental packages, this is a place to look for in Brampton, Canada. Here you can find a great variety of tents such as frame tents, sailcloth pole tents, legacy structure, and more. The tents are ideal for weddings, parties, sports events, galas, corporate functions, etc.
3. Pegasus – A renowned name in India, this tent rental, and event management company offer some great solutions when it comes to planning events like wedding, parties, etc. Also, they have an outstanding network of vendors in India, the Middle East and Southeast Asia. You can explore a wide range of rental products as well as services.
4. Algarve Marquees – If you are looking for a large canopy marquee tent for hire in South Africa, this is the right place to look for a huge range of products and accessories. They specialize in marquee hire, equipment, lighting hire, furniture hire, dinner & glassware hire. Also, they can personalize things to suit the needs of different occasions.
5. Fastup Tent – This can be your right platform to look for a wide range of tents for weddings and parties in China. Some of the popular types of tents they offer include gazebo tent, canopy tent, garden tent, backyard tent, structure tent, and mixed tent. They also personalize tent for catering and special events.
Top 5 Tent Rental Companies in the World
No.

Tent Rental Company

Product/Services

Location

Contact Details

1

Cape Tent

Bedouin Style Freeform Tents

South Africa

Tel: 072-764-6226

Email: info@capetents.co.za

2

Premier Event Tent Rentals Inc.

Tent Rentals Packages

Brampton, Canada

Tel: +416-225-7500

3

Pegasus

Event Management & Party Rentals

Mumbai, India

Tel: +91-85304-73331

Email: info@pegasusevents.in

4

Algarve Marquees

Marquee & Canopy Hire/Accessories

Lagos, South Africa

Tel: +351-933-713-867

Email: iinfo@algarvemarquees.com

5

Fastup Tent

Tent Rentals

Guangzhou, China

Tel: 0086-20-82906966

Email: info@fastuptent.com
Hiring a tent service will allow you to enjoy the benefits of using tents and other essential products without worrying about anything. Choosing the right tent rental company will give you peace of mind knowing that everything is taken care of such as transportation, installation, setting, decoration, catering, lighting, removals, etc.
Types of Tents – Structures for Every Need & Budget
A tent provides one of the most basic needs, shelter. But talking about today's innovative structures, they have become an integral part of different occasions and industries. From providing a cozy atmosphere at a wedding to storage in the warehouses, tents are playing an important role.
You can find an ultra-light tent designed to handle every weather condition or a large canopy tent to work as a storage space. The options are endless and all you need is to find the best tent that suits your specific needs. While talking about the best tents, there are several options to choose from such as…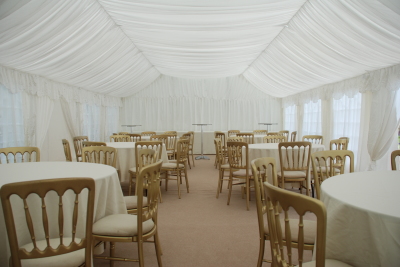 Frame Tent
For years canvas was the only option but nowadays there are so many choices. The frame tent is one of these popular choices as it is versatile, flexible, durable, and available in many different sizes and styles.
The frame tent has a freestanding design with no internal poles and provides sufficient coverage of landscaping at a variety of venues. These types of tents are well suited for both small and large events as they can be set on most solid surfaces. Though the metal pipes used to support the tarp as exposed, they can be used to hand decorative items.
Although frame tents are assembled from a bigger number of parts, they are remarkably handy. The basic tent features a minimalistic design with just the top and other designs depending on your purposes. The tents with open sides are perfect for events like weddings and parties while the tents with sidewalls are great for commercial use.
Some of the popular used of frame tents include…
1. Large Wedding Tent – As frame tents do not have central poles, they work best as a large wedding tent with no obstructions. Also, they are available in many different styles, patterns, colors, and decoration options.
2. Large Party Tents – Frame tents provide an ultimate solution for parties like birthday, wedding reception, anniversary, corporate party, and more. It is the beauty and functionality of these tents that make it an ideal choice for parties.
3. Large Military Tent – Army or military tents are made of high-quality materials and frame tents are a perfect fit for such applications. These tents are ideal for outdoor army camps and storage as they are easy to install and remove.
4. Large Storage Tent – Frame tents can be effectively used as large storage tents as they are a versatile and practical way to store things. Most of such tents are designed of waterproof polyester or polyurethane with fiberglass rods.
5. Large Inflatable Tent – Air or inflatable tents are incredibly high in quality as they are designed to withstand a fair bit of wear and tear. With the help of framed structures, inflatable tents can be designed.
6. Festival Tent – Frame tents are an ideal solution for hosting festivals as they provide a strong and sturdy base. Be it a music concert or an adventure festival, framed tents can be successfully used to make every event memorable.
7. Commercial Event Tent – When it comes to finding a tent for a commercial event, quality matters. Frame tents can be a perfect solution as they provide a freestanding design for hosting an event and can be set up on most solid surfaces.
8. Large Industrial Tent – As frame tents are perfect for all types of events and have a freestanding design with no centre poles, they are perfect for industrial use. Hosting an industrial event can be easy with frame tents.
Pop-Up Tent
Also called instant tents the pop-up tents pop into certain shape when they are unpacked and unfolded. These types of tents are easy to set up as the poles come with built-in spring that unfolds into a shape quickly. The poles are pre-attached to the tent fabric making them a popular choice among small to medium-sized events.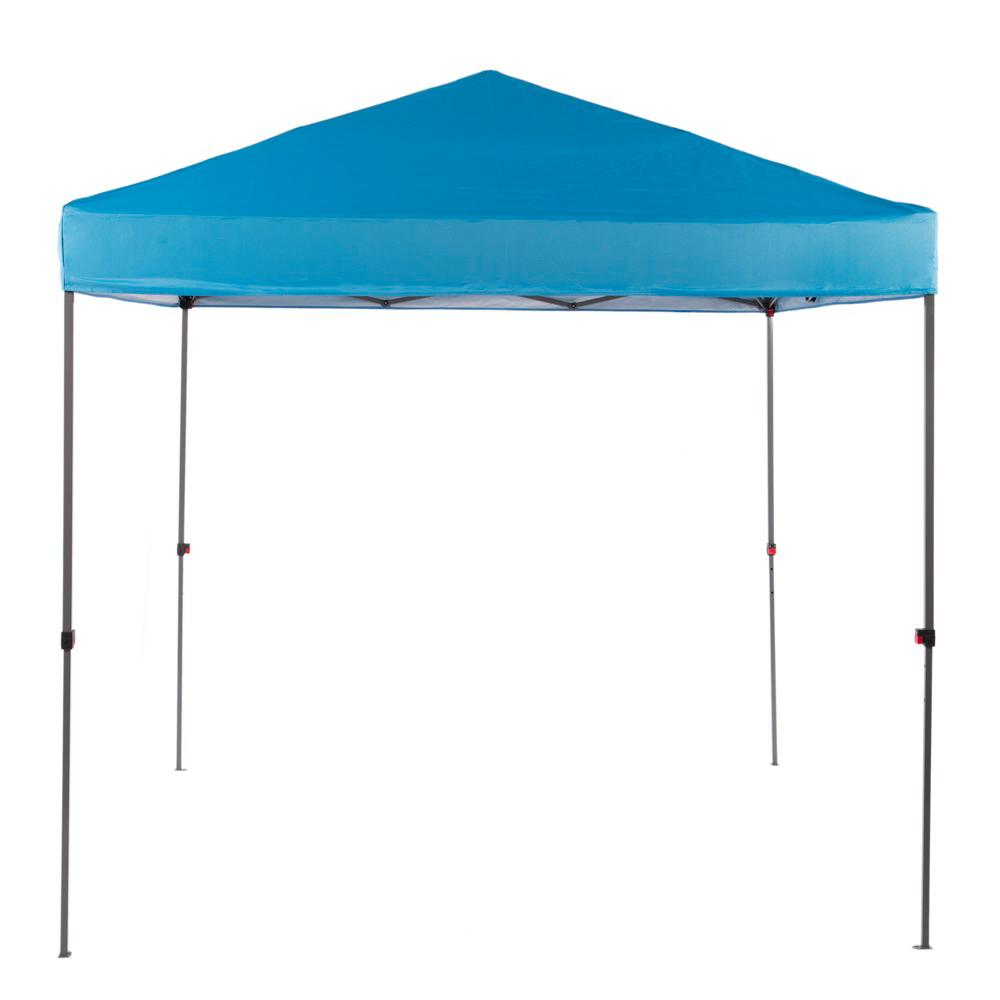 If you are looking for the easiest version of the tent, a pop-up tent is what will serve the purpose. It does do what it says and can be used at a variety of surfaces such as grass, concrete, etc.
Stretch Tent
Stretch tent is a single stretched piece of waterproof material that is stretched tight over an area. To stretch the flexible fabric, free-standing poles are used and any desired shape can be obtained. The fabric is highly flexible and durable as it is made from nylon filament with a 100% waterproof polymeric PU coating on both sides.
These types of tents can be pitched with sides down or up, depending on the requirement. Mostly, the tents are attached directly to buildings to extend the internal space or can be floated over obstacles such as walls, fountains, etc. If you are looking for a perfect solution for wide-open spaces, there's nothing better than stretch tents.
High-Peak Tent
A high-peak tent has a lot of amazing structural characteristics and gives an appearance of both the frame tent and the pole tent. It is a kind of tent with no center poles and, therefore, provides an unobstructed view to the guests. As it has a high peak, it allows you to fit in even the tallest objects and more height also creates a feeling speciousness.
A high-peak tent comes in a variety of sizes and can be used in events of all kinds such as weddings, anniversaries, birthdays, festivals, trade shows, etc. Also, the tent offers you endless decoration opportunities as less staking and higher ceilings are easy to decorate.
Pagoda Tent
Also known as Chinese hat marquee, a pagoda tent is a high-peak gazebo tent that comes in a variety of styles and sizes. Pagoda canopy is more suited to private events because of its attractive architecture and unmatched finishing. It can be installed in the backyard, garden, beach, etc. Some of the classic designs come with clear windows as well as doors.
Pagoda tents are easy to set up and the aesthetic appeal of these tents make them an ideal solution for outdoor events. Most sturdy and durable pagodas are manufactured using high-quality aluminum with heavy-duty PVC cover.
Pole Tent
A pole tent is an upgrade to traditional pole marquee and designed to be used on grassy surfaces. These types of tents have at least 1 center pole to support the roof canopy which is also tied using sidelines connected to ground stakes. The tent is ideal for wedding receptions, event party, birthday party, concerts, carnivals, cultural events, commercial events, and more.
Pole tents are available in many different sizes and shapes to suit the different requirements and budgets. Also, they are easy to decorate as the central poles can be used to hang lights, flowers, lanterns, and drape fabric.
Dome Tent
Dome tent is a continuous air structure which means they need to have one or more blowers attached and running at all times. In simple words, these are like inflatable tents that need to be operated using blowers. These types of tents are mostly used for casual get-to-gathers, not for fun and food.
The basic design of a dome tent has a rectangular floor and two poles running from one corner to the diagonally opposite corner. Dome tents are available in a variety of sizes, from lightweight tents to heavy-duty tents.
Circus Tent
Circus tent is a canvas tent used to provide shelter to the audience at a circus performance. The fabric of the tent may be made of many materials like nylon, cotton, polyester, etc. Nowadays, large circus tents are made of artificial fiber and often erected using cranes. The tent is supported by poles and ropes.
As the name suggests, a circus tent is mostly used in circuses but they can also be used for hosting carnivals, festivals, concerts, etc. They come in a variety of different sizes, styles, and shapes to suit the different needs of the clients.
Main Tent Parts & Accessories
Having a great event means everything is perfect! Tents provide a base to host an event but it is nothing without its parts. Here are some of the main tent parts and accessories you need to make any event successful…
- Tent Covers (outer and inner)
- Guy Lines
- Tent Poles
- Tent Pipes
- Pegs/Stakes
- Vent
- Doors & Windows
- Sidewalls
- Entertainment
- Wood Stove
- Tent Sides
- Drapes
- Furniture
- Flooring
- Catering
- Decoration
- Lighting
- Sound System
With the right parts and accessories, you can deliver a top-shelf experience to your guests.
Features to Look for in a Tent…
Looking for certain features in a tent will help you get your hands on the best. There's no fun in spending your hard-earned money on anything that you are not aware of. It doesn't mean that you master in every possible area but having some basic understanding always help.
Here are some of the features to look for in a tent…
- Weather Compatibility - Waterproof, UV Protection, and Fire Retardant
- Appropriate Size or Capacity
- Highest Standards of Quality
- Aluminum Poles
- Folded Seams and Double Stitching
- Adequate Guy Lines
- Good-Sized Stake Loops
- Easy to Install and Transport
- Strong and Durable
- High-Quality Framework and Fabric
- Proper Ventilation
The final tip – research to know more and more about the product or service before investing any money.
So, are you ready to have a wonderful time?