Air-Conditioned Tent Rental – Everything You Need to Know
Planning an outdoor event? So much goes into planning an event in the great outdoors such as hiring a tent, organizing furniture, booking catering, looking at decoration options, and much more. Sometimes it is easy to overlook some of the most important factors, like considering air-conditioned tent rental for a summer event. Yes! An outdoor tent can be air-conditioned even if they haven't any electric power or a centralized cooling system.
Indeed, you can't control the weather outside the tent but it's also true that you can control it inside the tent. If it's too hot outside, chances are that the inside of your tent will also boil but there's a solution – 'air-conditioned tents'. Though any tent can be kept cool using air-conditioning units that run on battery power, some of the modern designs come equipped with a centralized cooling system. If not, you can have the fast and professional equipment delivered and installed in your tent.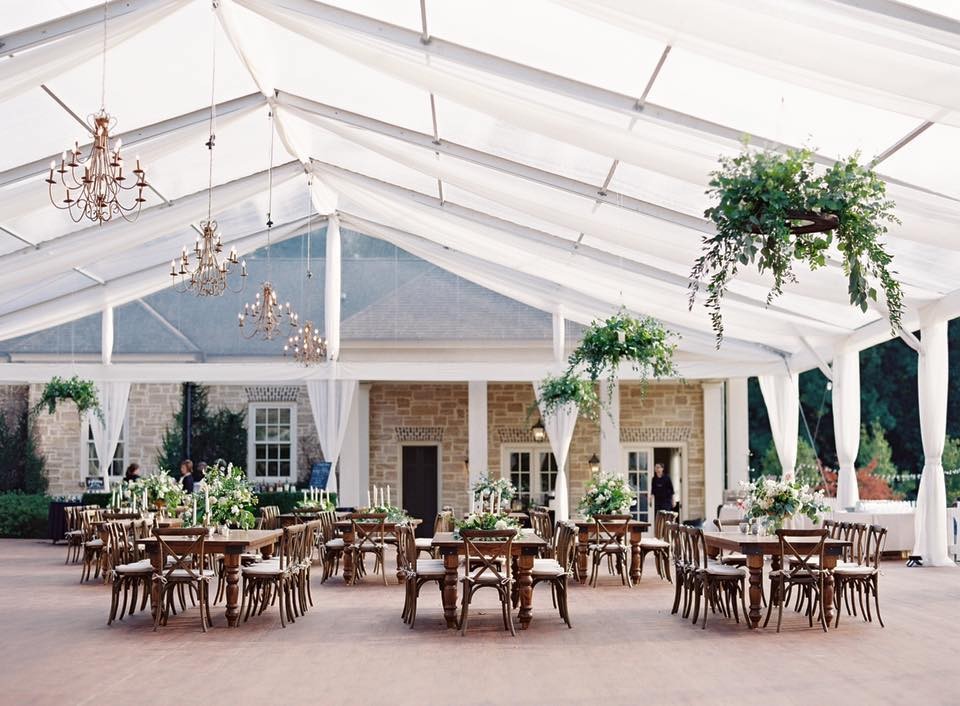 How much does an air-conditioned tent cost? (over 20x30 tent, you need AC)
One of the first questions asked while looking for air-conditioned tents is, how much does tent air conditioning cost…?
Neither one size fits all nor does one cost cover all!
Well! The cost of air conditioning a tent may vary depending on several factors such as the type of tent, size, number of guests, location, time of year, etc. The first thing you need to determine is what type of air conditioner will work best for your tent. For this, you will first have to choose the venue and of course the tent. Depending on these two main factors, your rental company will charge for air conditioning the tent.
Though it is not possible to tell you an accurate cost, we can surely provide you with an idea…
- Generally, most of the tents require one ton (12,000 BTU) of air conditioning for every 100-150 square feet. It means for a 40'x60' tent, you may have to spare around $2400 to $3500 for the air-conditioning units. For every tent over 20x30, you may need an AC as it is big enough to create a humid atmosphere.
- Renting portable air conditioning units to cool an event venue can cost anywhere from $2000 to $15000.
If you are not willing to spend too much on air conditioning units, an evaporative cooler may be the best way to go. It will cost you somewhere between $500 to $5000 depending on the type and size of your tent.
What kind of air-conditioned tent do you need?
Today's tent dwellers have a wide range of tents to choose from! Whether you are looking for a large wedding tent with aluminum tent poles or an air-conditioned tent, the options are countless. With so many options to choose from, it can be daunting to find the one that best suits your needs.
Well! We've listed some popular air-conditioned tent types that may help you make your event comfortable and memorable. Check them out…
1. Frame Tent with Sidewalls – The frame tent is one of the most common types of tents and it uses a metal frame to support tent. This is a freestanding kind of structure that can be installed on most solid surfaces. The adjustable tent poles help you make a variety of different shapes. As far as an air-conditioned frame tent is concerned, make sure you choose a tent with sidewalls. Also, check if the tent has the AC port in the right position to make sure that the AC units are not positioned directly on the heads.
2. Dome Tent – A dome tent is a common design these days that have two poles that cross each other in the center and bend down to reach the tent corners. It mostly has rounded edges allowing the tent to shed rain. A simple dome tent has a rectangular floor and available in a variety of sizes. The kind of tent is very easy to set up and the high center point offers a decent amount of space. If you are thinking of an air-conditioned tent, this type of tent can be a perfect choice. It can easily be air-conditioned and come with options like glass door, glass window, insulation, etc.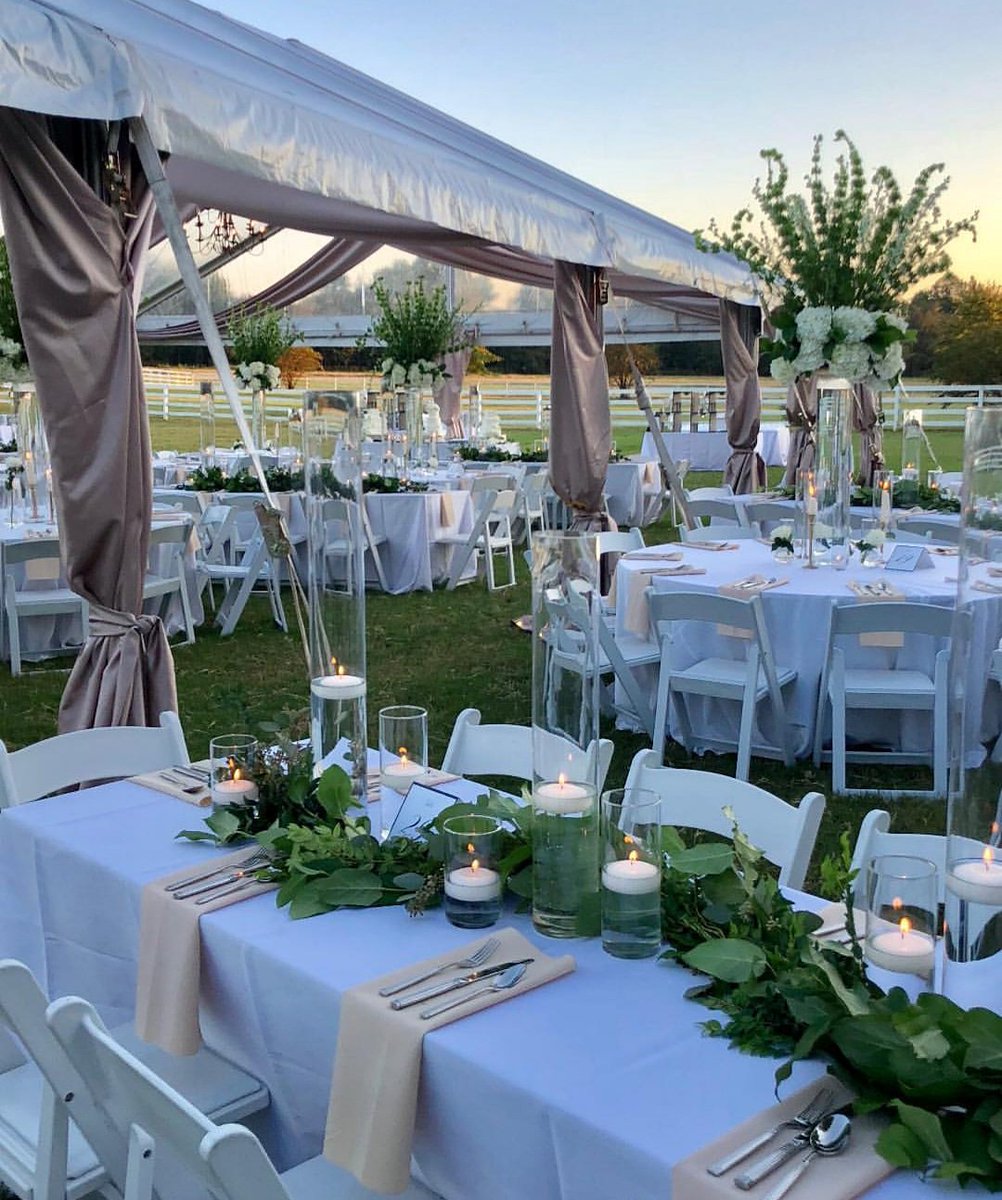 3. Circus Tent – One of the largest tents on the lot that is used for the circus performance. The type of tent has a big top and divided into different smallest sections to provide the audience with comfortable seating and viewing experience. The fabric may be made of many materials such as cotton (canvas), nylon, and polyester. The tent is waterproof, UV-resistant, soundproof, and easy to assemble. Though these types of tents are made for circus, they can also be used for organizing festivals, concerts, fun & games, product previews, etc. As far as air-conditioning is concerned, dome tents can be a great option.
4. Inflatable Marquee – Designed to deliver high-performance, inflatable marquees are easy to set up and require no special equipment for installation. As the name suggests, these types of tents inflate to make a certain shape and does not require metal poles or guy wires as support. Instead, it is supported by lots of inflatable beams and come with a pump as well as a repair kit. If you are thinking of having an air-conditioned inflatable marquee, choose a very high-quality tent as these types of tents are a bit tricky to handle. As far as the applications are concerned, they can be used for organizing kid's parties, family reunions, bachelors' parties, themes parties, cocktail parties, etc.
Here's a tip
When choosing an air-conditioned tent, try to pick a polyester fabric with a silicone coating as the type of fabric doesn't warp. Also, make sure that the opening is situated on the side or bottom of the tent for high performance.
For what kind of event do you need an air-conditioned tent?
There's no fun in having the most spectacular view and a well-planned ceremony if your guests are feeling sticky from the humidity. Fortunately, you can avoid this to happen by using air-conditioned tents at your event and that too without breaking the bank.
Whether you are an event planner or just organizing an event for your family or friends, the environment you provide to your guests plays an imperative role in making the event memorable.
If you are thinking of air-conditioned tents, it is a great idea to make everyone happier. Well! Here are some of the events where air-conditioned tents can be effectively used…
1. Exhibition Tent – The demanding nature of exhibitions and conferences makes it quite necessary to use air-conditioned tents. This is mainly because a lot of people attend such events and a lot of activities are involved. The air conditioning units can also be used in exhibition tent hangers where a large volume of participants at a single time is expected. Using the right type of tent, you can accommodate a large number of people without making them suffocated.
2. Wedding Party Event – Whether it's a big wedding ceremony or just small party, air-conditioned tents are a must-have for those humid months. After all, you may not want to ruin the beautiful makeup and the outfits of the guests. Having an air conditioning unit will help you maintain an appropriate temperature inside the tent especially when you are expecting a large gathering. As far as air-conditioned wedding tents are concerned, they come in all shapes and sizes.
3. Catering Tent – Catering tents are made for weddings, parties, and other special moments that you can also customize as per your specific needs. Most of the catering tents feature a 100% waterproof design, maximum stability, and expandable with no loose parts. When it comes to catering tents, air conditioning units seems to be an important part because people often hate having sweat while enjoying food. Therefore, it is always good to have an air-conditioned catering tent for your event.
4. Custom Canopy Tent - Customization allows you to be truly unique at your special events be it a 20x20 canopy tent, 10x30 tent, 40x60 tent, or any other size. You can have everything designed as per your specific requirements such as lighting systems, sidewalls, windows, doors, drapes, curtains, flowers, furnishing, catering, and anything that you can think of. Best of all, you can also have the air-conditioning unit customized as per your exact needs. Suppose you are expecting a large volume of guests at the event but the weather is too humid, you can use as much AC units as you want. However, make sure to get the job done by the experts to avoid freezing down your guests.
Top 5 Air-Conditioned Tent Rental Companies in the World
When you need an air-conditioned tent for your special event to keep the guests cozy and comfortable, you need to find a reliable company that can solve your problem. Here are 5 most popular air-conditioned tent rental suppliers that you may contact for your next event…
1. Cozi Hiring – If you're looking for a variety of tents along with air-conditioning options, this could be the right platform to explore. The wide range of tents and rentals makes this company an ideal choice for a variety of outdoor events. They also provide essential furniture such as couches and coffee tables along with catering equipment.
2. Bharat Tent Manufacturers – Being one of the leading air-conditioned tent suppliers in India, the company offers a wide range of tents and accessories. Some of the main highlights include luxury resort tents and wedding and event tents. They provide the facility of both split AC and window AC.
3. Made-in-China – This can be your one-stop-shop for finding a large number of air-conditioned tent suppliers in China. All you have to do is choose the category of the product, set a min order, and browse through top styles. You can find the contact details of different suppliers and choose the best.
4. Portable AIR – If you are looking for a specialized air-conditioned tent rental company in the USA, this could be the right platform to explore. The company offer air conditioning for tents for some of the largest outdoor events in the country and manage everything right from the setup, supply power, and maintenance.
5. Sunshine – The tent and event rental company offer tents and accessories for a variety of events such as weddings, parties, corporate events, festivals, family reunions, charity events, etc. They also carry a wide array of essentials like air conditioning and heating for tents.
Top 5 Air-Conditioned Tent Rental Companies
| | | | | |
| --- | --- | --- | --- | --- |
| No. | Company Name | Products/Services | Location | Contact Details |
| 1 | Cozi Hiring | Wedding Tent Hire | South Africa | Tel: +27-511-7692 |
| 2 | Bharat Tent Manufacturers | Air Condition Tents | India | Tel: 0141-2345333 |
| 3 | Made-in-China | Directory | China | Tel: +1-909-390-7788 |
| 4 | Portable AIR | Air-Conditioned Tent Rental | USA | Tel: 1-877-955-1176 |
| 5 | Sunshine | Tents & Event Rentals | US | Tel: 954-371-0169 |
Considerations while choosing an event rental company…
- Reliable & experienced tent supplier
- Insured & licensed
- Clean & well-maintained tents & equipment
- Dependable & Flexible
- Professionalism
- Highly responsive
- Creative with rentals
- Variety of items
- Genuine cost
- Less stressful
Be informed and make every moment memorable!