Wedding Décor Rentals – The Ultimate Guide to Choose the Perfect Wedding Décor
Couples are becoming more and more creative with their weddings when it comes to choosing tents, wedding table & chair rental, and tent decoration. They want everything to be perfect right from the color scheme and the theme to the decoration. When we say a perfect wedding, the right wedding decorations can transform any ordinary location into some magical place.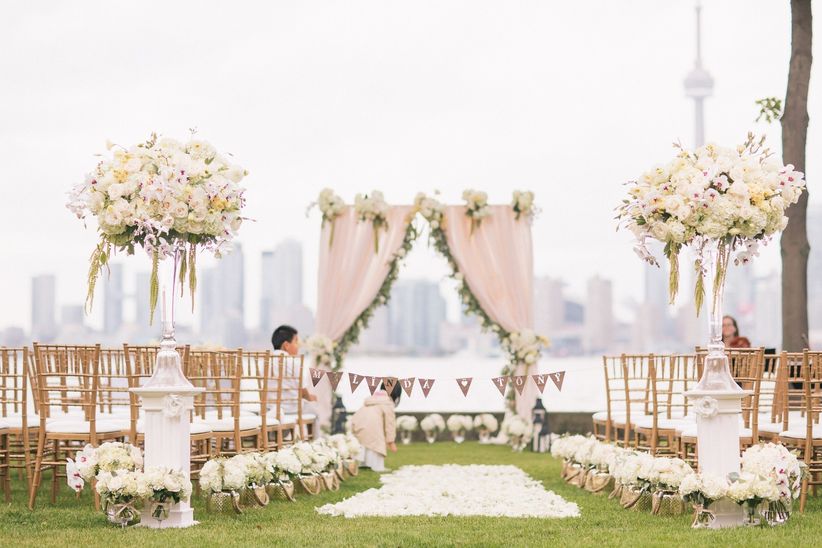 Basic decoration like having some stylish tables & chairs or a few decorative items may pass for casual occasions but for a wedding, surely it takes a lot more than this to create magic. It is the décor that adds beauty and glamour to the wedding and most importantly sets up the tone. A chosen décor can both make and break the atmosphere of the party.
Here's 21

DIY wedding decor ideas

for your wedding:
Whether it's a simple wedding, a beach wedding, a vintage-style reception, or a fairy-tale theme, a huge variety of decorative items is available to complement the choice. This article discusses all the important things about wedding décor rentals so that you can make every celebration a memorable one.
Let's start with decorating tents for a wedding and there are many different ways to accentuate different types of tents.
Amazing Ways to Decorate Tents for a Wedding
Selecting beautiful wedding decoration rentals is a top priority for most couples just because they want to make their special day an unforgettable one. Whether you are looking for some amazing ways to decorate tents for the wedding as a host or as a business person, the following tips might help…
1. Color Palette – Always start with a color scheme in your mind as per the theme of the wedding. Think a color palette rather than just one or two colors as it will add richness and depth to the overall look.
2. Different Textures – Wedding linens or table linen rentals play a crucial role and it always works adding different types of fabrics for linens, chair covers, and sashes. It will bring a unique style to the celebration.
3. Appropriate Lighting – Whether you have chosen a pop-up tent or marquee hire, lighting plays an important role in creating the right atmosphere. You can use LED lights, chandeliers, lanterns, or other types of fancy lights.
4. Furnishing – Though wedding table & chair rental is a basic necessity, adding chair decorations for the party and different shapes of tables can make the venue look interesting. Changing the floor plan is the most economical way to add style to any event.
5. Cake & Cake Stand – Not to mention that cake is also a décor item and using a different room or tent to display it prominently can be a great idea. Today, a huge variety of cake designs is available and of course cake table are also available in different sizes & shapes.
6. Fabulous Floral – Flowers are a timeless choice for decorating tents and other venues. There are flowers for every season and you can color coordinate them to suit the chosen wedding theme. Adding a flower wall at the entrance can be a great idea.
7. Candles & Candle Holders – The tall and designer candles placed on beautiful candle holders always look good with any kind of theme. You can use candles as centerpieces on the table and accentuate their look by adding flower petals or pearls.
8. Contemporary Decorations – If looking for something unique, items like decorative birdcages, metallic balloons, and bold-colored fabrics can do the wonder. You can also decorate the indoor trees with lights and ornaments.
Decorations at an event are necessary for setting the mood and framing a theme. While choosing wedding décor rentals, do some research and try to find something unique. You can browse the web, go through magazines, refer to your friends, or consult a wedding planner or tent decorator.
Decoration Rentals – The Must-Have Décor Checklist
Planning a wedding may be hectic but with the right decoration, it can be as enjoyable as you want. Whether you have a wedding at your home or run a tent & catering business, you must be looking for some great wedding decoration options to transform the look and feel of the celebration. To help you keep track of all the elements you need for a wedding ceremony and reception, we've prepared a list of essential items.
Here are some of the popular elements that can be incorporated in a wedding decorative scheme:
ü

Flowers

ü

Centerpieces

ü

LED Balloons

ü

Table linen rentals

ü

Wedding cake & Cake Stand

ü

Chandeliers

ü

Lanterns

ü

Garlands

ü

Curtains

ü

Handicrafts

ü

Stage backdrops

ü

Entrance gate

ü

Candles & Candle Holders

ü

Light Curtains

ü

Photo Booth Props

ü

String Lights

ü

Aisle Runner & Markers

ü

Arch & Confetti

ü

Cutlery & Silverware

ü

Glassware

ü

Draping

ü

Wedding Favors

ü

Bar or Drinks Station

ü

Gifts Table

ü

DJ & Music

ü

Anything that you like…
The above-mentioned are just a concise list of the basic wedding décor elements, there are so many other things also that you may consider. When it comes to decoration, the sky is the limit because the options are countless.
Tips to Decorate Tents and Transform them Into Something Unique
Wedding decorations need not be so challenging and expensive when you know how to decorate the tents easily and economically. Whether it's a white wedding, rustic, or modern, a lot of decorations options are available for every type of wedding and every type of venue, be it a tent or party hall.
If you are still confused about decorating the wedding tent, here's the tips

about decorating ideas

…
ü

For a fairy-tale look, use a pole tent and drape chiffon or tulle to the support poles.

ü

Use fabric and twinkle lights in a clear-top tent for an under-the-stars celebration.

ü

Hang floral garlands either from the center of the tent or at the corners.

ü

If using a traditional-style tent, drape ribbons at the top to add color.

ü

Install a wall of flowers or greenery and it will make a stunning focal point.

ü

Hang flowers at every possible tent pole or corner to make use of the entire space of a frame tent.

ü

Drape the gridwork of a slatted-ceiling tent with grapevines and flowers.
A tented wedding required a lot of planning when it comes to tent decorations. A tent is like a blank canvas where you can draw anything and make the occasion memorable.
Also, follow the following tent tips to avoid surprises that can sneak up on a special day…
- Choose the right type of tent while keeping in mind the location, surface, and weather.
- Never overlook the small details like restrooms, generator, parking, etc as forgetting them may lead to big disasters.
- Choose the best possible tent manufacturer or supplier to avoid issues like quality, cost, delivery, installation, etc.
Last but not least, be prepared with a contingency plan in case of bad weather.
Wedding Décor Rentals Price
Are you planning an outdoor wedding? Outdoor celebrations can be extremely beautiful and enjoyable but outdoor decoration may raise costs. The extent of wedding decorations will depend largely on what couples can afford and what type of theme they want for their special day. If working with a tight budget, it's better to choose big items such as table centerpieces or chandeliers instead of spending money on lots of smaller items.
Though we cannot tell an accurate price as the cost of decoration depends on a lot of factors such as the type of tent, location, type of decoration, etc, an average cost can be discussed. The average event rentals cost falls in the range of $600 - $800. Talking about the lower range, it may costs as low as $200 for a simple decoration (small tent) and can go till $2,000 for a heavy decoration (large tent). However, it depends on the budget of the couples and how they want their wedding venue to look.
Top 5 Wedding Décor Rentals near me
Wondering where to look for wedding décor rentals? Well! There are thousands of companies out there and we've listed some of the most popular ones…
1. Mozzafiato – If you are looking for a wedding & events, décor supplier and florist, this is the right platform to look. The company specializes in wedding decorations and planning and offer services like flower arrangements, furniture supplies & set-up, and more.
2. Atlas Event & Party Hire – This is a place to look for items like wedding chair rentals, table linen rentals, tent decoration, catering equipment, tents, and more. They also offer accessories like wishing well, handheld umbrellas, vases, etc.
3. The Knot – It is a one-stop-shop for all wedding and events related products and services. It gives you the entire information related to wedding decorators, equipment, local vendors, planning tools, rings & dresses, and much more.
4. Happily Ever After – Looking for a specialty décor rental company? This can be the right place to look for wedding decorations, photoshoots, and customized accessories. Though each piece has a rental price, they also offer rental packages.
5. Otis & Pearl – This is a place to look for vintage collection, Boho China, wedding table & chair rental, glassware, and more. The main collection includes Vintage China, stemware, flatware, tabletop, boxes, crates, rugs, and decorative items.
Top 5 Wedding Décor Rental Companies
No.

Company/Supplier Name

Products/Services

Location

Contact Details

1

Mozzafiato

Wedding & Events Planner & Decoration

Cape Town, South Africa

Tel: 021-510-1061

Email: info@mozzafiato.co.za

2

Atlas Event & Party Hire

Event Hire Specialists

South Australia

Tel: 8297-2366

Email: sales@atlasevents.com.au

3

The Knot

Wedding Marketplace

India

Tel: 800-843-4983

Email: helo@theknotww.com

4

Happily Ever After

Event Rentals & Décor

USA

Visit Site

5

Otis & Pearl

Partyware

China

Tel: 805-626-0313

Email: info@otisandpearl.com
Some of the most magical and memorable memories of our lives are when we get together to celebrate any occasion be it a wedding, a family reunion, a birthday party, or just a casual party. Everyone wants to be able to have the best event and decoration plays an important role. When we talk about decoration rentals, there are countless tent decoration companies and finding the best amongst all can be a challenging task.
Therefore, be mindful while choosing the décor rental company.
How to Start a Wedding Décor Rental Business?
Dreaming of an event decorating business? Well! It's great because this business is full of creativity, opportunities, and options. If you have a flair for decorating, the following tips can help you start your business…
§ Select a Niche – It is important to start with a niche such as wedding, birthday or conference decorator. This will help you narrow down the type of customers that you should target. Also, this will help you focus on the concept and offer the best to your clients.
§ Create a Website – When the entire world is going online, don't stay outdated. Develop a website and list information such as contact details, products/services, ways to accomplish the work, testimonials, rates, photos of the work, etc.
§ Get a Portfolio – You should be having something to show your clients such as photos of your work or what you can do etc. You can ask your friends or family members to decorate their events to get photos.
§ Advertisement – Promotion is extremely important and it can be done using a variety of ways such as pamphlets, word of mouth, online ads, your website, etc. You can start by offering discounts or other deals.
§ Meeting Place – Most of the people prefer meeting their decorator in person so that they can have a better understanding. Therefore, pick a nice and clean place as a meeting place and you can choose to place some decorative items as a display.
Last but not least, do as much homework as possible because it is not that easy to start a decoration rentals business. It will take both your time and money before you start earning…