Wedding Centerpiece Rentals – A Guide to Use Centerpieces the Best Possible Way
Want to add that extra oomph to the wedding décor? Wedding centerpieces are a great way to boost the decoration and elevate the look of any table. Wedding centerpiece rentals allow you to provide a holistic view of the venue and the theme for the wedding. Centerpieces are an integral part of the wedding décor and they don't require spending a ton of money.
Centerpieces are solely for the guests as they are the ones who will be taking some time out from their busy schedules just to shower their love and blessings on the couple. Therefore, it is important to choose centerpieces while keeping in mind the guests.
Wondering where to start? Well! We've put together a guide to help the couples as well as business people find the best centerpieces and utilize them most appropriately.
Let's start with the different types of centerpieces that can be used to accentuate the look and feel of events like wedding, reception, etc.
Different Types of Wedding Centerpieces
Looking for unique wedding centerpieces? There are so many different types of things available that can be used to accentuate the look of the wedding table setup. Also, there are hundreds of companies providing a wide range of exotic wedding rental supplies that you may consider for different types of events.
Here's the list of some popular wedding centerpieces that caught our eye…
Ø Flowers & Green Plants
Ø Tall Vases with Flowers or Sticks
Ø Colorful Bottles
Ø Rustic or Colorful Lanterns
Ø Floating candles
Ø Candles on Candle Stands
Ø Roses on a Tiered Cake Stand
Ø Cupcakes on a Cake Stand
Ø Light Bulbs as a Vase
Ø Hanging Items like Miniature Air Balloons
Ø Floating Balloons tied to the Table
Ø Flowers under a Glass Dome
Ø Pieces of Artwork
Ø Maple Branches
Ø Garlands on Long Tables
Ø Olive Branches or other Greens
Ø Sunflowers
Ø Hang Streamers
Ø Fruits & Veggies
Ø Tall Arrangements
Ø Mix & Match Vases
Ø Paper Flowers
Ø Ferns in Glass Bottles
Ø Tea Candle Settings
Ø Wooden or Metal Baskets
Ø Seashells in Clear Displays
Ø Favors on Stands
Ø Vintage Tea Tins
Ø Overflowed Vases
Ø LED Lights
Ø Chandeliers
Ø Personal Effects
Ø Customized Centerpieces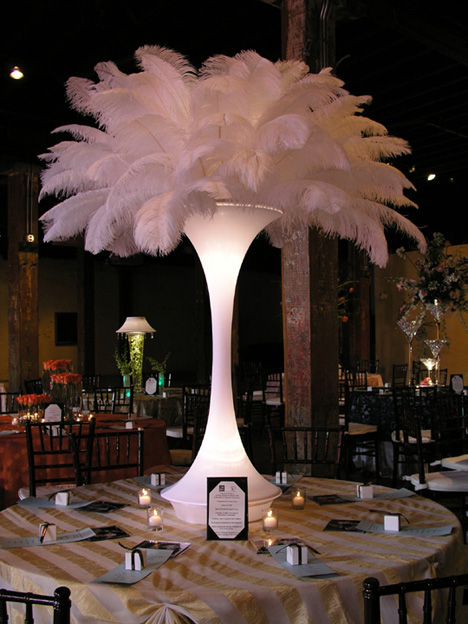 Wedding Centerpieces Ideas that You Will Love
Whether you are looking to decorate big tables with beautiful centerpieces or just a hanging décor, there are tons of ideas to go with. Although the sky is the limit when it comes to wedding décor rentals, here we discuss some of the unique centerpieces ideas that you may consider for the next event. Check them out…
ü Floral arrangement on the table is the most traditional centerpiece and still tops the list. The décor options are endless using flowers such as tall, short, wide, or narrow. Also, a huge variety of vases is available to accentuate the look of flowers and make a stunning piece of art.
ü Vases are another option and available in a wide variety of colors, shapes, sizes, styles, and materials. A mix of gold and silver vases can add another level of detail to any décor. Some of the popular materials include glass, wood, and metal with stunning design options.
ü Green plants can bring a unique charm to the event as there's nothing as pleasing as greenery to the eyes. The strings of greenery on the length of the table can do wonders and will also cost less as compared to other centerpieces. Hanging garlands or floral strings will give a luxurious look to the table.
ü Candles and candle holders are forever and perfect to bring that romantic vibe to the wedding. Arranging different types of candles on the table using beautiful candle holders can make a big statement without spending a fortune. Also, candles come in plenty of sizes, styles, and colors to match any color scheme or theme.
ü Chandeliers look fantastic for tented celebrations and add a whimsical charm to the venue. They can also be complemented with a lighting installation or can be used as a one-and-only centerpiece. Hanging them above tables will make the furnishing look super-stylish and luxurious.
ü Personal effects are the latest rage as it allows you to showcase your personality. It can be anything like photos, photo frames, floral selections, craft, or handmade items. This will help personalize the décor and a dynamic approach to wedding centerpieces.
ü LED lights not only help make table futuristic but also adds to the functionality of the venue. Also, they give a lot of flexibility in terms of size, shape, and color. They can also be used to make fun shapes or alternate between colors. This is a great way to offer a memorable experience to the guests.
One of the most time-consuming parts of the wedding planning in decorating tables and chairs with centerpieces. However, with some ideas in mind, the task can be extremely enjoyable!
How to Choose the Best centerpieces for a Wedding
While it may be tempting to hire everything but there's no fun in investing in items that are meant for just wedding décor. Wondering where to start and what to rent for the big day? We're here to help! Whether you are looking for some amazing centerpieces for your big day or planning to start a wedding décor business, choosing the best centerpieces can do wonders.
The following are some tips to choose the best centerpieces for a wedding or any other special event…
ü Decide on the Type of Tents – If it is a tented wedding, decide on the type of tent as not all centerpieces are meant for every type of tent.
ü Know about the Table Structure – The tables come in various shapes and sizes and so should be the wedding table setup or arrangements.
ü Keep in Simple & Classy – Do not overdo with the centerpieces as the guests also need ample space to move their hands freely. Also, keep in mind the height and width.
ü Make the Smart Use of the Space – Try to utilize the space well and the best way is to invest in exotic and unique centerpieces rather than increasing their numbers.
ü Think about the Guests First – Though it depends on the host how they want to get the décor done but when it comes to using centerpieces, it is advised to prioritize the guests.
ü Choose as per the Theme – The centerpieces should match with the overall theme of the wedding to make a style statement where everything is coordinated.
ü Plan a Budget – Allocating budget for the centerpieces is extremely important because this is the only way to choose the best items accordingly.
Wedding Centerpieces Applications
Centerpieces can be used on almost all occasions such as…
- Weddings
- Wedding Receptions
- Anniversaries
- Birthdays
- Corporate Parties
- Business Dinners
- Special Events
- Gala Events
- Music Concerts
- Themed Events
- Festivals
- Reunions
- Parties, etc.
A wide variety of party equipment rental is available to suit the needs of different types of events.
Top 5 Wedding Décor Companies/Suppliers to Hire Centerpieces
If you have a knack for making events look spectacular whether as a wedding planner or the host, the options are endless. Here are some of the popular wedding centerpiece rental companies to start with…
1. SA Wedding Décor – Located in South Africa, this wedding décor company is a leading name offering some of the great products and services. They customize weddings using the widest range of décor ideas and offer a great range of centerpieces. Some of the popular products include lights, laser-cut items, base plates, linen, candlesticks, mirrors, discs, glass sheets, vases, table and chair rentals, and more.
2. It's All About the Centerpiece – If looking for a dedicated platform for centerpieces, this company can be a perfect choice. Based in the USA, the centerpiece rental company offers products for all types of events. The main products include glass vases, candle holders, crystal vases, gold-painted Manzanita branches, fluted Mercury glass candle holder, glass bowls, lighted gold branches, ceramic urns, and more.
3. Party Décor Hire – The Company located in South Africa is known for its gorgeous décor and floral artistry. They specialize in centerpiece rentals, party's décor, floral displays, candles, event planning, and draping. The team craft table settings, sage displays, floral arrangements, gorgeous displays, and other features. Also, they make a huge variety of candles in the house.
4. Saba Décor Rentals – This Bay Area-based wedding décor Rentals Company is the right platform to look for décor and party equipment. Some of the main products from the catalogue include wedding rental supplies, chairs & tables, lounge furniture, centerpieces, backdrops, linen, props, and more. They also offer wedding packages and can customize them as per the client's requirement.
5. Otis and Pearl – This is a place to look for vintage glassware, tabletop and décor rentals in California. The exclusive collection can be used as a centerpiece to accentuate any event and include things like vintage China, stemware, flatware, candlesticks, vases, containers, boxes, crafts, suitcases, rugs, textiles, party props, signage, and more.
Well! The above-mentioned are some popular names in the décor industry and you can also become a part of this field. If you're interested in starting your own wedding décor business, we can provide you with some tips. Here we go…
How to Start a Wedding Centerpiece Rentals Business?
A wedding décor rental business can be relatively easy to start but to be successful; you will need a good business plan and research.
Here are a few tips before you dive in…
v Think of the area you want to specialize such as wedding décor, wedding centerpieces, wedding rental supplies, tents, etc.
v Contact a few wedding rental businesses to gain a better insight into their work and know how things are done.
v Research your competition and if there's a cut-throat one, it will be good to seek out a niche that needs attention.
v Obtain a business license and get everything insured to enjoy good credibility and safety.
v Give attention to storage and transportation as wedding rental business often large and delicate items.
v Decide whether you want to start your business from scratch or prefer buying a Franchise.
v Marketing and promotion are extremely crucial to the success of any kind of business and there are many ways to do so such as online ads, magazines, pamphlets, etc.
v Know all possible threats and challenges such as developing a business idea, dealing with competition, finding potential customers, unforeseen expenses, and keeping up with the trends.
v Look for a catchy yet meaningful business name ideas as it is always said that the first impression is the last.
v Get your hands on the list of all the legal documents required for starting a wedding rentals business such as permit, license, etc.
v Seek for the necessary funding to back up the business because money is important during the early stages.
v Choose the best possible location for your office as well as the warehouse because most of the products used at weddings are expensive and delicate.
v Find 'wedding décor rentals near me' and create outstanding relationships with suppliers and try to buy in bulk for more savings.
v If planning to start on a large scale, partner up as this is sort of challenging business which requires hard work.
Last but not least, begin small! If you don't have any experience with the wedding décor rental business, it is better that you start on a small scale. First, pay attention to the basics so that you have a good amount of reputation and money to start experimenting.
We have just provided you basic knowhow on starting a wedding rental or décor business. Before getting your hands on anything, it is advised to do proper homework and be prepared. The best 'mantra' is to offer 'quality' at 'genuine price' and half the work will be done…